Spring Visit To Keukenhof's Gardens Exceeds All Expectations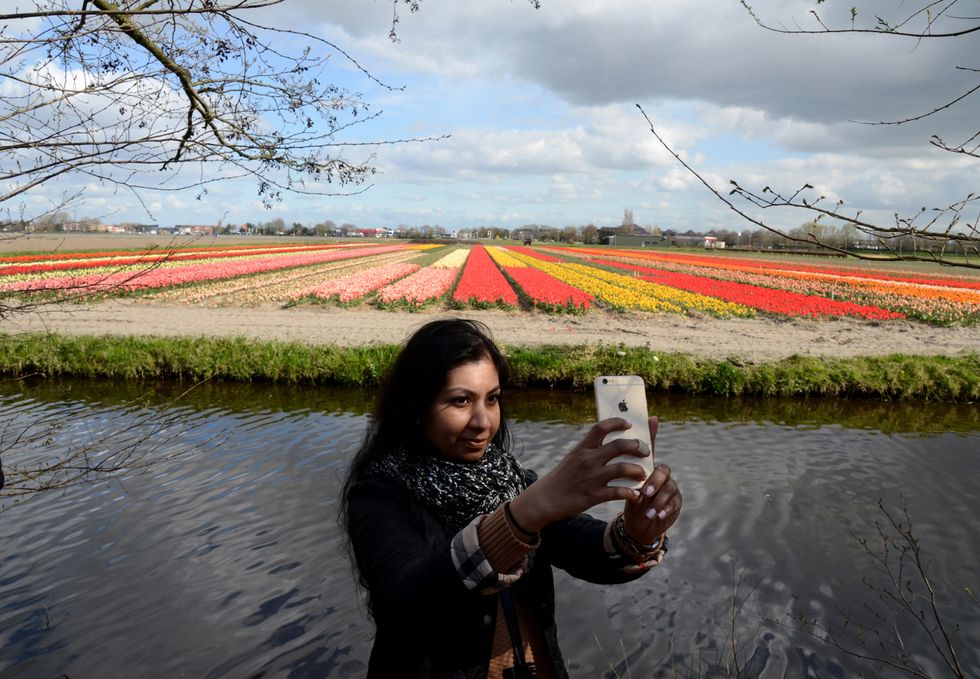 By Doug Oster, Pittsburgh Post-Gazette (TNS)
LISSE, Netherlands — As we're driving toward Keukenhof, the sweet scent of hyacinths drifts through our bus of 26 travelers. Our tour guide thought we might like to see the growing fields filled with blooming bulbs. She was right.
No one could believe the seemingly endless rows of flowers, the sights, and smells. Think of driving through field after field of Iowa corn. Now substitute daffodils, tulips, hyacinths, and any spring bloomer you can imagine. We all scrambled to get photos through the bus windows.
Keukenhof might be the world's greatest display of spring bulbs. It's only open for eight short weeks, when the bulbs are at their peak.
Luckily, we were left on our own, as our guide pointed in one direction and told us to enjoy the bulbs. I worked my way around the perimeter of the garden, trying to get a better photo of the flower fields separated from the park by a narrow canal. Michelle Nawaz of New York City stood with her back to the fields as the afternoon light fell perfectly across her face. She meticulously positioned her phone for one amazing selfie.
"It's beautiful," she says, turning back toward the carpet of flowers. "The colors are breathtaking."
Keukenhof is a gardener's paradise, a place to spend at least one full day, although I wished I had longer. Some beds are massed with the same flowers. When it's something like hyacinths, the fragrance is remarkable. Since there's always a breeze in Holland, the scent of flowers was never far away.
Other beds offered incredible combinations of different bulbs, all blooming in consort. It's the scale which astounds. One bed that stretched for hundreds of yards had been planted with repeating patterns of white daffodils, pink hyacinths, white anemones, and tulips. Behind them ran a parallel bed of orange tulips.
The garden is filled with more than seven million flowering bulbs, including 800 kinds of tulips. The 80-acre park has been putting on the annual display since 1950.
There were about ten of us looking over the gardens together, but I lost my traveling companions as I lagged photographing everything in sight. As the sun dipped lower, some bulbs became luminescent, highlighted from behind as the light streamed through the trees.
Finally, I ran into Winnie Ritter of Monroeville, who brought three of her daughters with her on the trip. They wanted time in the gift shop and Ritter wanted time with the magnificent blooms. At 82, she is spry and wanted to see as much as possible, but she never complained as I lay on the ground, stood on benches and stopped to shoot even more pictures.
As we stood in front of an impossibly long, curving bed of white and blue hyacinths set off by bright yellow daffodils, we were able to carefully examine the bed and saw a thick row of unopened tulips that would put on a show a week later.
"I'm so glad I got to see this," Ritter said. "I'm in heaven."
As we headed back to the bus, I looked behind to see several small beds filled with striped tulips backlit by the late afternoon sun. They were framed by a flowering crabapple tree in full bloom. It was stunning and a fitting end to the day.
I've been lucky enough to see some of the world's greatest gardens, but Keukenhof stands alone. It's one of the only places that has exceeded the hype and expectations. I dream of seeing it again and spending a couple days of bliss among this wonderful tapestry of bulbs.
Photo: Doug Oster via Pittsburgh Post-Gazette/TNS