St. Louis Region Is On Edge In Wake Of Another Fatal Police Shooting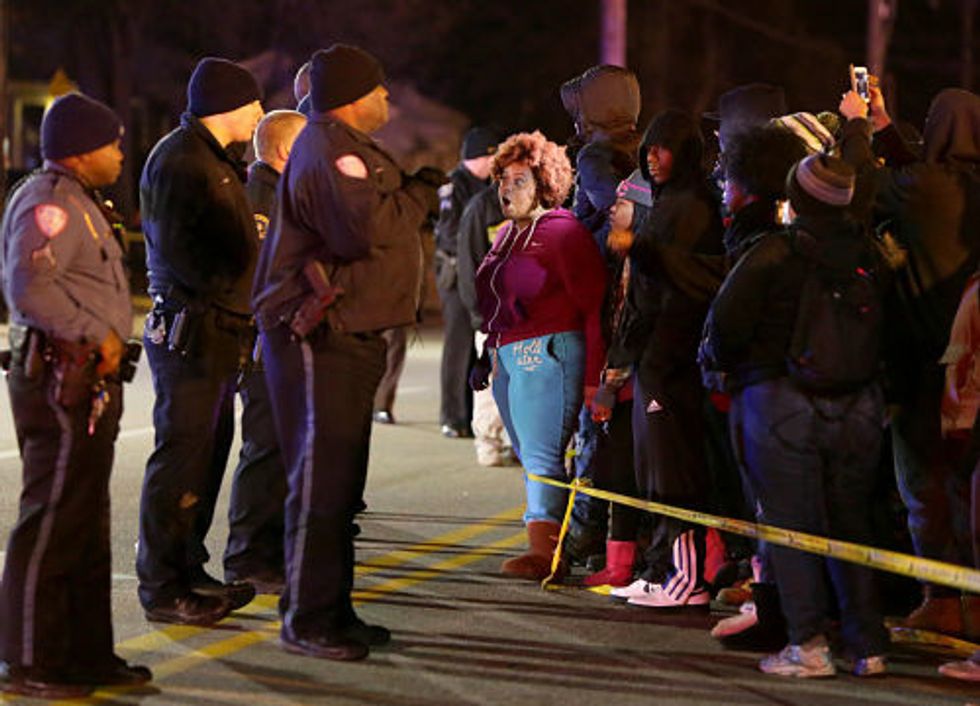 by St. Louis Post-Dispatch (TNS)
BERKELEY, Mo. — The region watched nervously Wednesday after another fatal shooting of a black man at the hands of a white police officer in a St. Louis County suburb prompted protests, at times violent, heading into a holiday.
Reaction from police and political leaders was markedly different in the first few hours after a Berkeley police officer shot and killed Antonio Martin, 18, Tuesday night, compared with the initial aftermath of the Michael Brown shooting that unfolded just months and miles apart from the scene.
Employees at the Mobil on the Run gas station and convenience store in the 6800 block of North Hanley Road called 911 late Tuesday to report two men had shoplifted from the store. A Berkeley police officer arrived about 11:15 p.m. and spotted two men who matched the suspects' descriptions.
By 7 a.m. Wednesday, police released surveillance footage showing the men approaching the police cruiser as soon as it pulls onto the lot. Martin can be seen walking away from the officer several times after the officer gets out of his car to talk to the men. Martin then turns toward the officer and appears to be pointing a gun at him. The officer fires and stumbles to the ground as he tries to back away.
Protesters began arriving at the scene shortly after the shooting; they included ministers and others who have been active in the protests related to the Brown shooting in Ferguson. Many stayed overnight. At one point, police believe the crowd swelled to about 300, but it dwindled to about a dozen by about 4:30 a.m. Wednesday.
A memorial formed through the day Wednesday at the gas station. Crowds began to gather again after 6 p.m. and had grown to about 100 by 8 p.m. Some marched to nearby Interstate 170 and shut sections of it down. Several police officers were also at the scene.
Four people were arrested early Wednesday morning for assaulting officers. A Florissant officer went to the emergency room with a leg injury he suffered as he tried to get away from one of two explosives used at the gas station. St. Louis County Police Chief Jon Belmar called the explosives disturbing because of the proximity to gas tanks. A third explosive at a QuikTrip near the Mobil station started a small fire, he said.
Protesters also threw bricks at officers, injuring one in the face, Belmar said.
He said several police cars were damaged, and some protesters brought bags of rocks to the scene.
Belmar said the early hostile reaction hindered the investigation, much as it had delayed the removal of Brown's body in August.
Police used partitions to conceal Martin's body from the crowd. It was removed from the scene about 1:40 a.m., or about two hours after the shooting. Brown's body remained in the street for four hours.
The Rev. Starsky Wilson, who was interviewed at the scene, characterized the protest in Berkeley as nonviolent.
He is one of the co-chairmen of the Ferguson Commission set up by Missouri Gov. Jay Nixon to look into the social and economic issues at play in north St. Louis County.
"Black. Young person shot by a police officer," Wilson said, describing it as a familiar narrative. "When you see police escalate, you see violence."
Nixon's statement about the Berkeley shooting supported police: "The events in Berkeley are a reminder that law enforcement officers have a difficult, and often dangerous, job in protecting themselves and law-abiding citizens."
The statement was in contrast to Nixon's initial remarks after the Ferguson shooting in which he pledged to seek justice for Brown's family — a comment that offended police officials.
Belmar praised Berkeley Police Chief Frank McCall for helping to calm the protests, using pepper spray but no tear gas. He said police had learned a lot from Ferguson, and noted that one of the first things McCall said to his commanders was, "Hey, let's let this emotion vent. Let this happen."
Belmar's department also changed tactics from its initial response to media inquiries about the Ferguson shooting, releasing information more quickly and answering reporters' questions in a news conference Wednesday.
County police released additional surveillance footage Wednesday afternoon along with pictures of the handgun that officers found at the scene. The 9 mm gun, which police believe Martin used, had five rounds in the magazine and one round in the chamber.
Belmar said the gun's serial number had been filed off.
Belmar also said in the news conference that Martin had been arrested multiple times, on suspicion of committing offenses including assaults, armed criminal action and unlawful use of a weapon.
"We really do need to get to the point where we can at least wait for certain facts to materialize before we jump to conclusions, before we make attributions, before we become cynical," he added.
Berkeley Mayor Theodore Hoskins also hosted a news conference, taking time to differentiate the Martin shooting from others.
He said the city would conduct its own complete investigation, separate from the St. Louis County police investigation.
City, police officials and the officer's attorney declined to name the officer involved in Tuesday's shooting, other than to say he is 34. His attorney, Brian Millikan, said his client was a four-year veteran of the Berkeley police department and had served in Country Club Hills. He said he would oppose releasing his client's name.
"It doesn't do anything but subject him to threats and puts him and his family in harm," Millikan said.
Millikan said his client recounted the details of the encounter to him several hours after the shooting.
He said one man spoke with the officer on the parking lot, while Martin kept wandering away despite the officer's commands to stay near him, Millikan said.
Belmar said the officer, who had a flashlight in his left hand, was near his driver's side door and Martin was near the headlights on the passenger side.
"The other guy was doing the talking, and as the cop starts talking, the suspect starts walking away again," Millikan said. "At that point, the cop says, 'Hey, come back here,' and he turns around, pulls a gun from his left pant pocket.
"The cop pulls his weapon and starts backpedaling and fired three or four shots. It happened that quickly."
Police still were seeking the man who was with Martin at the time of the shooting.
Belmar said he had talked to a number of young people at the scene, some of whom asked why the officer hadn't used a Taser or pepper spray.
"Frankly that's unreasonable," Belmar said. "We had somebody who was pointing a gun at a police officer. With not a lot of time, I would imagine that most of us would feel like we were in imminent danger of losing our lives at that point."
State Sen. Maria Chappelle-Nadal (D-University City) agreed. She has been critical of police after the Ferguson shooting.
"I will always think what Darren Wilson did to Michael Brown was evil, but this is not Michael Brown, this is not Ferguson." said Chappelle-Nadal, whose district includes Ferguson and Berkeley.
In fact, she said, if she were the police officer, she would have shot, too.
The Berkeley officer was wearing a body camera but did not activate it at the time of the shooting.
Millikan, the officer's attorney, declined to elaborate, saying only that "there might be some internal issues."
Belmar said the officer told his investigators that he had been doing something else when the body camera was handed to him at roll call.
"He said he clipped it somewhere in the car, didn't put it on, and next thing you know you're here," Belmar said, adding that it could happen, particularly with new equipment if you aren't used to it.
Berkeley Mayor Hoskins said the cameras were new, but once the officers are better trained on them, there would be penalties for not wearing them.
Belmar said he did not believe the car's dash-camera was activated.
Another outspoken critic of the police, State Sen. Jamilah Nasheed (D-St. Louis), noted that the presence of a gun set Martin's killing apart from Brown's.
Still, she took to Twitter, calling for a special prosecutor to take the case because she believes all police-involved killings should be handled by special prosecutors.
Belmar said he had notified St. Louis County Prosecuting Attorney Robert McCulloch of the shooting, and McCulloch assigned a prosecutor to the case.
The NAACP released a statement Wednesday, asking St. Louis to "refrain from any violent retaliation."
Martin's mother, Toni Martin-Green, collapsed in another woman's arms at the scene when she learned her son had been killed.
Belmar expressed condolences to Martin's family, but noted, "bad choices were made."
"This individual could have complied with the officer," Belmar said. "It didn't have to end with him approaching the officer with an arm extended and a 9 mm pistol in his hand."
Belmar said the officer had one prior use-of-force incident that involved a struggle over the officer's gun. An armed suspect had barricaded himself inside a home, Belmar said. After police entered, there was a struggle over the officer's gun. Belmar said the officer had dropped the magazine from his gun and shot into the floor to empty the chamber so the gun couldn't be used against him.
Millikan described his client's demeanor in the hours following Tuesday's shooting as calm but shaken.
"On the one hand, you know you have followed proper procedures and policies, and, on the other hand, these guys are human beings, and on the day before Christmas, he had to take somebody's life," Millikan said.
___
(Christine Byers, Jesse Bogan, Valerie Schremp Hahn, Nicholas J.C. Pistor and Jennifer Mann of the Post-Dispatch contributed to this report.)
Photo: Protesters yell at police protecting the perimeter of a scene on Wednesday, Dec. 24, 2014 where teenager was fatally shot by a police officer about 90 minutes before at a Mobil gas station on North Hanley Road in Berkeley, Mo. (David Carson/St. Louis Post-Dispatch/TNS)