Standard & Poor's: Government Shutdown Cost $24 Billion
As the 16-day-old government shutdown draws to a close, its true costs are coming into clearer focus.
According to Standard & Poor's, the shutdown has taken roughly $24 billion out of the U.S. economy, and cut 0.6 percent off of yearly fourth quarter GDP growth.
"The bottom line is the government shutdown has hurt the U.S. economy," S&P said in a statement. "In September, we expected 3 percent annualized growth in the fourth quarter because we thought politicians would have learned from 2011 and taken steps to avoid things like a government shutdown and the possibility of a sovereign default. Since our forecast didn't hold, we now have to lower our fourth-quarter growth estimate to closer to 2 percent."
The ratings agency also stressed that a short-term solution won't solve the nation's economic woes.
"The short turnaround for politicians to negotiate some sort of lasting deal will likely weigh on consumer confidence, especially among government workers that were furloughed," S&P said. "If people are afraid that the government policy brinkmanship will resurface again, and with it the risk of another shutdown or worse, they'll remain afraid to open up their checkbooks."
S&P's findings dovetail neatly with a recent study from private forecasting firm Macroeconomic Advisers, which found that the House of Representatives' crisis-to-crisis governing style has cost the economy about 900,000 jobs since late 2009.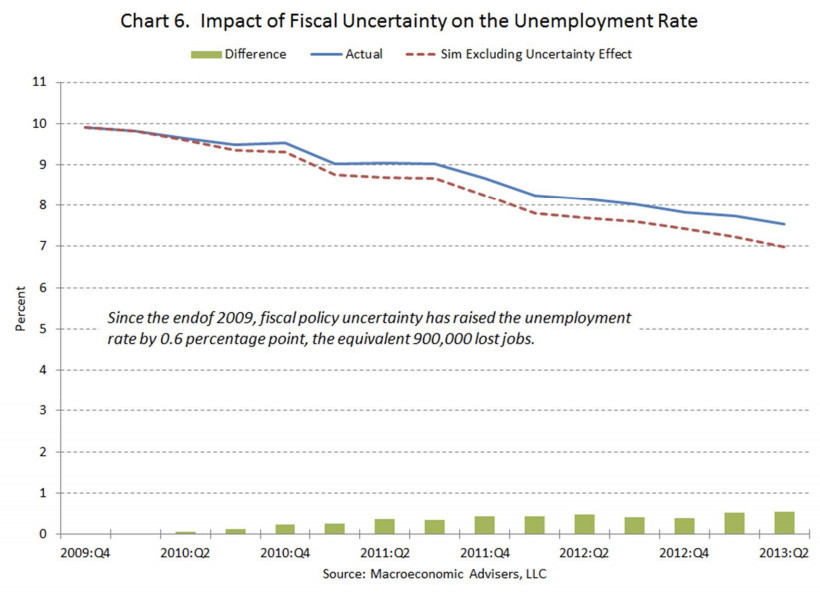 Keep all of this in mind the next time a Republican runs for Congress on a platform of "fiscal responsibility."