States Fill Federal Vacuum On Immigrants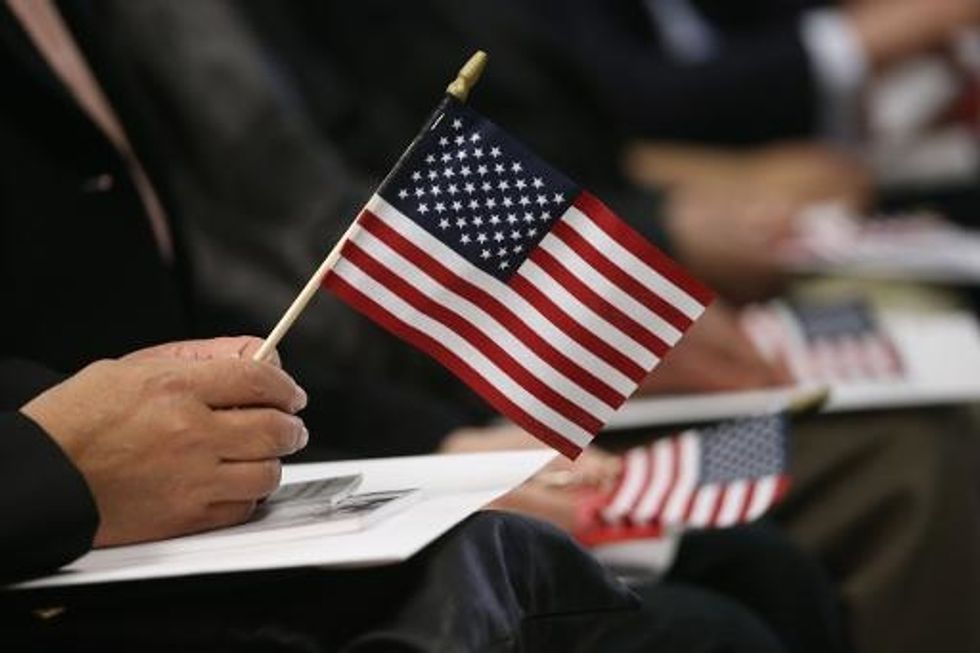 By Jake Grovum, Stateline.org
MINNEAPOLIS — With Congress at a standstill on immigration issues, states have pursued their own solutions, with some offering in-state tuition and financial aid to unauthorized students and others approving more spending to enforce immigration laws.
"While Congress cannot seem to take action on immigration issues, states remain engaged in debating and solving immigration challenges, whether we are discussing services or enforcement," state Senator John Watkins, a Virginia Republican and co-chair of the National Conference of State Legislatures' immigration task force, said in releasing an immigration report during NCSL's annual meeting last week.
States have enacted 132 immigration-related laws this year, according to the report. The number is only slightly down from last year, even though some states, including immigration hot spot Texas, held no legislative session this year. Seven states approved resolutions calling on Congress or the White House to act on a immigration issues like deportation policy and a general overhaul of federal laws.
In many cases, the laws enacted in the states continued a trend of opening the door to recent immigrants, authorized and unauthorized, to be more engaged in civic life and the community. The measures include employment and labor regulations, education policies and health-care access.
Among the notable examples: Florida and Tennessee joined 15 other states that offer in-state tuition by law for unauthorized immigrants. Four states offer it through their higher education systems' boards of regents. Washington state went further this year, joining California, New Mexico and Texas in offering financial aid to unauthorized students.
Florida also made it possible for unauthorized immigrants to be members of the state bar association.
In New York and Oregon, lawmakers approved measures to expand health care access to immigrants, including those who are unauthorized and in general excluded from federal safety-net programs like Medicaid, the federal-state health care program for the poor.
New York's measure aims to make medical assistance available to those who might be otherwise ineligible because of their immigration status under federal law. Oregon will spend $60,000 to study creating a basic health plan that could serve legal resident immigrants who are excluded from other programs.
California, meanwhile, continued to be a leader in pushing for more immigrant-friendly laws. Lawmakers approved a measure that would bar employers from pursuing punitive immigration enforcement actions against their workers for any reason.
Other states went in the opposite direction. Missouri, for example, approved a law blocking any in-state tuition benefit for unauthorized immigrants. Six other states have also moved to block in-state tuition for those immigrants.
Arizona lawmakers approved a change to make it a felony to assume someone else's identity to be declared eligible to work. In South Carolina, notaries public must now read and write English and be registered to vote.
Utah repealed a law that urged its Commission on Immigration and Migration to coordinate with local, state and federal officials to help integrate immigrants into the state.
Despite the flurry of state activity, however, few of the measures approved in 2014 generated the sort of controversy that engulfed states such as Arizona and Alabama in recent years. According to the NCSL report, no states moved to offer driver's licenses to unauthorized immigrants this year (11 states and the District of Columbia already offer them), a step that has ignited strong opposition in some states. There were no broad-based immigration omnibus measures passed in the states this year either, according to the report.
Much of the legislative action covered in the NCSL report, however, predated the national focus on the flood of unaccompanied child immigrants flooding across the U.S.-Mexico border. In just the early weeks of that crisis, many states moved to respond to the situation.
Some states, such as Maryland, led by Democratic Gov. Martin O'Malley, took steps to welcome child immigrants, calling on religious and other private groups to provide shelter for them.
Other governors, such as Dave Heineman of Nebraska and Terry Branstad of Iowa, both Republicans, criticized federal officials for considering their states as potential landing zones for immigrant children. Massachusetts Democratic Gov. Deval Patrick saw a backlash from his initial openness to house immigrant children, and the state ended up not sheltering any children.
The child immigrant situation could lead to more action in general, but also to a further divide among the states in how they treat immigration in general. Already, Republican Gov. Rick Perry of Texas has led the way in strong reactions to the immigrant crisis, sending his state's National Guard to the border for extra security.
Washington state Rep. Sharon Tomiko Santos, a Democrat who also co-chairs the NCSL immigration task force, said action in the states might have been down a bit this year because people had hoped Congress might do something. Because it didn't, "states are going to try to fill that vacuum," she said.
"Our motto is that the federal government has the responsibility to address the immigration policy," she said, "but states have the responsibility to address immigrant integration."
AFP Photo/John Moore