Stephen Bannon: The Shakeup That Has The GOP Melting Down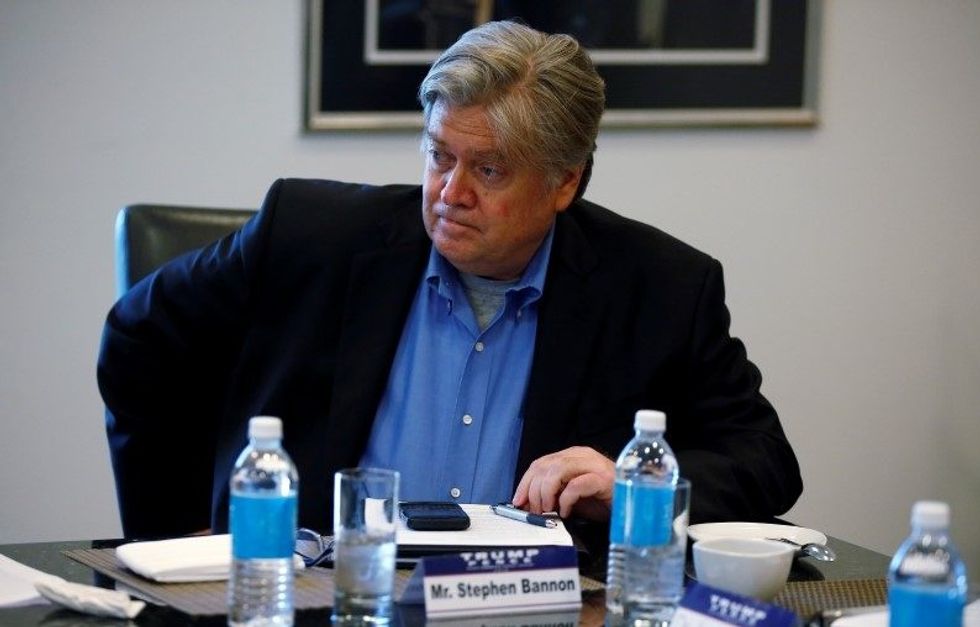 Stephen Bannon, chief of Breitbart News, was recently appointed as "chief executive" of Donald Trump's campaign team, part of the sudden shakeup that the Trump camp refuses to call a shakeup. Bannon is known for his racist, anti-immigration, anti-Muslim views, and of late, he's come to be known for running Breitbart News as a Trump fan site. Bannon has also been historically combative toward the mainstream media, and, as many observers have noted, his appointment essentially means the Republican nominee is "doubling down on being Trump."
Of course, the shift may momentarily distract from demoted campaign manager Paul Manafort's increasingly obvious ties to Russian business and political interests — and perhaps that is its purpose.
But many conservatives are far from pleased with Trump's appointment, and the displeasure runs deep in both the GOP establishment and the right-wing media. Bannon has been on the outs with the traditional wing of the GOP for a while, as Breitbart has become more of an extremist, hate-promoting site, but his rise to become Trump's "CEO" has Republicans absolutely panicked.
Here is a round-up of the latest list of Republicans who have voiced their distaste for Bannon and their worries about the Trump campaign's future:
1. William Kristol — Founder and Editor of The Weekly Standard
Kristol made no secret of his feelings toward Bannon. In an interview with MSNBC this week, Kristol said, "I hate the fact that it's called Breitbart News. If they changed the name and called it Right Wing Intolerant Mean-Spirited News, that would be fine." Breitbart once called Kristol a "renegade Jew" for not supporting Trump.
2. Dana Loesch — Conservative Commentator
Loesch, a Tea Party conservative commentator who often makes the media rounds discussing Republican politics, called Bannon "one of the worst people on God's green earth." She discussed her personal negative interactions with Bannon, as well: "I will say that one of the worst, most hellacious years of my entire life involved this individual. And I have to question whether or not the campaign is sincere about winning a victory against Hillary Clinton by instituting someone like this as the CEO of the campaign."
3. Glenn Beck — Radio Host and Conservative Commentator
No stranger to extreme comments himself, Beck called Bannon one of the "dirtiest, nastiest human beings alive" in an interview with Bill O'Reilly on Fox News this week. Previously, Beck called Bannon "quite possibly the most dangerous guy in all of American politics," saying he "makes Roger Stone look like Mary Poppins."
4. Matt Mackowiak — Republican Strategist
"Bannon has no business being near a campaign. He is a conspiratorial, irresponsible actor in our political debate," Mackowiak told Talking Points Memo. He fears that Trump himself simply decided there was no hope left for him and the traditional Republican establishment: "I feel like Trump has declared war on the Republican Party. He is determined to punch through the floor and see how low he can go."
5. Ben Shapiro – Conservative Commentator and Former Breitbart Editor
Shapiro, who left Breitbart when Bannon refused to stand by reporter Michelle Fields after she was manhandled by Corey Lewandowski (whose former role Bannon now occupies) called his old boss a "vindictive, nasty figure" that "will attempt to ruin anyone who impedes his unending ambition."
Photo: Campaign CEO Stephen Bannon listens during Republican presidential nominee Donald Trump's round table discussion on security at Trump Tower in the Manhattan borough of New York, U.S., August 17, 2016. REUTERS/Carlo Allegri