Steve Bannon Is Deeply Tied To The Mercer Empire. 60 Minutes Didn't Ask Him A Single Question About It.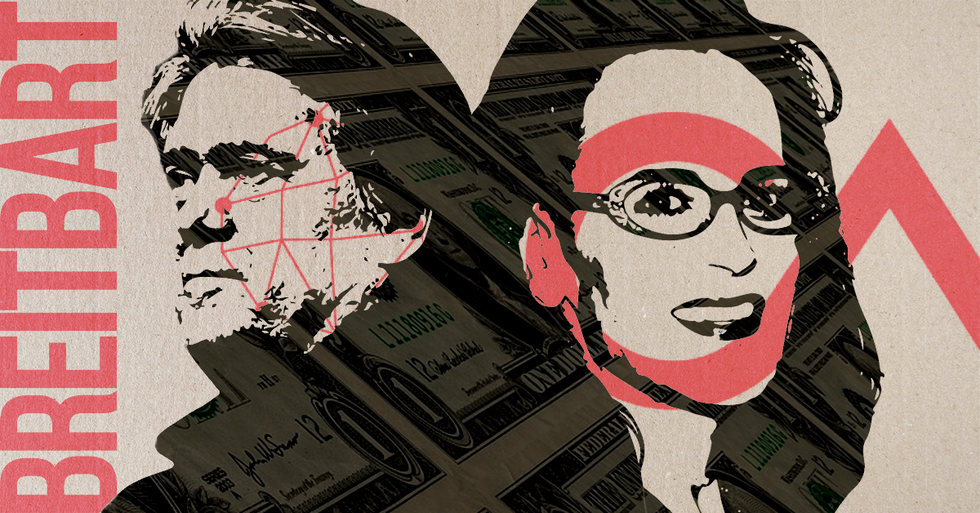 Reprinted with permission from MediaMatters.
CBS' 60 Minutes conducted a wide-ranging, highly anticipated interview with Steve Bannon, the former White House chief strategist and current Breitbart.com chief executive. But host Charlie Rose never mentioned Bannon's patrons, the hedge fund billionaire Robert Mercer and his daughter, Rebekah. It is their support for Bannon that makes him a powerbroker from outside the Trump administration — and their history with the Breitbart chief has been littered with conflicts of interest, self-dealing, and corruption.
Bannon has served as the Mercers' political adviser for years, according to The Washington Post, where he assessed "the impact of think tanks, policy groups and super PACs they were considering financing." It was Rebekah Mercer who reportedly "pushed" then-candidate Donald Trump to hire Bannon on his campaign. When he clashed with other Trump aides in April, she reportedly urged him to stay in the White House. When his time was finally up, Bannon reportedly met with Robert Mercer as he was planning his post-administration strategy.
As their political adviser, Bannon has repeatedly convinced the Mercers to invest in businesses and non-profit organizations under his control. The Mercers are part-owners of Breitbart.com and their foundation serves as the primary funder of the Government Accountability Institute (GAI), a conservative research group where Bannon previously served as chairman.
Bannon also co-founded the Mercers' company Glittering Steel, which, the Daily Beast reported, "was little more than 'a front for Bannon.'"
This collaboration created numerous conflicts of interest. An April Media Matters review concluded:
Breitbart regularly promotes the research and films generated by its owners' and top editors' other projects. In hundreds of articles over the past six years, Breitbart's reporters have produced what amounts to press release copy for GAI, highlighting its findings, aggregating stories about politicians responding to GAI's reports, and posting videos of GAI leaders — who are also Breitbart editors — discussing their work on television.

The conflicts of interest don't stop with GAI. Bannon and the Mercers also co-founded and own the film production company Glittering Steel; Breitbart's editorial resources have been used to promote that firm's documentaries.
Later that month, the credentialing committee for congressional reporters rejected Breitbart's bid for permanent press credentials because of those conflicts.
Bannon also previously served as vice-president of the board and part-owner of Cambridge Analytica, a data analytics firm primarily owned by Robert Mercer that worked for the Trump campaign. In May, Time reportedthat congressional investigators looking into Russia's role in the 2016 election were looking into the firm's work.
The messy web between Bannon and the Mercer family is far from something of the past. As Politico reported(albeit, after the 60 Minutes interview was complete), Bannon is partnering with the Mercers to "pour millions of dollars into attacks on GOP incumbents," including Sens. Jeff Flake (R-AZ) and Dean Heller (R-NV).
Now that he's no longer a member of the Trump White House, Bannon's access to the Mercer billions is what makes him a potent political figure. And yet, given a rare opportunity to speak with Bannon on-camera, 60 Minutes never mentioned them.


Header image by Sarah Wasko / Media Matters