Steve King Wants To Use The Boston Bombing To Delay Immigration Reform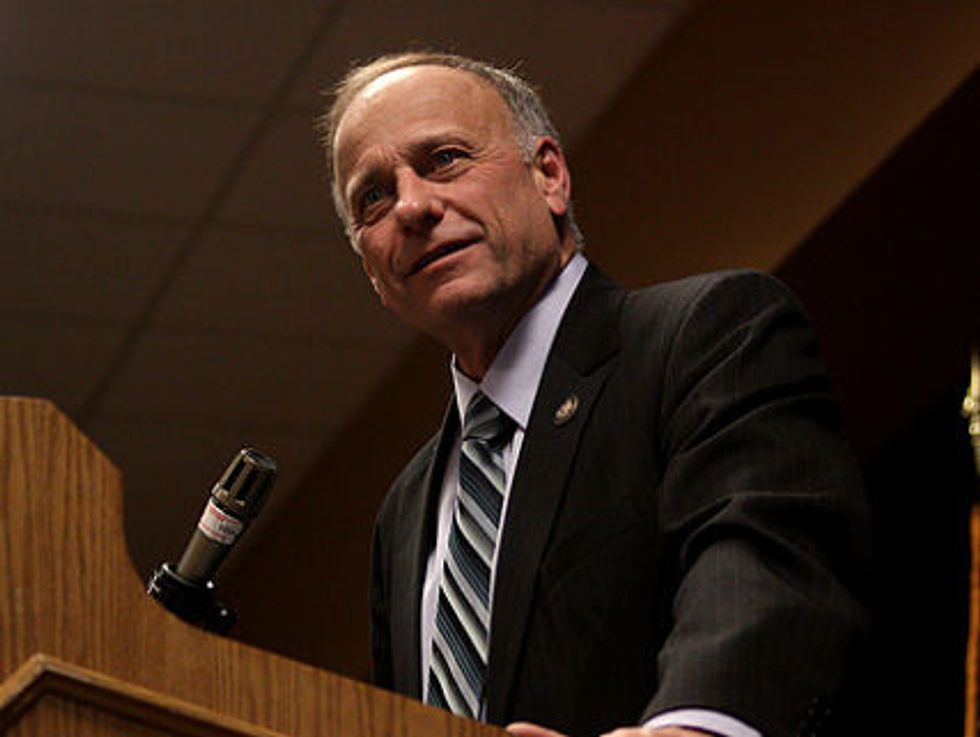 On the morning after the Boston Marathon bombings, America's right wing went straight back to work.
Michelle Malkin was insinuating that liberals want to take your kids; Glenn Beck was talking gold; Steve Stockman (R-TX) was about to go all 1776 on CNN's Wolf Blitzer for questioning if the attacks had anything to do with Tax Day.
And Steve King (R-IA) was doing what he does worst/best: denigrating immigrants.
"Some of the speculation that has come out is that yes, it was a foreign national and, speculating here, that it was potentially a person on a student visa," King told The National Review's Robert Costa. "If that's the case, then we need to take a look at the big picture."
To King, the big picture is delaying immigration reform.
"We need to be ever vigilant," he said. "We need to go far deeper into our border crossings. . . . We need to take a look at the visa-waiver program and wonder what we're doing. If we can't background-check people that are coming from Saudi Arabia, how do we think we are going to background check the 11 to 20 million people that are here from who knows where?"
Senators from the so-called "Gang of Eight" were set to introduce their compromise plan Tuesday but delayed the announcement due to the tragic events in Boston.
Of course, King's apprehensions about immigration reform weren't really any different after the bombings than before.
Last week, he told reporters "The meetings of the Gang of Eight and the secret meetings in the House of Representatives — the people who have been standing up for the Constitution and the rule of law haven't been invited to those meetings."
Who does King believe stands up for the Constitution? The other congresspeople in the room with him protesting the immigration compromise: Michele Bachmann (R-MN), Lou Barletta (R-PA), Mo Brooks (R-AL), Louie Gohmert (R-TX), and Dana Rohrabacher (R-TX).
They're all hardcore Tea Partiers who represent the GOP's AM-radio base; who killed immigration reform in 2007 and helped drive 2012 GOP nominee Mitt Romney to declare he was for "self-deportation," which led to him doing worse with Latino voters than John McCain or George W. Bush. They oppose anything but building bigger border fences no matter what. And they will be joined by their like-minded colleagues in the Senate, including Jeff Sessions (R-AL) who warned Monday that reform could lead to improving immigrants' lives.
King has thrived in his congressional district by politicizing everything and anything. Now that he's running for the U.S. Senate in a state President Obama won twice, he doesn't seem to have any desire to moderate himself, even if it means using a tragedy to further his anti-immigrant agenda before the dust in Boston has even settled.
Photo: Gage Skidmore via Flickr.com