Still More Appalling Revelations About Trump's Misogyny? Coming Right Up!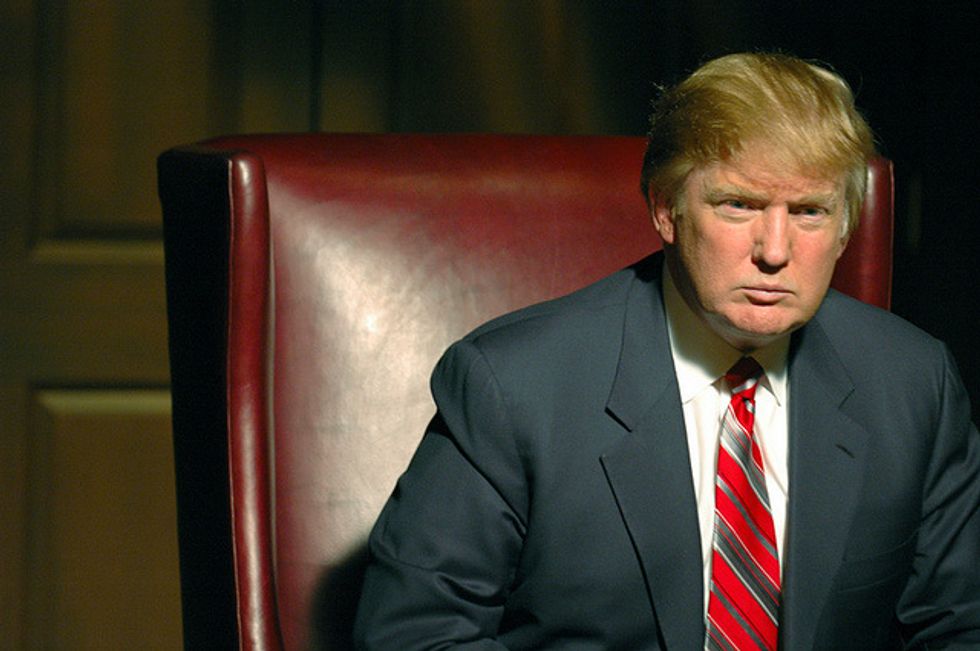 After ex-"Apprentice" producer Bill Pruitt promised more disgusting Trump revelations would come, sure enough the drip continues. The adolescent man-boy and confessed sexual predator bragged about being able to gawk at beauty pageant contestant's naked bodies because he owned the pageant, according to a Buzzfeed report.
"I sort of get away with things like that," Trump told Howard Stern in a 2005 interview CNN released Saturday. The story had been around since spring when a pageant contestant in Miss USA 2000 told of how Trump would invent an excuse to barge into the dressing room. Trump vehemently denied it. Surprise, surprise! He was lying.
In other news, in a fine piece of irony, Arnold Schwarzenegger, the womanizing former GOP governor of California who replaced Donald Trump on "The Apprentice" TV show, has said Donald Trump should step aside in the presidential race.
On Saturday, Pruitt tweeted that there are still far worse Trump tapes to come. (You didn't really think bragging about grabbing women by the pussy was just a one-time thing, did you?) "As a producer on seasons 1 & 2 of #theapprentice I assure you: when it comes to the #trumptapes there are far worse. #justthebegininng," Pruitt tweeted. This followed the revelation Saturday that Trump told shock jock Howard Stern 13 years ago, after a graphic discussion of his daughter Ivanka's figure, that it was okay to refer to her as a "piece of ass."
Republicans are stampeding to exit the Trump bus. After sticking it out for as long as he could, John McCain has finally had enough. Saturday afternoon, the Arizona senator and former GOP presidential candidate rescinded his support for Donald Trump in a statement to Politico.
"I have wanted to support the candidate our party nominated. He was not my choice, but as a past nominee, I thought it important I respect the fact that Donald Trump won a majority of the delegates by the rules our party set. I thought I owed his supporters that deference," McCain said. "But Donald Trump's behavior this week, concluding with the disclosure of his demeaning comments about women and his boasts about sexual assaults, make it impossible to continue to offer even conditional support for his candidacy. Cindy, with her strong background in human rights and respect for women, fully agrees with me in this."
McCain did not call for Trump to drop out, as Condoleezza Rice and a rising chorus of Republicans has since the Friday release of a 2005 video of Trump making lewd remarks about women, asserting his ability to kiss and grope them because he is a star (just months into his marriage to Melania Trump).
His exact recorded words: "You know I'm automatically attracted to beautiful — I just start kissing them. It's like a magnet. Just kiss. I don't even wait," Trump told Access Hollywood's Billy Bush. "And when you're a star they let you do it. You can do anything. Grab them by the p*ssy. You can do anything."
After huddling all day in Trump tower with campaign insiders Chris Christie, Rudy Giuliani and others, Trump remained defiant about staying in the race until the bitter end. Apparently, that is what Republican voters apparently want. According to a new Politico poll, only 12 percent of Republicans and 13 percent of Republican women want him to drop out.
Giuliani was dispatched to Sunday morning programs as Trump prepared attacks on the Clinton and lashed out at his high-ranking Republican critics. "So many self-righteous hypocrites. Watch their poll numbers – and elections – go down!" Trump tweeted.
In an interview with the Wall Street Journal Saturday, Trump said there is "zero chance" he will drop out.
He reiterated that sentiment in all caps on Twitter Saturday afternoon. "The media and establishment want me out of the race so badly – I WILL NEVER DROP OUT OF THE RACE, WILL NEVER LET MY SUPPORTERS DOWN!" he tweeted.
It would be uncharted territory if he did drop out. As Reuters notes:
There is no precedent for a major party to replace their nominee this late in the campaign and it remains unclear if there is an avenue to force him from the race. Voting has already begun in several states, including the important swing states of Virginia and North Carolina.

Trump has been attempting to do his brand of damage control ever since the tape was first revealed on Friday, though the damage does continue to spread like wildfire, throwing both his campaign and the party into disarray. to recap, first he issued a lame, "I'm sorry if you were offended" apology. Then he released a brief video saying, "Anyone who knows me knows these words don't reflect who I am. I said it, I was wrong, and I apologize." He proceeded to threaten to bring up the Clintons' marital troubles. Later he made light of the whole thing tweeting, "it sure has been an interesting 24 hours."

In a first, even his wife Melania has issued a statement critical of her husband. "The words my husband used are unacceptable and offensive to me," it read. "This does not represent the man that I know. He has the heart and mind of a leader. I hope people will accept his apology, as I have, and focus on the important issues facing our nation and the world."

Ivanka Trump has yet to weigh in.

Of the other Republicans who have decamped besides McCain, Senator Kelly Ayotte of New Hampshire has said she will write-in Trump's running mate Mike Pence when she votes. Paul Ryan canceled a campaign event in Wisconsin with Trump calling his comments "sickening," though stopped short of withdrawing his endorsement. Crowds reportedly jeered at Ryan at the event, and Trump tweeted about the "great crowds" there. Rep. Jason Chaffetz of Utah did withdraw his, saying, "I'm out. I can no longer in good conscience endorse this person for president. It is some of the most abhorrent and offensive comments that you can possibly imagine."  By Saturday night, 9 Republican Senators, 11 Reps., and 3 GOP governors had decamped from Camp Trump.

A pained-looking Mike Pence issued this brief statement Saturday: "As a husband and father I was offended by the words and actions described by Donald Trump in an eleven-year-old video released yesterday. I do not condone his remarks and cannot defend them." Pence is reportedly busy praying in hopes that God will give him some guidance on how to handle this whole mess.

There are also indications that the RNC may also be bailing on Trump, with chairman Reince Priebus redirecting funds away from his campaign. On Friday, Priebus immediately denounced Trump's comments as "indefensible."

On Saturday, the RNC also appeared to be halting some of the operations of the "Victory" program that is or was all about getting Donald Trump elected, according to Politico, which reports:

In an email from the RNC to a victory program mail vendor, with the subject line "Hold on all projects," the committee asked the vendor to "put a hold" on mail production.

"Please put a hold/stop on all mail projects right now. If something is in production or print it needs to stop. Will update you when to proceed," Lauren Toomey, a staffer in the RNC's political department, wrote in an email that was obtained by Politico.
Reprinted with permission from AlterNet.
IMAGE: THE APPRENTICE "Episode 306: The Writing on the Wall" — Pictured: Donald Trump — NBC Universal Photo: Kevin T. Gilbert