Still Perplexed And Worried About Hillary Clinton's Emails? Calm Down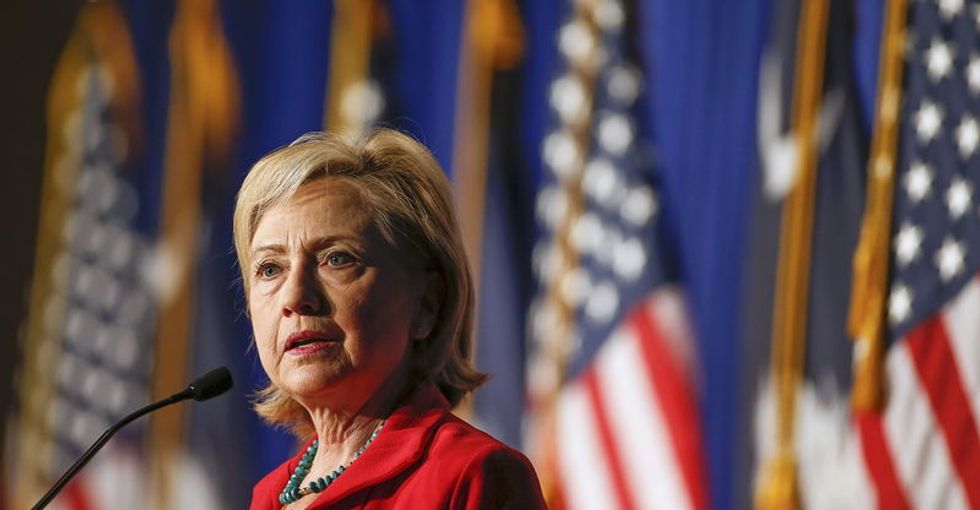 Amid the ongoing hysterics over Hillary Clinton's email server – now turned over to the FBI, along with a "thumb drive" maintained by her attorney David Kendall – it was refreshing this morning that ABC News, at least, appears to understand basic facts about this overblown affair.
In a handy question-and-answer format, the network's Justin Fishel and Mike Levine explain why the FBI wants to examine the server, namely to ascertain that it contains no classified information, and reiterate what everyone ought to know by now: that despite propagandistic nonsense spread by Republican operatives, the bureau is not undertaking a criminal investigation of Clinton herself.
As noted in the ABC News Q&A:
The Intelligence Community's inspector general said from the beginning that it made a "counterintelligence referral" — not a "criminal referral" — to the FBI. The main concern was that classified information could be compromised because it was sent over unsecured networks and remained in the hands of Clinton or her legal team, not that any crimes may have been committed, a spokeswoman for the Intelligence Community's IG previously told ABC News.
But even the comparatively sober ABC News analysis omits crucial facts that seem to have eluded many observers – several of which were outlined by Jennifer Palmieri, the Clinton campaign's communications director, in a useful briefing she posted on Medium. Yes, it is Palmieri's job to remind everyone of these facts. And it is the job of journalists to report them – not ignore them – so that readers and viewers can understand this story's context.
As discussed in this space before, the State Department asked the four Secretaries of State who preceded John Kerry to turn over work-related electronic mail for archiving. Only Hillary Clinton has provided any materials so far, sending over 30,000 emails from her server. According to Palmieri, at least 1,200 of those messages will be returned to Clinton, because State officials say they are wholly personal in nature.
(I still wonder why reporters seem so uninterested in the emails sent by Colin Powell on his personal account, particularly concerning Iraq. Powell insists he didn't keep any of those messages, but nobody seems too eager to test that convenient assertion.)
Palmieri also addresses the confusion over information that wasn't classified when Clinton sent it but may have been classified since she left office:
It's common for information previously considered unclassified to be upgraded to classified before being publicly released [as Clinton's official emails are being examined, redacted, and released by the State Department]. Some emails that weren't secret at the time she sent or received them might be secret now. And sometimes government agencies disagree about what should be classified, so it isn't surprising that another agency might want to conduct its own review, even though the State Department has repeatedly confirmed that Hillary's emails contained no classified information at the time she sent or received them.
We can expect some partisan figures – like Rep. Trey Gowdy (R-SC) and his fellow Republicans on the House Select Committee on Benghazi – to continue to willfully misrepresent these fundamental facts. Gowdy seems to believe that smearing Clinton, using millions of taxpayer dollars, is his job.
Photo: U.S. Democratic presidential candidate Hillary Clinton speaks at a campaign event in West Columbia, South Carolina on July 23, 2015. REUTERS/Chris Keane