Election Experts: Roger Stone's Exit Polling Plan Smacks Of 'Intimidation'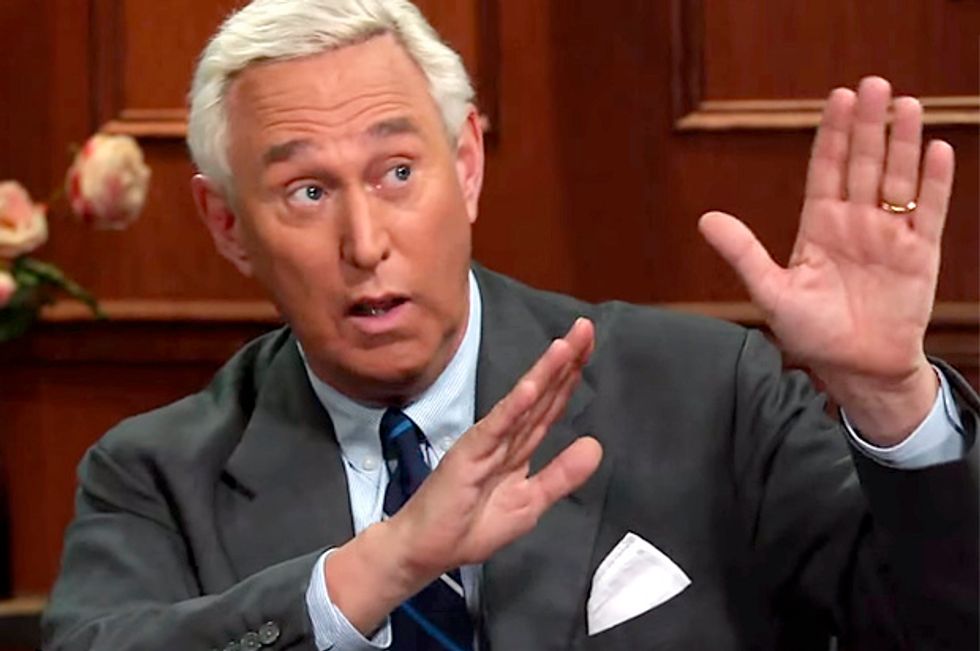 Election experts and polling veterans tell Media Matters that the plan by longtime Donald Trump adviser and friend Roger Stone to unleash hundreds of untrained "exit poll" watchers in search of vote theft on Election Day risks intimidating voters in the targeted communities. They also explain that unprofessional exit polling is a nonsensical way to discover alleged voter fraud and vote rigging, which is "extremely rare" in the first place.
Stone, an ardent conspiracy theorist and devoted Trump ally, has for months been warning that Democrats are planning to "rig" and "steal" the election for Hillary Clinton. (Trump has echoed this warning in numerous campaign rallies.)
Stone heads the 527 group Stop the Steal, which has announced plans to conduct "targeted EXIT-POLLING in targeted states and targeted localities that we believe the Democrats could manipulate based on their local control, to determine if the results of the vote have been skewed by manipulation." The Guardian, in a piece that quoted several experts raising concerns about Stone's proposal, noted that Stone and his group plan to "conduct exit polling in Cleveland, Detroit, Philadelphia, Las Vegas, Milwaukee, Fort Lauderdale, Charlotte, Richmond and Fayetteville – all locations in pivotal swing states." Stone has been recruiting volunteers for the project from far-right sources like the audience of conspiracy theorist Alex Jones' radio program.
After the Huffington Post raised concerns about plans listed on Stop the Steal to have election-watchers wear official-looking ID badges and videotape inside polling places, Stone said he "ordered them taken down" from the site and stressed that he would "operate within the confines of election law."
But the underlying plan to conduct amateur exit polling is still extremely problematic, several election law experts and polling veterans told Media Matters.
"From what I've read about it, this doesn't sound like exit polling of the traditional sense, it sounds to me as if there is a targeting of certain communities, primarily minority communities and we fear this is going to have an intimidating effect," Ezra Rosenberg, co-director of the Voting Rights Project of the Lawyers' Committee for Civil Rights Under Law said in an interview. "Voters are supposed to be free in their voting. This seems to be pointed in absolutely the wrong direction."
He later added, "We certainly do have a fear of intimidation when they focus on areas of disproportionately large minority populations. It is just wrong. It has an intimidating effect."
Alan Abramowitz, an Emory University political science professor and author of Voice of the People: Elections and Voting Behavior in the United States, said he was "very skeptical about the accuracy of any exit polling conducted by Mr. Stone and his allies. He is a well-known right-wing provocateur and there is little doubt that any such 'exit polling' would be extremely biased."
"The kind of vote fraud Trump and Stone have been warning about is, in fact, extremely rare. There are lots of real problems with the way elections are conducted in the U.S., but that is not one of them," Abramowitz said.
Rick Hasen, a professor and political campaign expert at the University of California, Irvine, School of Law, likened Stone's plan to a "goon squad."
"It does not sound like a sensible exit polling strategy," he said. "Why target only these nine cities? Exit polling is best to get a snapshot of the electorate, not to ferret out supposed voter fraud. Impersonation fraud — the kind of fraud Trump and his allies have been talking about — is extremely rare and I can't find evidence it has been used to try to sway an election at least since the 1980s."
Richard Benedetto, professor of journalism at American University School of Public Affairs, disputed that any of Stone's methods could wind up helping a legal challenge of the election results.
"It won't be an admissible thing in court, you need to be able to prove real fraud, not hearsay stuff," Benedetto said. "That the people who voted were not the actual people, you have to have evidence of that. There is a lot of exit polling that goes on and most of it is pretty bad, most of it is unscientific. You have to have a scientific sample."
Lorraine Minnite, a professor of public policy at Rutgers University, Camden, conducted exit polls in New York as a political science professor at Barnard College. She said Stone's lack of credibility hurts any such effort by him to examine the voting.
"It doesn't sound like what they are doing is an exit poll," she said in an interview. "He is not a credible person when it comes to elections and campaign tactics."
As for claims of voter fraud, she said, "That's not factually accurate and there is no evidence to support a claim like that. It doesn't make any sense. If what is happening is voter imposters, I don't understand how somebody doing an exit poll is going to uncover that."
Nate Persily is a Stanford Law School professor and elections expert who also served as the Senior Research Director for the Presidential Commission on Election Administration after the 2012 election. He called in person voter fraud "incredibly rare."
"In person voter fraud at polling places … is a terribly inefficient (and easily discoverable) way to rig an election," Persily said via email. "It would require enlisting hordes of voters to go from polling place to polling place pretending to be someone they are not."
Reprinted with permission from Media Matters.