Trump Ally Alexander 'Canceled' Over Evidence He Solicited Teen Boys
@next2godwin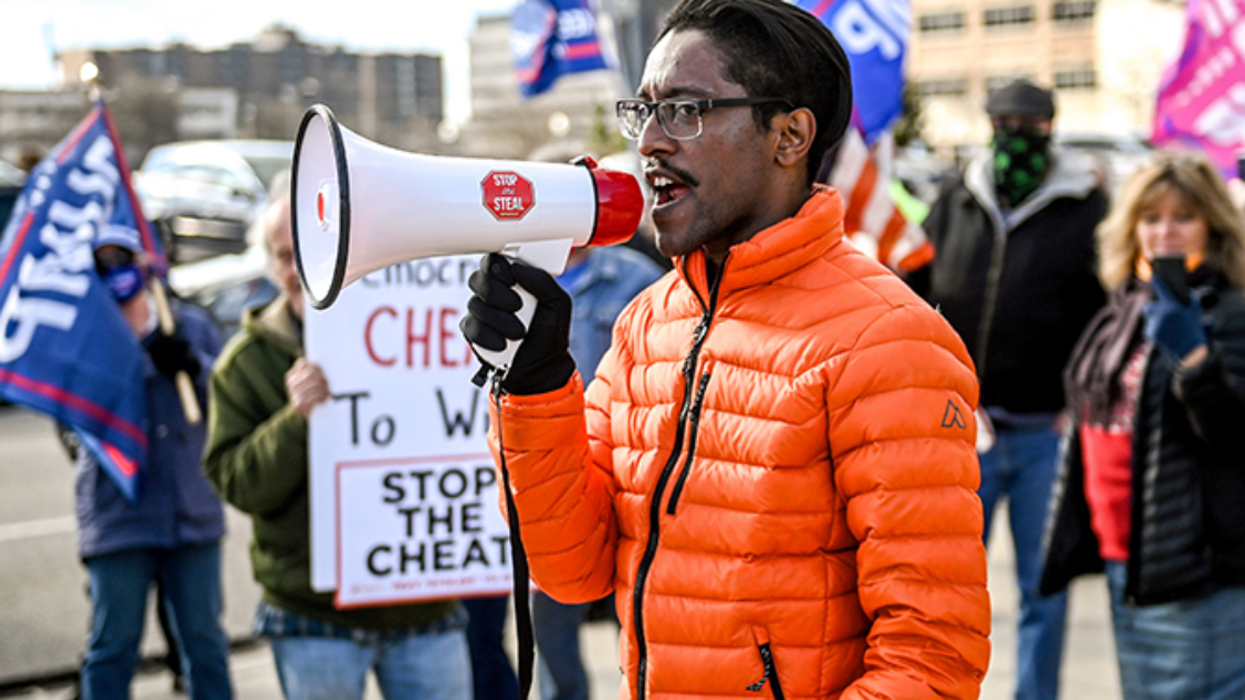 Ali Alexander, a pro-Trump activist and "Stop the Steal" organizer, is facing backlash after a recent cascade of allegations emerged denoting that Alexander had solicited sexual pictures from at least two teenage boys.
Pandemonium within the far-right reached a fever pitch last week when controversial right-wing commentator Milo Yiannopoulos reportedly released screenshots of text messages that showed Alexander requesting "jack off material" from a 15-year-old.
Elaborating on the fallout further in a damning report on Monday, The Daily Beast reported that Alexander had in 2017 asked the teenager, Aidan Duncan, who is 21 years old now, for nude photos in exchange for political connections.
"You'll have [me] sharing my entire network with you," Alexander allegedly said in screenshots of a Snapchat conversation the Beast reviewed. The messages also reportedly showed Alexander dangle a meet-up with Yiannopoulos as a perk to Dancan — a reward Alexander said was reserved for whoever opted to be his "arm candy."
Alexander, the Beast said, responded to a photo Duncan later sent him with an emoji of a smiling face with heart eyes and urged the teen to retain contact because "the less you deprive me of, the less I deprive you of. I'm a big sharing person unless it's not even."
Duncan told right-wing podcaster Richard Spencer in March 2023 that Alexander had offered to fly him to Texas to "be his intern" and asked the teen to lie to his parents about the trip to keep the affair secret.
In May 2019, Alexander allegedly took umbrage at what he said was the still underage Duncan's inability to send him "videos" and "good jack off material," several screenshots the Beast reviewed showed.
In a tweet last Thursday, Duncan said the interaction with Ali happened at a young age when he was "naive and desperate" and believed he had "no choice but to cooperate" with Alexander "if I wanted to make it in politics."
In the summer of 2019, Alexander allegedly asked another teen, 17-year-old Lance Johnston, for photos of his penis in a message with the eggplant emoji, the Beast's report also stated.
"Show me ur [eggplant emoji]," Alexander allegedly wrote to Johnston on the night of the Trump White House's "Social Media Summit," when then-President Donald Trump dubbed Alexander and a contingent of right-wing Twitter trolls the victims of online bias.
When Johnston asked what he meant, Alexander allegedly replied, "Omg dick," a screenshot showed, per the Beast. Johnston told the publication that he rejected Alexander's requests and blocked him.
Johnston also insisted to the Beast that Alexander and Nick Fuentes — a notorious far-right white supremacist, anti-Semite, and misogynist who made headlines for accompanying rapper Kanye West to break bread with Trump at Mar-a-Lago in late November — had promised him "a job in politics" if he recanted the eggplant story.
When the messages first hit the airwaves, Alexander dismissed accusations of wrongdoing, saying, "You can have whatever conversation you want with someone who is 17."
On Friday, Alexander issued a statement on his Telegram channel in which he maintained his innocence but apologized for what he called "corny pick up lines" and said he had "repented before God."
"I apologize for any inappropriate messages sent over the years. Forgive me," Alexander wrote, according to the Independent.
"When I've flirted or others have flirted with me, I've flexed my credentials or dropped corny pick up lines. Other times, I've been careless and should've qualified those coming up to me's [sic] identities during flirtatious banter at the start," Alexander said.
He insisted that nothing "unlawful" had occurred, claimed the fast-spreading images were doctored, and accused "fake accusers or literal honey pots eager to frame me" of being behind the accusations.
Alexander's Twitter account — which had been previously banned but reinstated by Twitter boss Elon Musk in January — was suspended on Tuesday following the accusations.
Chaos on the Unhinged Right
MAGA gadfly Rep. Marjorie Taylor Greene (R-GA), a former ally with whom Alexander had long since fallen out, blasted Alexander in a tweet on Monday for his "predation of underage boys."
Alexander accused Greene in a Monday tweet — shortly before his Twitter suspension — of intimidation and exacting revenge for a spat between the two weeks earlier.
Fuentes, who is facing accusations of covering up for Alexander, his longtime friend, declared "war" on Greene for her tweet in an audio published on Twitter by Right Wing Watch.
In addition to allegedly attacking Duncan and Johnston for "flirting with Ali" because "they thought it would advance their political careers," Fuentes has claimed that "the real victim in this entire saga is me," the Beast added in its report.
"Sounds like everybody involved got what they wanted," Fuentes said. "Except me, the incel, who is now somehow being blamed for things I had nothing to do with."
During a podcast over the weekend, Fuentes asserted Alexander had gone on a self-imposed exile and therefore deserved a breather, as reported by HuffPost.
Fuentes said. "I talked to Ali. He understands how strongly people feel — how strongly I feel — and he's bowing out of public life. So nobody has to worry about that."
Yiannopoulos, who resigned from his job as an editor for right-wing outlet Breitbart in 2017 over comments he made downplaying the gravity of pedophilia, told the Beast that he published the Alexander texts — and claimed to have unseen video evidence — because Alexander "used my name" to entice young men.
The Beast noted, however, that Alexander and Fuentes had allegedly worked to block Yiannopolous from a potentially lucrative role in West's presidential campaign.