How Breitbart Media Created The Paranoid, Fact-Averse Nation That Elected Trump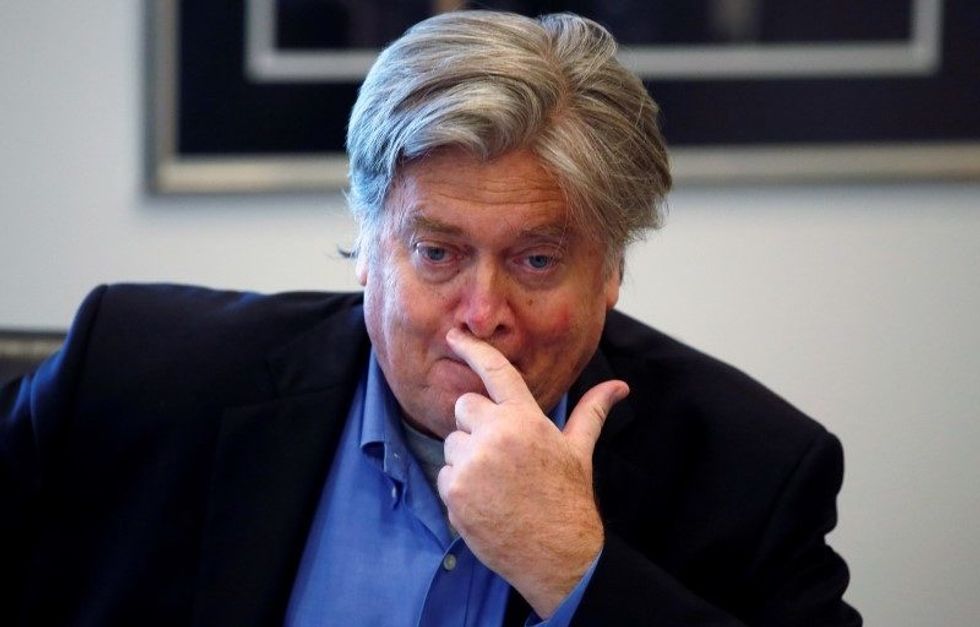 Reprinted with permission from AlterNet.
Right-wing media evolved into a hall of mirrors in 2016, when Breitbart displaced Fox News as the key agenda-setting and attack-leading epicenter of a disinformation-filled, paranoid ecosystem promoting Donald Trump and his pro-white America agenda.
Breitbart not only led the right's obsessive, hostile focus on immigrants, it was also the first to attack professional reporting such as the New York Times and Washington Post. Breitbart's disruptive template fueled the political and information universe we now inhabit, where the right dismisses facts and embraces fantasies.
There is no corollary dynamic on the left or among pro-Clinton audiences in 2016. The left's news sources, media consumption and patterns of social media-sharing are more open-minded and fact-based and less insular and aggressive. Still, Breitbart's obsessive focus on fabricating and hyping scandals involving Hillary Clinton (and Jeb Bush early in the primary season) pushed mainstream media to disproportionately cover its agenda.
These observations are among the takeaways of a major study from Columbia Journalism Review that analyzed 1.25 million stories published online between April 2015 and Election Day 2016. While the study affirmed what many analysts have long perceived—that right-wing media and those who consume it inhabit a paranoid and dark parallel universe—it also documented shifts in the right's media ecosystem; namely, Breitbart supplanting Fox News as the leading purveyor of extreme disinformation.
"A right-wing media network anchored around Breitbart [has] developed as a distinct and insulated media system, using social media as a backbone to transmit a hyper-partisan perspective to the world," CJR wrote. "This pro-Trump media sphere appears to have not only successfully set the agenda for the conservative media sphere, but also strongly influenced the broader media agenda, in particular coverage of Hillary Clinton."
The CJR report said Americans' media consuming habits are "asymmetric," meaning those on the left—progressives and Democrats—rely on more diverse outlets and content, compared to the right.
"Pro-Clinton audiences were highly attentive to traditional media outlets, which continued to be the most prominent outlets across the public sphere, alongside more left-oriented online sites," CJR wrote. "But pro-Trump audiences paid the majority of their attention to polarized outlets that have developed recently, many of them only since the 2008 election season."
The pro-Trump media specialized in what CJR called "disinformation," where facts are presented in isolation or stripped of context, and then exaggerated or hyped to produce false sense of alarm or crisis. This is more sophisticated than merely lying, they said.
"Rather than 'fake news' in the sense of wholly fabricated falsities, many of the most-shared stories can more accurately be understood as disinformation: the purposeful construction of true or partly true bits of information into a message that is, at its core, misleading," CJR said. "Over the course of the election, this turned the right-wing media system into an internally coherent, relatively insulated knowledge community, reinforcing the shared worldview of readers and shielding them from journalism that challenged it. The prevalence of such material has created an environment in which the President can tell supporters about events in Sweden that never happened, or a presidential advisor can reference a non-existent 'Bowling Green massacre.'"
CJR's methodology looked at how the 1.25 million stories were shared or referenced online; e.g., if a person shared a story from Breitbart, what other sites was he likely to share or hyperlink to? CJR used an open source program called Media Cloud, which was developed for studying media at Harvard University and MIT.
The most frequently shared sources among Trump supporters, in descending order, were Breitbart, The Hill, Fox News, Gateway Pundit, Politico, Washington Examiner, Daily Caller, CNN, Washington Post, New York Times, donaldjtrump.com, Conservative Treehouse, InfoWars, Daily Mail, Truthfeed, New York Post, Investors, the Right Scoop, statespoll.com, and Conservative Tribune.
The most frequently shared sources among Clinton supporters, in descending order, were Washington Post, Huffington Post, New York Times, The Hill, CNN, Politico, Politicus USA, Daily Kos, Raw Story, hillaryclinton.com, MSNBC, Salon, Think Progress, Daily Newsbin, Mother Jones, Talking Points Memo, Daily Beast, Media Matters, NBC News and Vox.
Notably, there was virtually no middle ground. The most centrist news source, as measured by comparable volume of shares by Trump and Clinton supporters was the Wall Street Journal, CJR found.
"There are very few center-right sites: sites that draw many Trump followers, but also a substantial number of Clinton followers," they said. "Between the moderately conservative Wall Street Journal, which draws Clinton and Trump supporters in equal shares, and the starkly partisan sites that draw Trump supporters by ratios of 4:1 or more, there are only a handful of sites. Once a threshold of partisan-only attention is reached, the number of sites in the clearly partisan right increases, and indeed exceeds the number of sites in the clearly partisan left."
Hyper-Partisan Disinformation
The emergence of a self-segregating, far-right media universe is a relatively recent development. This fractured and self-referencing ecosystem barely existed before Barack Obama became president in 2008. As CJR noted, when Ronald Reagan became president in 1980, the only far-right publication was the New York Post. By the time Bill Clinton was elected in 1992, there was "only the Washington Times, Rush Limbaugh, and arguably Sean Hannity." In 1996, Fox News was launched, and Alex Jones of InfoWars went on the radio. Breitbart was not founded until 2007.
Breitbart first displaced Fox News in the GOP's crowded primary season early in 2016, CJR reported, when there was a field of 17 candidates and no clear frontrunner.
"The pattern of hyper-partisan attack was set during the primary campaign, targeting not only opposing candidates but also media that did not support Trump's candidacy," it said. "The February map [of the most read and shared websites], for example, shows Fox News as a smaller node quite distant from the Breitbart-centered right. It reflects the fact that Fox News received less attention than it did earlier or later in the campaign, and less attention, in particular, from users who also paid attention to the core Breitbart-centered sites and whose attention would have drawn Fox closer to Breitbart."
CJR explained that Breitbart started to attack Fox News early in 2016. "The top-20 stories in the right-wing media ecology during January included, for example, 'Trump Campaign Manager Reveals Fox News Debate Chief Has Daughter Working for Rubio.' More generally, the five most widely shared stories in which Breitbart refers to Fox are stories aimed to delegitimize Fox as the central arbiter of conservative news, tying it to immigration, terrorism and Muslims, and corruption." The list is:
The Anti-Trump Network: Fox News Money Flows into Open Borders Group
NY Times Bombshell Scoop: Fox News Colluded with Rubio to Give Amnesty to Illegal Aliens
Google and Fox TV Invite Anti-Trump, Hitler-Citing, Muslim Advocate to Join Next GOP TV-Debate
Fox, Google Pick 1994 Illegal Immigrant To Ask Question in Iowa GOP Debate
Fox News at Facebook Meeting Is Misdirection: Murdoch and Zuckerberg Are Deeply Connected Over Immigration
Those attacks ceased by late spring, when the finalists for the GOP nomination were Trump and Ted Cruz. By then, CJR reported that the most-shared news sources on the right were, in descending order, Breitbart, Fox News, Daily Caller, Gateway Pundit, Washington Examiner, WikiLeaks and InfoWars. On the left, the most shared sources as the primaries ended were: CNN, the New York Times, the Washington Post, Huffington Post, The Hill and Politico.
But even as red and blue America turned to differing media, CJR noted that the right's aggressive and hyperbolic political attacks shaped coverage by more mainstream and professionalized outlets. "The right-wing media was also able to bring the focus on immigration, Clinton emails, and scandals more generally to the broader media environment," CJR said.
"A sentence-level analysis of stories throughout the media environment suggests that Donald Trump's substantive agenda—heavily focused on immigration and direct attacks on Hillary Clinton—came to dominate public discussions," it continued. "The right-wing media was also able to bring the focus on immigration, Clinton emails, and scandals more generally to the broader media environment… [and these] came to dominate public discussions."
Right-wing media wasn't just setting the topical news agenda, it was shaping the angles or slants taken, CJR noted. "While mainstream media coverage was often critical, it nonetheless revolved around the agenda that the right-wing media sphere set: immigration. Right-wing media, in turn, framed immigration in terms of terror, crime, and Islam, as a review of Breitbart and other right-wing media stories about immigration most widely shared on social media exhibits."
As the campaign crested, right-wing media was churning out a fount of propaganda, CJR said, saying its disinformation epitomized "the paranoid" in our politics.
"What we find in our data is a network of mutually reinforcing hyper-partisan sites that revive what Richard Hofstadter called 'the paranoid style in American politics,' combining decontextualized truths, repeated falsehoods, and leaps of logic to create a fundamentally misleading view of the world," CJR said. "'Fake news,' which implies made of whole cloth by politically disinterested parties out to make a buck of Facebook advertising dollars, rather than propaganda and disinformation, is not an adequate term. By repetition, variation, and circulation through many associated sites, the network of sites make their claims familiar to readers, and this fluency with the core narrative gives credence to the incredible."
CJR gave stunning examples. It cited examples by Ending the Fed, which was one of the most frequently shared right-wing sites on Facebook.
"While Ending the Fed clearly had great success marketing stories on Facebook, our analysis shows nothing distinctive about the site—it is simply part-and-parcel of the Breitbart-centered sphere," it wrote. "The false claims perpetuated in Ending the Fed's most-shared posts are well established tropes in right wing media: the leaked Podesta emails, alleged Saudi funding of Clinton's campaign, and a lack of credibility in media. The most Facebook-shared story by Ending the Fed in October was 'IT'S OVER: Hillary's ISIS Email Just Leaked & It's Worse Than Anyone Could Have Imagined.' See also, InfoWars' 'Saudi Arabia has funded 20% of Hillary's Presidential Campaign, Saudi Crown Prince Claims,' and Breitbart's 'Clinton Cash: Khizr Khan's Deep Legal, Financial Connections to Saudi Arabia, Hillary's Clinton Foundation Tie Terror, Immigration, Email Scandals Together.'
"This mix of claims and facts, linked through paranoid logic characterizes much of the most shared content linked to Breitbart," CJR continued. "It is a mistake to dismiss these stories as 'fake news;' their power stems from a potent mix of verifiable facts (the leaked Podesta emails), familiar repeated falsehoods, paranoid logic, and consistent political orientation within a mutually reinforcing network of like-minded sites."
Needless to say, CJR believes the right's fact-averse, hyper-partisan hate-mongering is extremely dangerous for American culture and politics. That's because wide disinformation erodes the prospect of governing based on compromises. If there's any silver lining to CJR's analysis, it is that red and blue America still "pay attention to traditional media, following professional journalistic practices, and cross-reference what they read on partisan sites."
But there is no going back to a simpler, pre-internet past. Today's press must recognize "it is operating in a propaganda and disinformation rich environment," CJR said. "Rising to that challenge could usher in a new golden age for the Fourth Estate."
CJR ended its report on that upbeat note. For the rest of us, its research and reporting tell us it is no accident that Breitbart's Steve Bannon is in the White House as Trump's senior strategist. He helped put Trump there by fanning an unheralded wave of dark propaganda and opening a Pandora's Box that is not about to be closed.
This article was made possible by the readers and supporters of AlterNet.