STUDY: Cable News Devotes 13 Times As Much Coverage To Clinton Health As Trump Foundation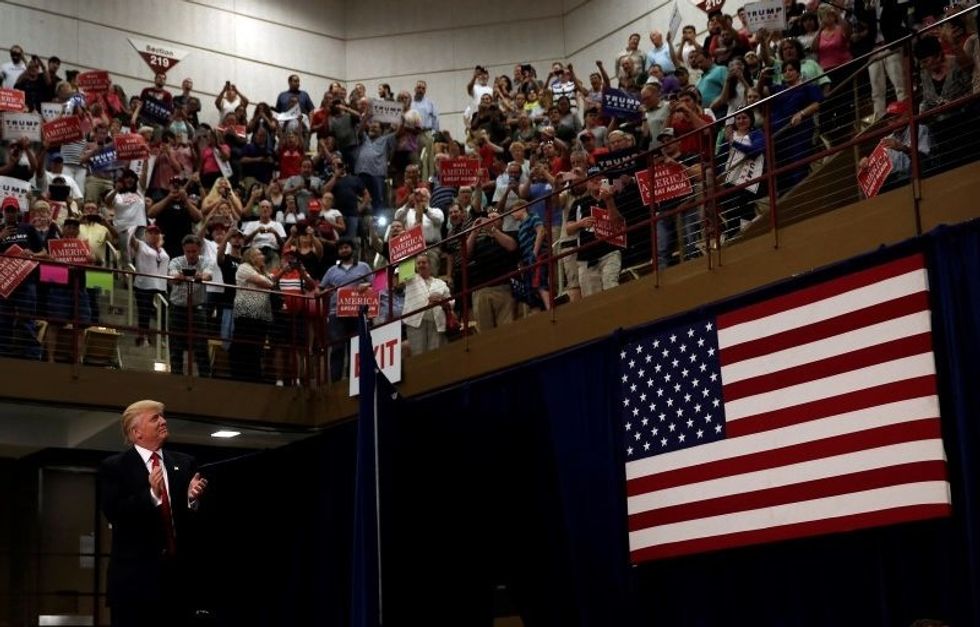 Published with permission from Media Matters for America. 
Cable news networks spent less than an hour in total on September 12 discussing a new investigative report about how Republican presidential nominee Donald Trump retooled his charitable foundation to "spend other people's money." By contrast, they devoted more than 13 and a half hours of their airtime that day to covering Democratic presidential nominee Hillary Clinton's health.
Over the weekend, which marked the 15th anniversary of the 9/11 attacks, Clinton fell ill at a memorial event commemorating the victims of the 2001 attack and later revealed she had been diagnosed with pneumonia two days earlier.
The same weekend, The Washington Post published an investigative report by David Fahrenthold revealingthat Trump had "retooled" the Donald J. Trump Foundation to transform it "from a standard-issue rich person's philanthropy into a charity that allowed a rich man to be philanthropic for free." The report detailed how Trump has stopped donating to his own foundation, instead filling its coffers with donations from business partners and others; that he uses the money as he pleases, including potentially illegal purchases for himself; that he lies to other charities and the public by suggesting that the foundation's donations are his own money; and that the foundation has broken both the law and IRS rules.
On Monday, September 12, the two issues drew immensely disproportionate coverage. CNN, Fox News, and MSNBC devoted 13 hours, 41 minutes, and 41 seconds of combined airtime between 6 a.m. and 11 p.m. to discussing Clinton's pneumonia. The same networks devoted less than an hour of combined airtime to thePost's revelations about the Donald J. Trump Foundation.
Among the networks, MSNBC covered Clinton's health the most with nearly five and a half hours of time devoted to the topic, but much of their evening coverage stood out for devoting substantial time to discussing the history of presidential illnesses, debunking conspiracy theories about Clinton's health — which right-wing mediahave spentmonthspushing — and criticizing the media for hyping the story. Several mainstream media outlets, in their frenzied response, declared that the months of conspiracy theories about Clinton's health had been "vindicated" because Clinton revealed that she had been diagnosed on September 9 with pneumonia.
Noticeably, Fox News was the only cable news network not to cover the Post's reporting on Trump's foundation at all. MSNBC and CNN each gave the story less than half an hour.
The media's reporting on the two stories highlights a consistent problem of news outlets failing to adequately cover investigative reports relating to Donald Trump. Broadcast news networks previously chose to dedicatethree times more coverage to a flawed AP report about the Clinton Foundation than to an illegal political donation Donald Trump once made to the Florida attorney general through his foundation. Network news morning shows also previously failed to cover an investigative report that revealed Trump's former campaign manager possibly received illegal payments from a pro-Russian Ukrainian political party.
Methodology:
Media Matters searched SnapStream for coverage of Hillary Clinton's health on September 12, 2016, on CNN, Fox News, and MSNBC using the terms: "(clinton) (health or pneumonia or overheat* or medical or physician or condition)." Media Matters searched SnapStream for coverage of the Donald J. Trump Foundation on September 12, 2016, on CNN, Fox News, and MSNBC using the terms: "(Trump AND (Foundation OR Charity))"
Photo: Republican presidential nominee Donald Trump takes the stage at a campaign rally in Asheville, North Carolina, U.S., September 12, 2016.  REUTERS/Mike Segar