Stunning: Trump May Ask Sessions To Prosecute Mueller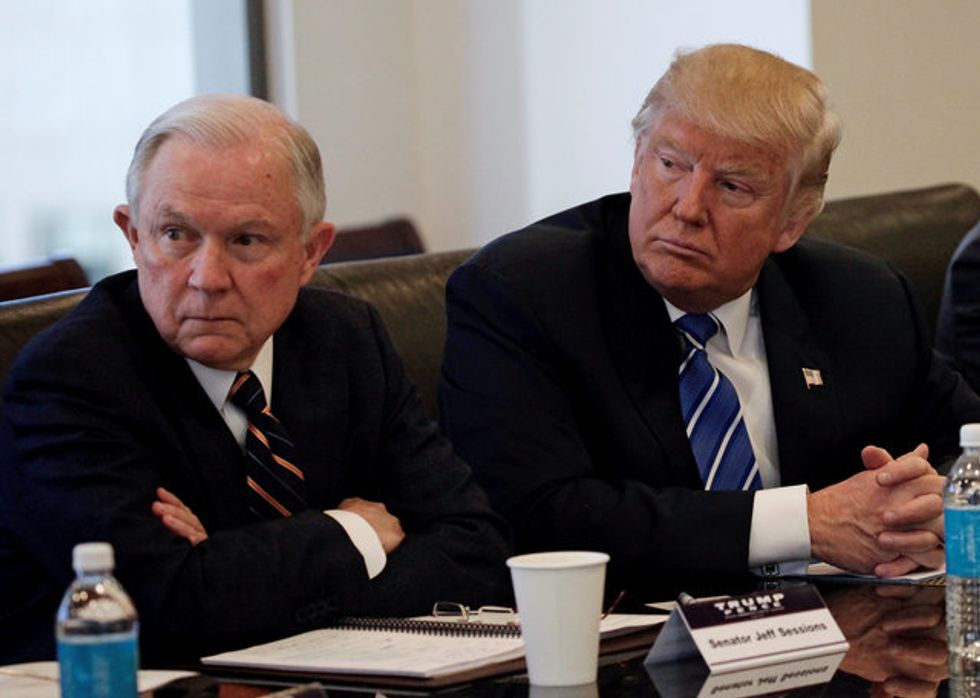 Reprinted with permission from Shareblue.
Donald Trump never tires of finding new ways to obstruct justice, but his latest scheme is brazen even by Trump's standards.
On the heels of the bombshell revelation that Trump ordered the firing of special counsel Robert Mueller shortly after his appointment, and Trump's successful campaign to purge the FBI of another high-ranking official, Trump is reportedly considering another way to get to Mueller.
NBC News 
reports
 that Trump is telling his friends and advisers he is considering asking Attorney General Jeff Sessions to prosecute Mueller and his team.
"Here's how it would work," a White House adviser explained. "'We're sorry, Mr. Mueller, you won't be able to run the federal grand jury today because he has to go testify to another federal grand jury."
The revelation is shocking on a number of levels, not the least of which is that the Justice Department is supposed to be independent, a norm that Trump discarded just days into his presidency. Trump's latest plan also explicitly establishes that his intent is to obstruct justice and deter the investigation into his campaign, his family, and his administration.
But perhaps the most damaging aspect of this report is how casually and openly Trump is plotting his obstruction. Every one of his friends and advisers is now a potential witness in Mueller's investigation.
Of course, that's only if Mueller is permitted to full his responsibilities as special counsel. Democrats are soundingthe alarm about a looming "constitutional crisis," and this news shows just how urgent it is that Congress takes action to protect Mueller and his investigation.