Suddenly, Roger Stone Recalls Meeting With Russians About Clinton in 2016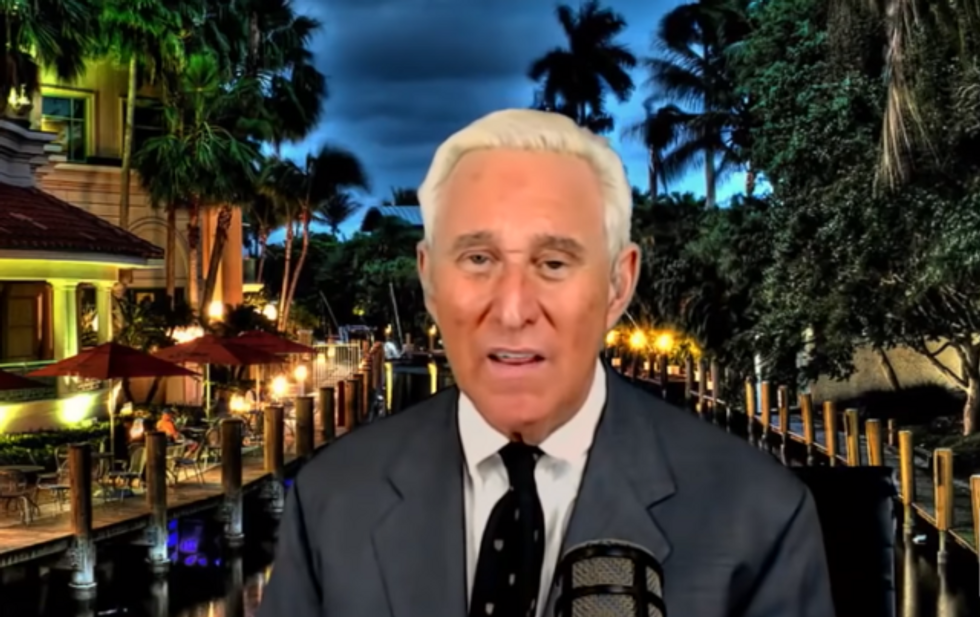 Reprinted with permission from Shareblue.
After denying to Congress that they'd ever met with Russians during the 2016 campaign, longtime Trump advisor Roger Stone and former Trump campaign aide Michael Caputo have admitted to the Washington Post that, oops, they actually did meet with a Russian national in May of 2016 — and that their "memories were refreshed" about this meeting because special counsel Robert Mueller has the text messages they sent each other about it.
With these new admissions from Stone and Caputo, the Post reports, there are now at least 11 Trump associates or campaign officials who have met with Russians. But a year and a half ago, a Trump spokeswoman claimed that the number was zero.
Stone told the Post that he met with a Russian who calls himself Henry Greenberg, and that Greenberg wanted $2 million in exchange for damaging information about Hillary Clinton.
"You don't understand Donald Trump," Stone recalls telling Greenberg as he rejected the offer. "He doesn't pay for anything."
This was two weeks before the infamous Trump Tower meeting — which makes it even more likely that Donald Trump, Jr. knew that he was violating campaign finance laws by seeking (very) valuable information from a foreign source.
Caputo set up the meeting after Greenberg told Caputo's Russian-immigrant business partner that he had information that could help the Trump campaign. Caputo, who was a communications official for the Trump campaign at the time, decided that Stone, who was still in Trump's orbit but no longer with the campaign, was the right guy to "vet" this information.
Neither Caputo nor Stone disclosed this meeting to Congress — even when Caputo was asked directly whether he had been offered information about the Clinton campaign by a Russian. Stone told the Washington Post last year that he "didn't talk to anybody who was identifiably Russian during the two-year run-up to this campaign."
So why are Caputo and Stone granting full interviews to the Post to admit this meeting now, when they've denied it for so long?
Part of it is because Mueller has receipts, and there's no sense denying it anymore. ("How crazy is the Russian?" Caputo texted Stone after the meeting. Stone replied that Greenberg wanted "big" money and that the meeting had been a "waste of time.")
But Stone and Caputo are also trying to push Trump's deluded Deep State narrative that the FBI somehow conspired against his campaign.
"I didn't realize it was an FBI sting operation at the time, but it sure looks like one now," Stone told the Post.
Greenberg, it turns out, had worked as an FBI informant in the past. But there's no evidence he was doing so in 2016. Greenberg had testified in a court filing that he had stopped his cooperation with the FBI sometime after 2013, and he told the Post that he wasn't working for the FBI when he met with Stone.
It also wouldn't have made sense for the FBI to set up a "sting" operation at that point — two months before the agency opened a counterintelligence investigation into Russian election interference.
It's clear that Trump's cronies are getting desperate, and that Mueller has their number.
Published with permission of The American Independent.