Supreme Court Spared America A Cataclysm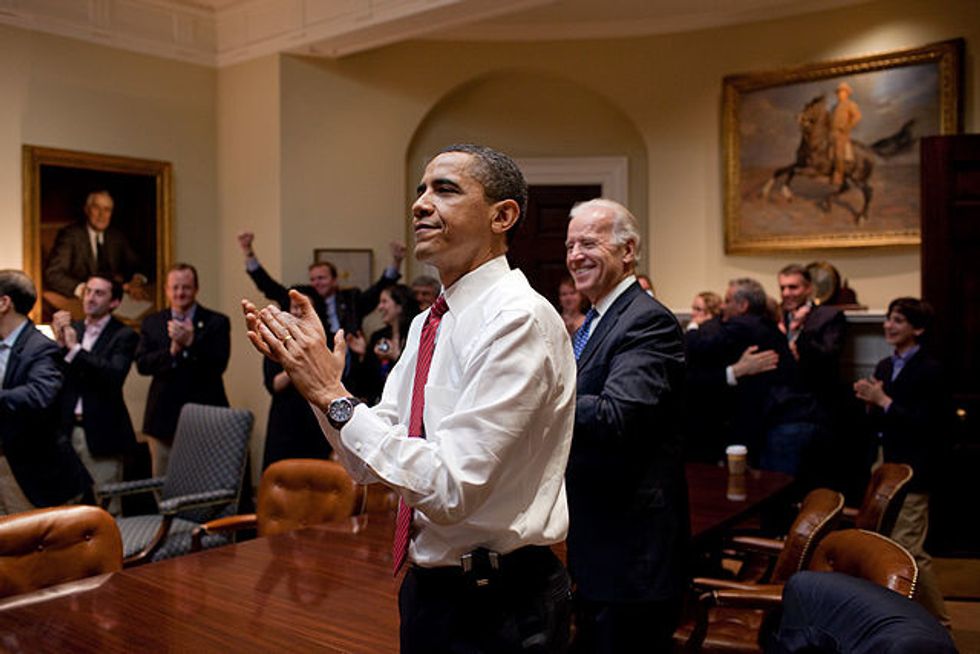 The U.S. Supreme Court's ruling on the Affordable Care Act has left the law's most ardent detractors with not much more than a hospital gown for cover.
King v. Burwell may be the last legal assault on "Obamacare," the right wing's bête noire. If the Republicans still hope to quash the president's health care reform, they're going to have to elect a Congress and a chief executive to "repeal and replace" it.
In the upcoming elections, Republicans will have to make a convincing claim that they have a better plan to supplant Obamacare. (Spoiler alert: They don't have any plan at all, and they probably won't by November 2016.) Sure, they will continue to throw darts at Obamacare, but they will be hard pressed to demonstrate that they are more interested in uplifting the quality of health care for all Americans than in playing political games.
It's clear that Republicans consider the high court's 6-3 decision a bitter defeat. In the hours after it was announced, Republican frustration was palpable.
GOP presidential candidate and former U.S. senator Rick Santorum, in a statement echoed by his colleagues vying for the nomination, called the ruling "yet another reminder that if we are to rid our nation of Obamacare once and for all, we need to elect a conservative president prepared to lead on day one."
Mississippi governor Phil Bryant, a Republican, sputtered about a "socialist takeover of health care forced down the throats of the American people."
Three years ago, Chief Justice John Roberts' Court upheld the constitutionality of Obamacare's individual mandate feature. Now, the Court has given its blessing to the intent of the Affordable Care Act.
The case turned on some erroneously drafted language that appeared to limit federal subsidies to people in those states that had set up insurance exchanges. That clause, read in the context, contradicts the intent of the law.
Writing for the majority, Roberts wrote: "Congress passed the Affordable Care Act to improve health insurance markets, not to destroy them. If at all possible, we must interpret the act in a way that is consistent with the former, and avoids the latter."
Roberts acknowledged the law's "three-legged stool": regulations on insurers (such as requiring them to cover pre-existing conditions without jacking up premiums); a mandate that all individuals must buy coverage; and a subsidy to those who can't afford coverage. With all the legs in place, the reform has a chance to succeed; take one leg away and insurance markets will go into a "death spiral."
Universalizing and strengthening insurance coverage remains a vital priority. The National Center for Health Statistics reports that 36 million Americans — 11.5 percent of the population — remain uninsured. Others still face costly generic prescriptions, high deductibles, and scant access to reliable basic care. Unforeseen medical costs are still the major reason that families declare bankruptcy, sometimes even when they are insured.
The Supreme Court's ruling clears a major hurdle toward achieving maximum coverage. Had the Court ruled for the plaintiff, it would have gutted the Affordable Care Act and sent the nation back to square one. At least now the nearly 17 million Americans who gained coverage will be able to keep it.
The question is where Obama's antagonists go from here. More than one observer has noted that Roberts saved the Republicans from themselves. An adverse ruling would have caused a major disruption in health care markets. Yanking chemotherapy and dialysis treatments from the recently insured would have left the Republicans in a bad odor at election time. The Court's decision permits the GOP to keep fulminating throughout the upcoming election season about the savage injustice of Obamacare without proposing a concrete alternative.
That conservatives were willing to cause a health care cataclysm speaks volumes about their true intentions. Don't expect Republicans to propose health care reform that puts people's interests before corporate profits. And thank John Roberts' Court that we don't have to watch them go through the charade of doing so.
(Mary Sanchez is an opinion-page columnist for The Kansas City Star. Readers may write to her at: Kansas City Star, 1729 Grand Blvd., Kansas City, MO. 64108-1413, or via email at msanchez@kcstar.com.) 
File photo: The president and White House Staff react to the House of Representatives passing the Affordable Care Act on March 21, 2010. (Pete Souza via Wikicommons)