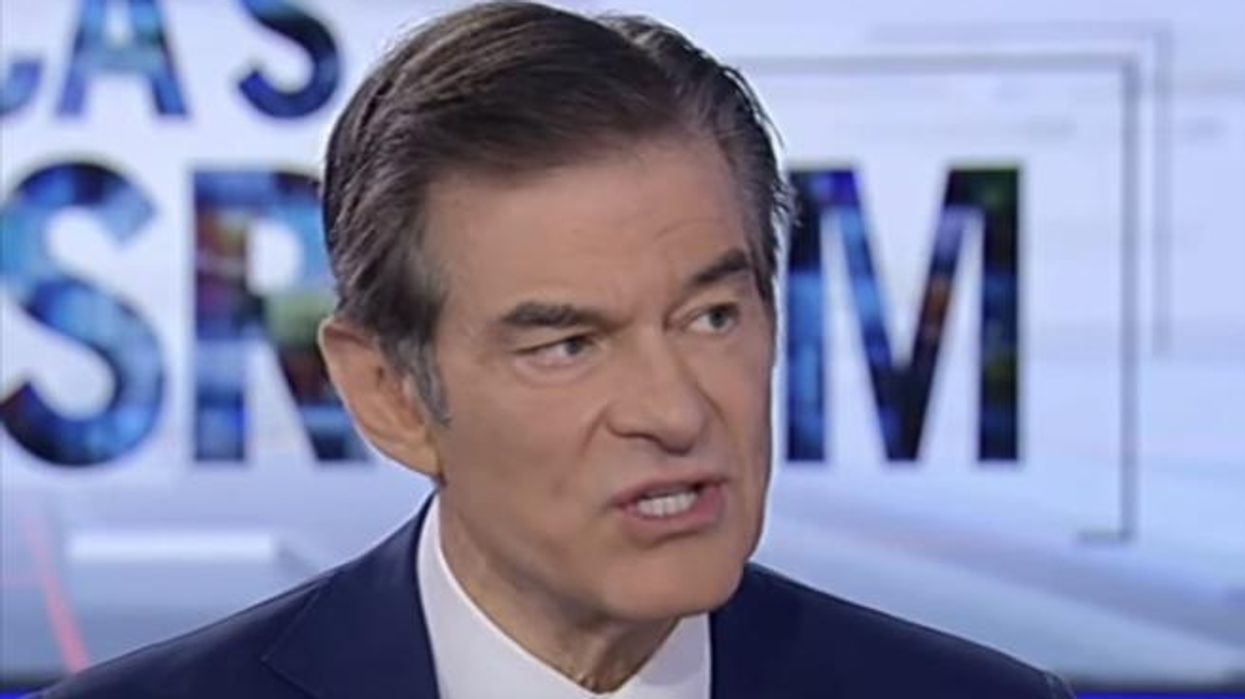 Republicans may win or lose elections during this midterm cycle but either way, the once Grand Old Party is completing its devolution into a mirror of former President Donald Trump. The midterm elections have magnified its reflection of his deeply inauthentic and malignant character. Compulsive lying, constant expressions of hostility and cruelty, and the sheer phoniness of the Republican candidates cannot cloak the party's hollow core, whose true ideology is nihilism.
Not surprisingly, Trump is attracted to figures who resemble him, and especially to those who genuflect to him without a trace of self-respect. None of them will hold fast to any political principle because, despite professions of patriotism and piety, their only purpose is to grab for power, wealth and the weird status of being approved by Trump. Like Trump himself, they are grifters first and last.
Mehmet Oz may be the single most perfect example of this Trumpian template. Having achieved great wealth and a degree of fame if not respect on a cheesy cable TV show, and selling magic vitamins, Dr. Oz determined long ago that the medical profession's moral precepts could only hinder his advancement. Years of promoting fake cures and instant weight-loss pills fostered a deep cynicism that is the essence of the candidate we see today: a phony Pennsylvanian who actually still resides in New Jersey and eagerly asserts extreme positions on abortion, guns, health insurance and other issues that he shunned when practicing medicine. Dr. Oz is a new-fangled worshipper of Trump, but an old-fashioned faith-healing quack.
On a superficial level, Herschel Walker seems like an entirely different sort of celebrity candidate, unable to mimic the smooth patter of chameleons like Oz or J.D. Vance. But as a fraudulent personality, the former football star can compete with the worst of them. Even before Trump handpicked Walker, it was clear that Republicans no longer cared about the mental health or intellectual capacity of their candidates, or whether they have any marbles (see Coach Tommy Tuberville, the brazen racist senator from Alabama, another gridiron genius).
Walker is a perfect symbol of a party that pretends to care about sexual "morality," and yet formulates comically convoluted excuses for a man whose shady escapades led him to pressure women — who knows how many? — to terminate the pregnancies he caused, and to put a gun to the head of his ex-wife. His fantasy resume as a "successful business executive" would be Trumpian, except that Walker can't even fake it plausibly. But that doesn't seem to bother Republican stalwarts in Georgia.
If you liked Jerry Falwell Jr., the gamy subject of a Hulu TV documentary premiering this week, God Forbid , about sex antics involving his wife and the pool-boy, you'll love the ridiculously "saved" Walker and all the Trump Republicans. Falwell was the first big evangelical leader to endorse Trump in 2015, and those birds of a feather are now a flock.
As for Vance, he stands (or more precisely kneels) for an especially slavish brand of Trumpism. The author of Hillbilly Elegy is a flipping convert who despised Donald until that opinion was no longer convenient for Vance's ambition and then flopped down to lick his boots. Even Trump can't always resist mocking these spineless creatures, as when he noted during a campaign rally that the Ohio Senate nominee "is kissing my ass" after saying "lots of bad (stuff) about me." Indeed Vance said some very bad stuff, like his 2016 observation that Trump "might be a cynical asshole like Nixon or might be America's Hitler." That's all in the rearview mirror now, because Vance is a political puppet of fascist billionaire Peter Thiel, the biggest donor to the Republican Party, and Thiel sees Trumpism as the vehicle to turn American politics further and further right into dark nihilism.
Speaking of Thiel, he represents still another sort of duplicity that ought to bring shame on him and all the Republicans who grasp at his lucre. The politicians he so lavishly finances are outspokenly hostile to gay rights, including marriage equality, and are hyping a paranoid vision of gay and trans Americans as evil "groomers" who endanger children. But oddly enough, Thiel himself is quite actively gay and married to a man. How does he resolve the contradiction? If the far right he has empowered starts to persecute gays, he'll be alright with that — because he is already buying citizenship in gay-friendly Malta.
But what will all these mountebanks and moralizing imposters do for the average voter? Remember the promises Trump made in 2016, and how he violated all of them. These MAGA Republicans certainly won't reduce inflation, a worldwide problem for which they don't even propose solutions. They won't protect your children, or your retirement, or your health care, or your rights. They will assuredly cut their own taxes, slash your well-earned Social Security and Medicare, continue to plunder the planet, and laugh at every gullible American who voted for them, all the way to the bank — just like their master Trump.
To find out more about Joe Conason and read features by other Creators Syndicate writers and cartoonists, visit the Creators Syndicate website at www.creators.com.