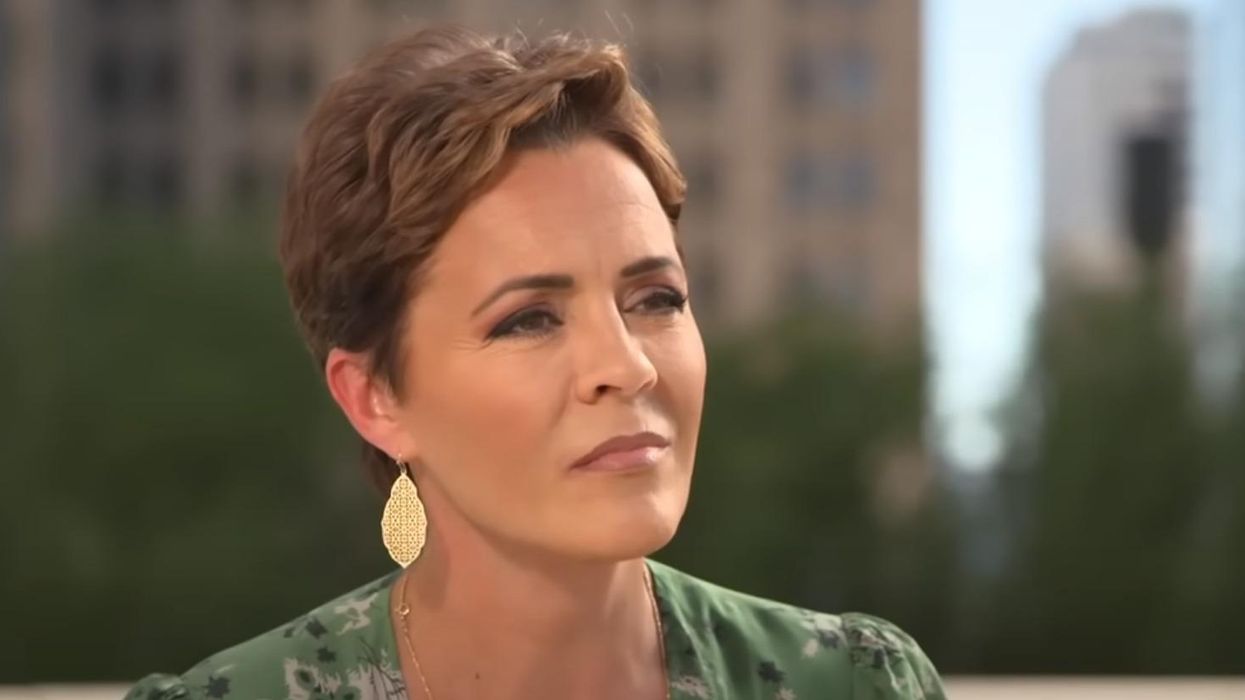 Failed Arizona gubernatorial candidate Kari Lake celebrated a judge's decision Monday to grant a sliver of her election lawsuit passage to trial — where it will be argued by a crackpot legal team sanctioned just weeks ago for filing "entirely frivolous" election lawsuits.
Lake's lawyers — MAGA attorneys Alan Dershowitz, Kurt Olsen, and Andrew Parker — were chastised and sanctioned by a federal judge on December 1 for filing a garbage lawsuit in April to compel Arizona to use only paper ballots going forward, which the state already did.
U.S. District Judge John J. Tuchi, who issued the sanctions, acknowledged "concerns expressed by other federal courts about misuse of the judicial system to baselessly cast doubt on the electoral process in a manner that is conspicuously consistent with the plaintiffs' political ends."
The sanctions, the judge said, were to "penalize specific attorney conduct with the broader goal of deterring similarly baseless filings initiated by anyone, whether an attorney or not."
Lake, who no doubt was privy to the ruling word for word, told a different story to a crowd of supporters at far-right Turning Point USA's America Fest on Saturday, claiming, "The powers that be are trying to silence them."
"Can you pray for our legal team?" she asked the crowd. "They're telling these attorneys: 'If you dare try to fight these stolen, corrupted elections, we're going to take away your license to practice law, we're going to take away your ability to feed your family.'"
On Tuesday, Lake admitted to fringe-right podcaster and TPUSA leader Charlie Kirk that the court sanctions had spurred what was left of her shambolic legal team to flee in droves, a development she likewise blamed on the "left."
"We had attorneys who did walk away because the left is threatening them with their ability to make a living and practice law," she told Kirk. "And some of our attorneys said, 'Look, I got mouths to feed, I can't do this case, I don't want to be sanctioned.'"
"I got to a point where I said, 'I'll take anybody,'" Lake added, unwittingly verifying the quality of her legal counsel and admitting to the dead-on-arrival nature of her electoral allegations.
Lake, who lost November's Arizona gubernatorial race to Gov-elect Katie Hobbs by over 17,000 votes, alleged in her new 70-page complaint that "the number of illegal votes cast in Arizona's general election… far exceeds the 17,117 vote margin."
The lawsuit contained a hodgepodge of allegations untethered to reality, including a new right-wing hoax — based on Elon Musk's selectively released "Twitter Files" — that Hobbs, in her capacity as then-secretary of state, had engaged in censorship and election interference by flagging tweets with election misinformation for removal.
In a stinging rebuke of the electoral conspiracies on which Lake's campaign stands, Maricopa County Superior Court judge Peter Thompson struck out all but two of ten of the dubious claims made by Lake and her lawyers.
The two surviving claims in her lawsuit — unfounded allegations Hobbs attorney Marc Elias said Lake would find impossible to prove in court — comprise the wild allegation that Republican Maricopa county officials sabotaged Election Day printers to disenfranchise Lake voters.
\u201cProving intentional wrongdoing and that it affected the outcome of the election will be impossible for Lake. This is a careful judge, but the conclusion seems not in doubt.\u201d

— Marc E. Elias (@Marc E. Elias) 1671505919
Despite the daunting challenge of corroborating such a claim, Lake cheered the ruling in a tweet Tuesday, asking the American public to "buckle up."
\u201cBREAKING: Our Election Case is going to trial. Katie Hobbs attempt to have our case thrown out FAILED. She will have to take the stand & testify. \n\nBuckle up, America. \nThis is far from over.\u201d

— Kari Lake (@Kari Lake) 1671505396
Prior to the ruling, Lake hinted over the weekend about what awaited her opposers should her election subversion efforts fail: violence.

"They have built a house of cards here in Maricopa County," she told Kirk during a Turning Point USA conference over the weekend. "I think they're all wondering what I'm gonna do. I'll tell you what: I'm not just gonna knock that house of cards over. We're going to burn it to the ground."