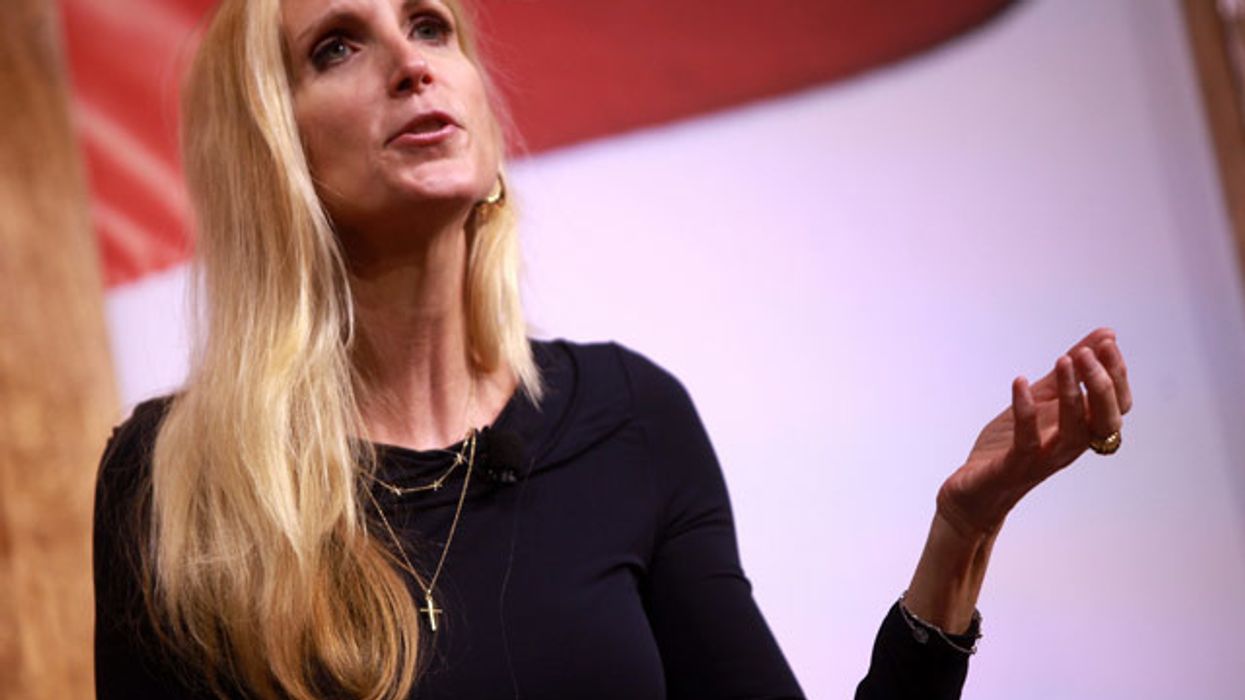 Conservative commentator Ann Coulter has come out swinging lately against the Republican Party's tireless crusade to outlaw abortion. On Wednesday, the controversial pundit fired off another round of criticism of the GOP on Twitter.

"COMPROMISE SOLUTION ON ABORTION! Ban abortion for registered Republicans only," Coulter wrote.
This attitude follows similar complaints that Coulter has lodged in recent weeks toward right-wing lawmakers who keep digging their heels in deeper on the issue of reproductive freedom.
On April 5, Coulter tweeted that "the demand for anti-abortion legislation just cost Republicans another crucial race," referring to the Wisconsin Supreme Court seat that flipped from Republican to Democrat in the election on Tuesday, April 4. "Pro-lifers: WE WON. Abortion is not a 'constitutional right' anymore! Please stop pushing strict limits on abortion, or there will be no Republicans left."
Jezebel's Caitlyn Cruz opined at the time that Coulter was "right!" adding that "anti-abortion activists won a major victory in overturning Roe v. Wade, but instead of just basking in the glow of victory and chilling the f*ck out, anti-abortion activists have only used it as a starting point to push for more and more extreme restrictions."
Cruz further noted that "abortion is—if I may repeat myself—quite a popular right to have in the United States. People want to be in control of their own bodies and make decisions with their doctors. Until conservatives get this idea through their thick skulls, they will continue losing elections and become less and less relevant (fingers crossed!) in American politics."
That sentiment was echoed on Wednesday in the comment thread under Coulter's latest proclamation. As indicated in the reactions, if Republicans are so deadset against terminating pregnancies, then they are free to not.
People were also pleasantly surprised to find themselves concurring with Coulter.
HollyCabot: "Amen!! I have always maintained good conservatives do not abort their children.. sooooo..."
Jeni Topali: "I Never, Ever thought I would agree with you. EVER! but on this one I do."
Lizzie Black: "And we agree!"
Dimitry Yakoushkin: "We've reached the time of day when a broken clock tells the... ahem... 'right' time."
Jen: "The whole nine yards, too! Registered Republican women get their periods tracked. They get stopped by the police if they try to cross state lines. That's what they want for everyone else - they can do a trial run, themselves!"
Ken Baker: "Brilliant for all the right and wrong reasons."
Bob Smith: "I've always said: If you don't want an abortion, don't have one."
Rollin Reisinger: "Perfect. While we're at it let's give a tax credit to everyone under 45 who's snipped. We can pay for it via offsets to the CTC as CBO will confirm."
Reprinted with permission from Alternet.