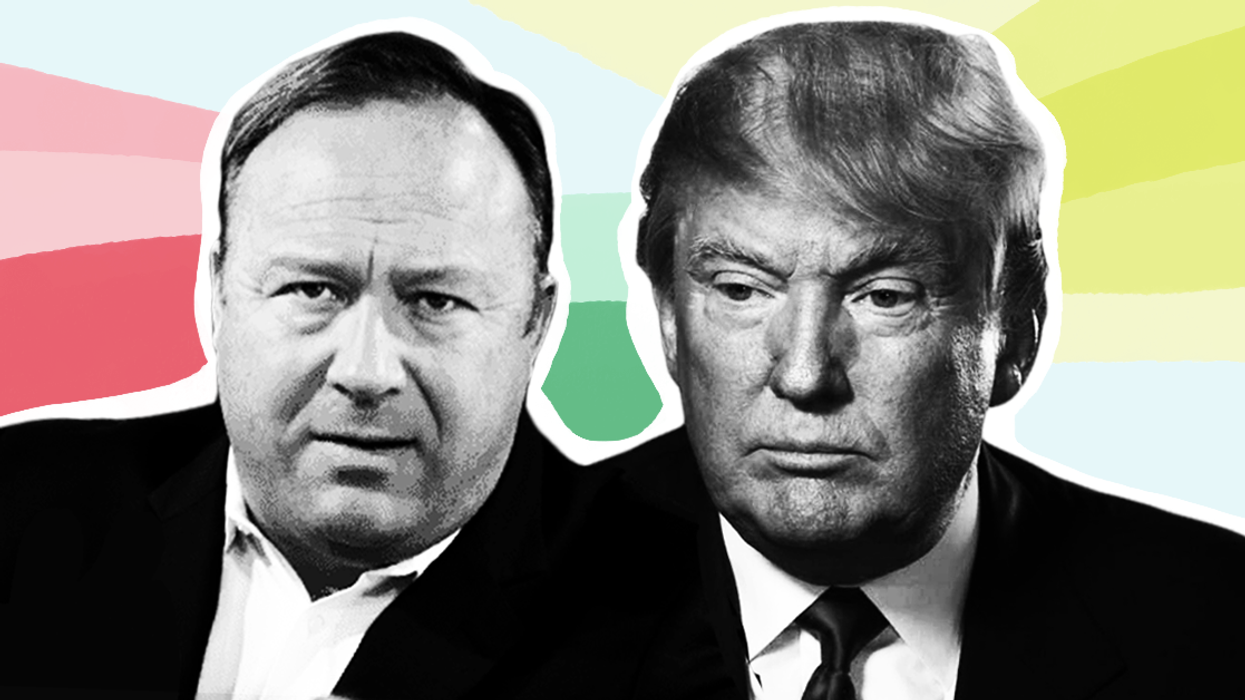 Infowars host and conspiracy theorist Alex Jones has rescinded his support for former President Donald Trump's expected 2024 bid for the White House and thrown his support behind Florida Gov. Ron DeSantis.
Jones, a once-passionate advocate of "Stop the Steal", admitted on his podcast this week that he had "pigheadedly" supported Trump for fear of Hillary Clinton or Joe Biden becoming president — a decision he said had earned him persecution.
The far-right host told his audience that he had grievances with Operation Warp Speed — the Trump administration mid-pandemic initiative geared toward expediting the production of Covid-19 vaccines — but supported him anyway.
"I've been persecuted like nothing in my life for supporting [Trump], and that made me kind of pigheadedly support him a few years ago even though I disagreed with his Warp Speed," Jones said.
An outspoken anti-vaxxer, Jones declared his support for "way better" DeSantis, who recently appointed a state surgeon general who has publicly questioned the effectiveness of the Covid vaccines.
Last year, Jones called Trump a "dumbass" for advocating Covid vaccination, said he wished he never met the ex-president, and threatened to "dish the dirt" on him for publicly supporting vaccination against Covid," per The Daily Beast.
\u201cAlex Jones on Desantis: \u201cWe have someone who is better than Trump. Way better than Trump.\u201d\u201d

— Ron Filipkowski \ud83c\uddfa\ud83c\udde6 (@Ron Filipkowski \ud83c\uddfa\ud83c\udde6) 1660783454
"This is what Trump should be like. And I've been hammering this point, and he's doing it now. And we have someone who is better than Trump. Way better than Trump," Jones said, suggesting that the ex-president emulate DeSantis.
"But that said, I am supporting DeSantis. DeSantis is just gone from being awesome to being unbelievably good ... He's getting red-pilled more and more each day ... I'm a DeSantis guy," Jones announced.
He also insisted that he had seen "real sincerity" in DeSantis' eyes when he reviewed footage of the governor.
"I don't just watch a man's actions, as Christ said. Judge a tree by its fruits. I can also look in his eyes on HD video and I see the real sincerity," Jones told his audience.
Neither Trump nor DeSantis has announced their intention to run for president in 2024, despite outdoing each other on recent hypothetical conservative polling for Republican presidential candidates in 2024.
Jones's once fervent support for Trump saw the conservative podcast host peddle the Big Lie — that widespread election fraud had cost Trump the election — and make an appearance at the U.S. Capitol on January 6, 2021.
The Justice Department has reportedly probed Jones's role in the January 6 insurrection, and the House Select Committee, the bipartisan congressional panel investigating the January 6 attack, subpoenaed Jones last November. The select committee received his text messages, which were leaked accidentally during the latest Sandy Hook trial.
Jones has wavered in his support for Trump before. Last month, he called firebrand Trump-supporting Republican Rep. Marjorie Taylor Greene "smarter" than Trump and DeSantis and asked the congresswoman to run for president.
Early this month, Jones was ordered to pay $49.3 million to the parents of the victims of the Sandy Hook massacre after a Texas jury found him liable for defamation in a default judgment issued by District Judge Maya Guerra Gamble for calling the tragedy a "hoax" and smearing the victims' families.