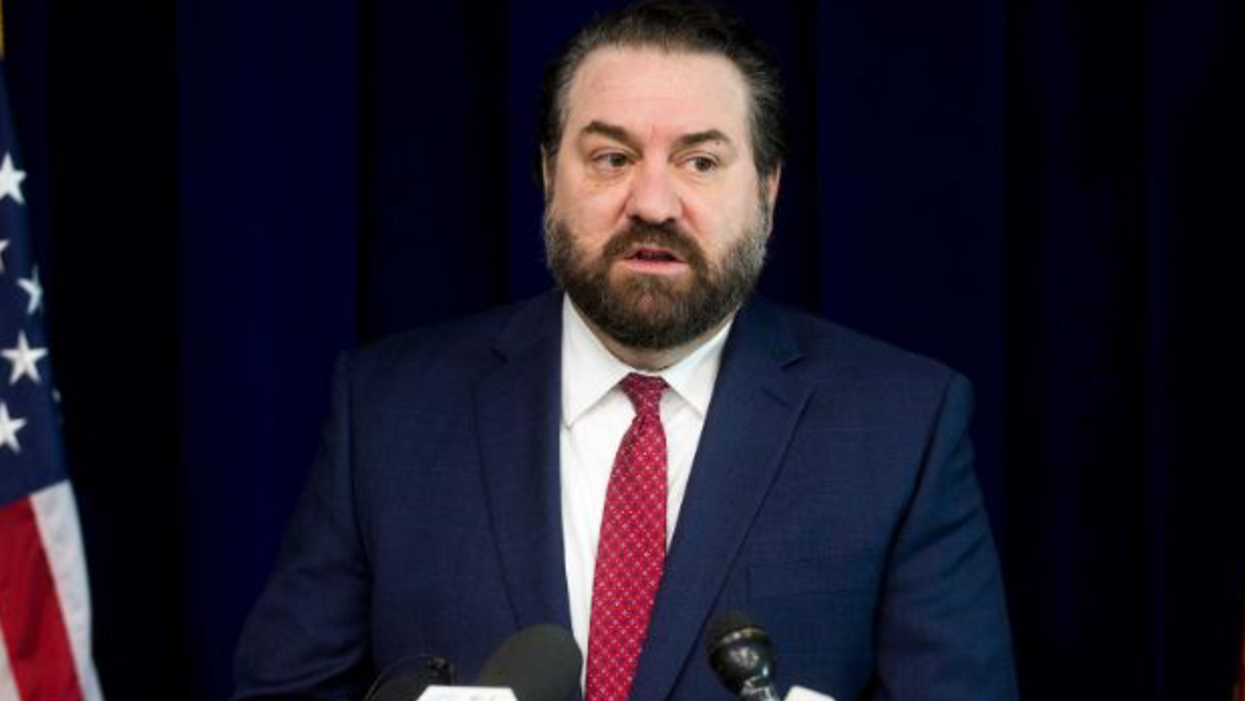 A Republican attorney general who in November 2020 publicly pushed back at former President Trump's unfounded claims of election fraud changed his tune after announcing his run for Senate -- an about-face that has won him high-profile GOP support.
Mark Brnovich, Arizona's Attorney General, told Steve Bannon, a former Trump advisor indicted for contempt of Congress, that he had "serious concerns" about the findings his investigation into the state's vote was turning up.
"It's frustrating for all of us, because I think we all know what happened in 2020," Brnovich said on Bannon's podcast in a segment the conspiracy-pushing host titled "AZ AG On Interim Report On Stealing The 2020 Election."
A GOP-led partisan "audit" of Arizona's 2020 ballots turned up more votes for Joe Biden than previously reported. The sham review, orchestrated by the Republican state Senate to legitimize Trump's claims of "massive fraud," was shamed even by right-leaning publications.
In November 2020, Brnovich himself rejected claims of widespread voter fraud in Arizona, saying, "There is no evidence, there are no facts that would lead anyone to believe that the election results will change."
"It does appear that Joe Biden will win Arizona," Brnovich told Fox Business host Neil Cavuto after the AP, Decision Desk HQ, and even Fox News called Arizona for Biden.
However, times have changed for Brnovich, who in January sent out a fundraising letter that contained a photo of himself and Trump and a cringey message: "DON'T MISS YOUR CHANCE TO BE ON TRUMP'S TEAM!"
Arizona Attorney General Mark Brnovich (R) discusses the election lawsuits in Arizonapic.twitter.com/2UWrgUcPWP

— Neil Cavuto (@Neil Cavuto) 1605125673
According to the Washington Post, Brnovich, in a campaign email this week, said his office had learned that almost a fifth of Maricopa County's early ballots were "transported outside the chain of custody," a claim he offered no evidence to support.
Brnovich also claimed — without evidence, of course — paperwork was "missing" information and that Maricopa County verified its ballot signatures with artificial intelligence. However, every signature was verified by election staff, according to the Post.
Arizona's attorney general is not the only GOP candidate embracing Trump's false fraud claims in the hopes of winning the former president's endorsement.
For his charade, Brnovich did earn himself an endorsement from a staunch Trump ally: Senator Josh Hawley (R-MO).
But critics have slammed Brnovich for caving to "promoters of disinformation for political gain in the Republican primary," according to the Post.
"If no one is held responsible for lying … or undermining confidence based on their own greed and, you know, desire for power to either be elected or be reelected — if no one is held accountable for those actions, then we are in real trouble right now," said Tammy Patrick, an ex-elections officer in Maricopa County, per the Post.
Another critic has recently ripped into Brnovich for his bogus elections investigation — former President Trump.
The former president assailed Brnovich in a Monday statement for doing nothing about the 2020 election in his state. "Rather than go after the people that committed these election crimes, it looks like he is just going to 'kick the can down the road' and stay in that middle path of non-controversy," Trump said.
The former president also said he will be making his endorsement in the Arizona Senate race in the "not so distant future." The announcement will be a significant blow to Brnovich's chances, as he's one of several Republican candidates in the race.