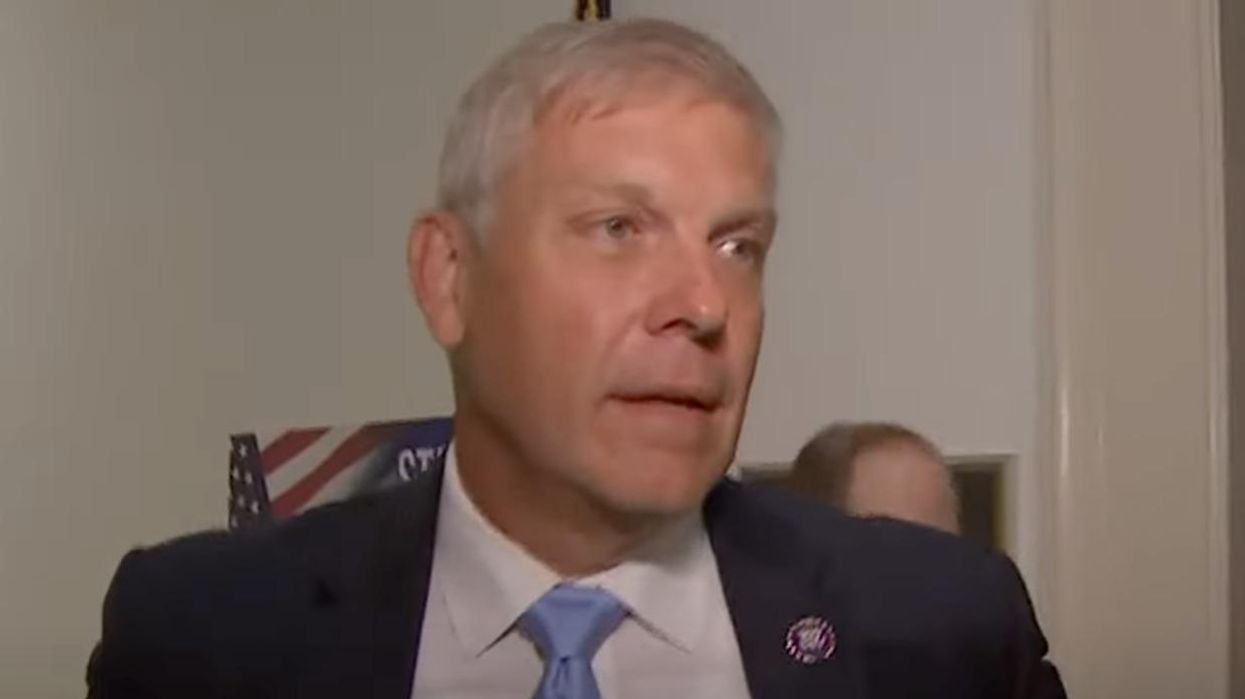 A man who appears to be seen taking photos of security checkpoints and hallways in the U.S. Capitol during a tour led by Republican Representative Barry Loudermilk on January 5, 2021, is also allegedly seen—and heard—in footage captured from January 6 where he is outside of the Capitol screaming threats at Speaker of the House Nancy Pelosi, Senate Majority Leader Chuck Schumer, and Reps. Jerry Nadler and Alexandria Ocasio-Cortez.
The committee released segments of security footage from the tour on Wednesday morning, arriving fresh on the heels of an announcement by U.S. Capitol Police chief Tom Manger stating that the department found "no evidence" that Loudermilk led a "reconnaissance tour" of the complex with supporters of former President Donald Trump.
The man who appears to be taking photographs has not yet been identified publicly but according to multiple outlets including CNN, he has been interviewed by the select committee.
Committee chairman Bennie Thompson first asked Loudermilk to cooperate with the probe voluntarily this May, giving him an opportunity to discuss the video footage the panel discovered during its review of key Capitol surveillance video.
In a statement, USCP Chief Manger said footage reviewed by the department did show Loudermilk with a group of 12 people that initially ticked up to 15 as they walked through a number of office buildings around the U.S. Capitol. Manger said the guests did not "appear in any tunnels" leading to the Capitol itself.
The committee's release appears to challenge that narrative, or at the very least, point out behavior it still deems highly suspicious.
"The foregoing information raises questions the Select Committee must answer," Thompson wrote in a letter to Loudermilk on Wednesday morning.
"Public reporting and witness accounts indicate some individuals and groups engaged in efforts to gather information about the layout of the U.S. Capitol as well as House and Senate office buildings in advance of January 6, 2021," Thompson wrote. "For example, in the week following January 6, 2021, members urged law enforcement leaders to investigate sightings of 'outside groups in the complex' on January 5, 2021, that 'appeared to be associated with the rally at the White House the following day."
The individuals accompanying Loudermilk, the committee noted, "photographed and recorded areas of the complex not typically of interest to tourists, including hallways, staircases, and security checkpoints."
Including an image in the letter of an individual appearing to photograph a staircase in the basement of the Longworth House Office Building, Thompson notes Loudermilk is just nearby talking to other members of the group in the background.

In the nearly three-minute-long video shared by the committee, the man believed to be part of the Capitol complex tour given by Loudermilk on the 5th is recorded by a friend on the morning of the 6th.
They are near the Washington Monument when his friend shows him a flagpole he's carrying with a sharpened end.
"That's for a certain person," the companion tells the man.
"That's right, that's for somebody special, somebody special," the man responds.
On the day of the Capitol assault, that same man taking photographs of the halls a day before is excitedly heard clamoring about "patriots" converging on the Capitol in a recorded video.
"There's no escape Pelosi, Schumer, Nadler, we're coming for you. We're coming in like white on rice for Pelosi, Nadler, Schumer, even you AOC. We're coming to take you out and pull you out by your hairs.
How about that Pelosi? Mind as well make yourself another appointment. When I get done with you you gonna need a shine up on top of that bald head," he says.
The video also shows two photos obtained by the committee that appear to have been taken by the same person. One photo is of a nameplate for Rep. Jerry Nadler, something that would typically appear just outside of a lawmaker's office. Another photo captured the physical directory of Democratic majority members.
Before the video came out, on Tuesday, Loudermilk accused the committee of falsely accusing him of giving reconnaissance tours.
"To my knowledge, no one that visited my office on January 5 was involved in any illegal activity on Januar 6, so if the committee has the evidence they should release it, not just make accusations," Loudermilk told CNN.
A representative for U.S. Capitol Police did not immediately respond to a request for comment. Punchbowl News was the first to report that the committee had this footage.
When calls for an investigation were first raised by a group of more than 30 Democrats about Loudermilk's tours, he issued a swift denial and filed a House Ethics complaint against Democrats who demanded a closer examination.
Loudermilk slammed the Democrat's request for an investigation as a "stain" on Congress. He also voted to overturn the certification of the 2020 election results on Jan. 6 after the attack.
During the riot Loudermilk, according to texts obtained by the select committee, sent a message to Trump's then-chief of staff Mark Meadows.
'It's really bad up here on the Hill. They have breached the Capitol," he wrote.
Loudermilk has defended the tour he gave of the Capitol on January 5 as something he did for "a constituent family with young children" merely eager to meet with their congressman.
A member of Democratic Rep. Jesús "Chuy" García's staff, deputy communications director and digital director Ben Kamens, said on Twitter Wednesday that he saw the group identified by the committee in the Capitol Tunnel between the Longworth and Cannon and Capitol building between 1 and 2 p.m. on January 5.
Kamens said they were unescorted. He has already provided this information to the committee and law enforcement.
Can confirm that I saw this group in the Capitol Tunnel, between Longworth, Cannon, and the Capitol some time between 1:00 and 2:00 p.m. on January 5th. They were unescorted by any Member or staff at the time. https://t.co/vrKR3RcAS7

— Ben Kamens (@BeeKamens) June 15, 2022
Kamens told Daily Kos over email Wednesday that he remotely interviewed voluntarily with the committee in February and sat for just under an hour.
"I approached one of them and asked them to put on a mask because people that work here have pre-existing conditions and it was before the wide availability of vaccines," Kamens said.
Indeed, the Capitol building was closed to visitors and anyone on unofficial business.
"It was a group of mostly older women [in their] 40s to 50s and young men, late teens early 20s that I saw," Rep. Garcia's communications director said Wednesday. "I wouldn't have gone that way if it wasn't an intern's first day and I wasn't showing her how to get around on our way to get her ID badge."
At the time Kamens said he witnessed this, he was working as a congressional aide to Rep. Andy Kim, a New Jersey Democrat.
Kim inadvertently made headlines after the insurrection. He was spotted cleaning up debris from the floor of the rotunda after the building was secured.
Rep. Alexandria Ocasio-Cortez, a New York Democrat who has experienced routine harassment by the former president's supporters and Republican members of Congress, responded to the video release in a tweet on Wednesday.
On Jan 5th the Capitol was closed to the public. But surveillance video shows @RepLoudermilk bringing in an insurrectionist who was photographing member staircases + exits.

He stormed the Capitol the next day looking for us w/ those references.@RepLoudermilk, care to comment? https://t.co/q7eqfFyWMc
— Alexandria Ocasio-Cortez (@AOC) June 15, 2022
Rep. Loudermilk did not respond immediately to a request for comment Wednesday.
He released a statement late Wednesday afternoon, however, accusing the committee of "doubling down on a smear campaign" against him and claimed to have received death threats as a result of the footage's release.
The Georgia Republican also said he did not recognize the man making threats toward Pelosi, Schumer, Nadler, and Ocasio-Cortez.
CBS News reported on Wednesday that it reached Al Foley, identified as "one of the Rep. Loudermilk's constituents who toured the Capitol with the Congressman" on January 5 and was previously interviewed by the House Select Committee.
Foley told CBS that suggestions it was a reconnaissance tour were "the farthest thing from the truth." The allegation, Foley said, was "disgusting."
A spokesman for the committee told Daily Kos on Wednesday that he did not believe Foley was the man taking photos of the stairwell leading up to the Longworth Building.
In another clip obtained by NBC News on Wednesday that was not a part of the original three-minute clip released by the committee, the same man seen taking pictures during the tour with Loudermilk on January 5 filmed another part of his visit in the Capitol.
"We're with Barry Loudermilk of Georgia..."

Little scoop here: more video from the man filming the Jan. 5 Capitol tour that wasn't included in committee's video.

He takes particular interest in the "How The House Works" sign, appears to just be filming anything and everything. pic.twitter.com/CTxY6oe9Oc
— Ryan J. Reilly (@ryanjreilly) June 15, 2022
In related news, in a court filing on Wednesday, Proud Boy Zachary Rehl entered a document onto the record that generated a considerable stir this spring: an extensive plan to attack and occupy federal buildings. Proud Boy ringleader Henry "Enrique" Tarrio, who is now facing seditious conspiracy charges for crimes connected to January 6, allegedly cited the plan during the attack.

Reprinted with permission from Daily Kos.