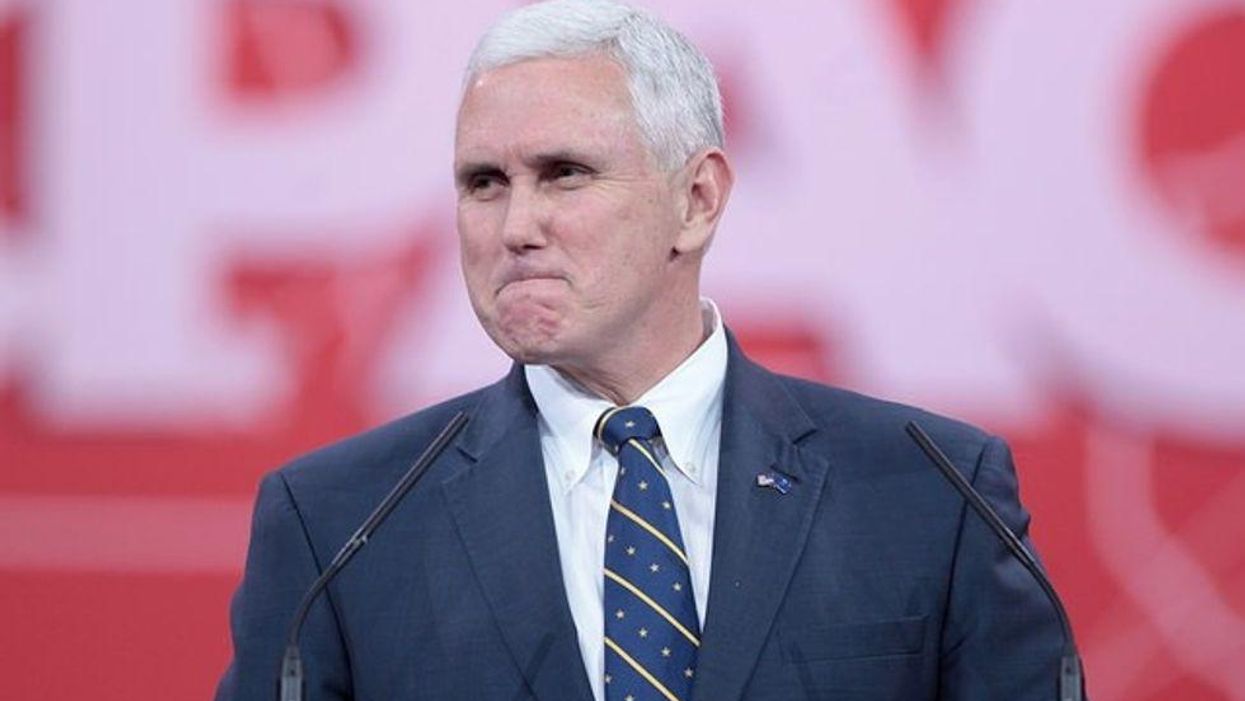 In a scathing rebuke to his former partner at the White House, former Vice President Mike Pence has announced plans to campaign with Georgia Governor Brian Kemp on the eve of Georgia's May 24 Republican primary.
Pence will headline Kemp's election eve rally in defiance of former President Trump, who has repeatedly assailed the state governor for refusing to partake in a collective Trumpworld effort to subvert and overturn the 2020 presidential election results in Georgia.
Pence called Kemp "one of the most successful conservative governors in America" in a statement and on Twitter.
"Brian Kemp is my friend, a man dedicated to faith, family and the people of Georgia," Pence stated. "I am proud to offer my full support for four more years of Brian Kemp as governor of the great state of Georgia."
The endorsement, as US News put it, is the " political equivalent of a raised middle finger" at Trump, who attacked the former VP repeatedly for certifying the results of the 2020 elections despite numerous calls from Trump and delusional far-right elements in his circle to overturn the elections.
"Mike Pence didn't have the courage to do what should have been done to protect our Country and our Constitution," Trump said in a tweet on January 6, 2021, shortly after Pence refused to overturn the election results and right as a pro-Trump mob was breaching the sacred halls of Congress.
Two months later, in an exclusive interview, Trump defended the rioters who called for Pence's hanging. "No, I thought he was well-protected, and I had heard that he was in good shape … because, uh, I heard he was in very good shape," he said.
In February, Pence refuted Trump, saying the former president was "wrong" in alleging that then-Vice President Pence had the sole power to overturn the 2020 election results.
A month after that, Pence came swinging again — this time, at Trump and the Russia-loving arm of the Republican party. "There is no room in this party for apologists for Putin," Pence said at a Republican National Committee retreat.
Prominent Republicans have endorsed candidates who Trump opposes, but Pence, who might be the most prominent of the group, has shown his willingness to buck the former president and his political ambitions.
Still angered by the stinging loss to the then-Democrat candidate for president Joe Biden, Trump has doled endorsements to his loyalists and attacked those who refused to parrot the Big Lie.
Trump has campaigned, raised money, and ran TV attack ads for Kemp's opponent, former Senator David Perdue, who has long since pledged allegiance to Trump and his false claims of widespread voter fraud.
However, Kemp remains the strong favorite in polls, leading Perdue by an average of 22.3 percentage points in the hotly-contested primary. Leading GOP members are confident Kemp will win 50 percent of the vote to bypass a run-off with Perdue, per Politico.
Despite commanding the increasingly vocal MAGA wing of the GOP, Trump has endorsed some candidates who eventually failed to win their primaries. Last week Charles Herbster, the GOP candidate Trump endorsed in Nebraska's governorship race, lost to a candidate endorsed by the state's governor.