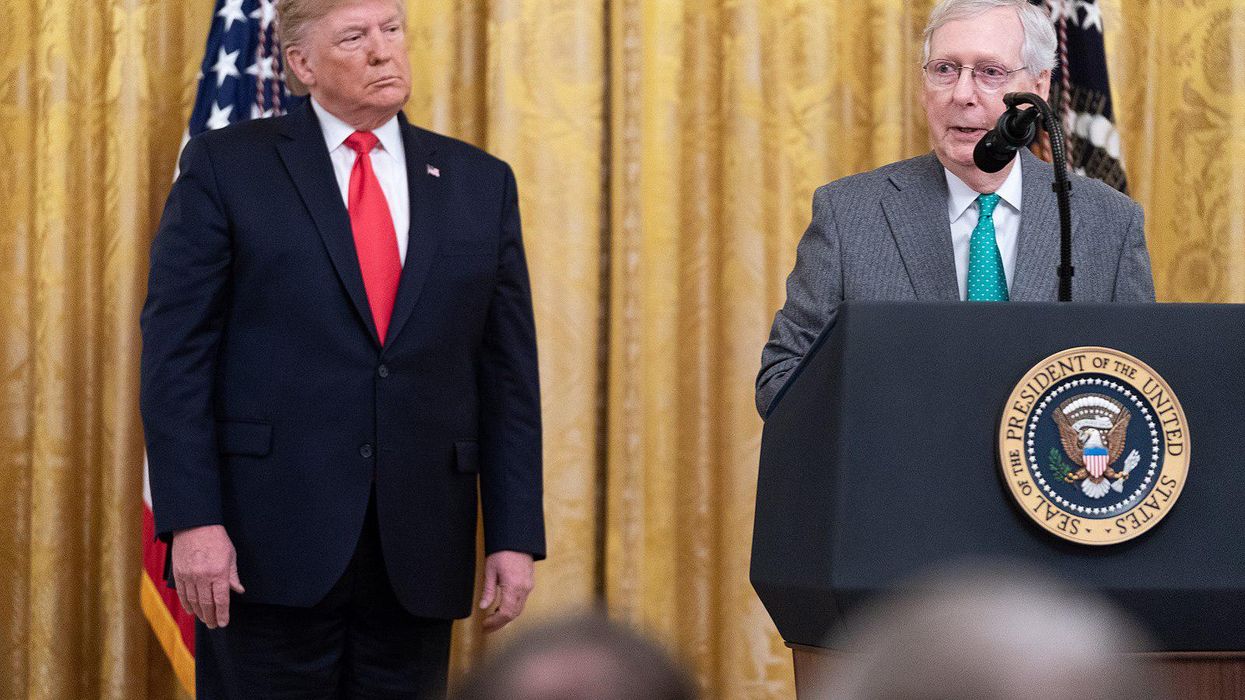 Days after talking up House Speaker Kevin McCarthy (R-CA) and the ultra-right lawmakers pulling his strings, former President Donald Trump called on Republicans to primary Senate Minority Leader Mitch McConnell (R-KY) and any Senate Republicans who vote with him.
In a Monday post to Truth Social, a barely moderated Twitter clone for his extremist cult, the ex-president congratulated McCarthy on clinching the gavel — for which he has since taken credit — and laid into McConnell and other GOP Senators who voted to pass the $1.7 omnibus spending package late December in time to avert a partial government shutdown.
Central to Trump's fury over the package's passage is that it happened just before the GOP-controlled House of the 118th Congress convened, barring the GOP caucus, which would later strongarm veto power over McCarthy's speakership, netting President Biden and the Democrats a political victory.
"We must now stop Mitch McConnell," Trump wrote, the latest in the fusillade of attacks he has directed at the Minority Leader, who criticized him for provoking a mob of his supporters into storming the Capitol on January 6, 2021, to overturn the official certification of his loss.
"It's as though he just doesn't care anymore, he pushes through anything the Democrats want. The $1.7 TRILLION quickly approved Bill of the week before was HORRIBLE," Trump said in his Truth Social post. "Zero for USA Border Security. If he waited just ten days, the now 'United Republican Congress' could have made it MUCH BETTER, or KILLED IT."
Trump added, "Something is wrong with McConnell, and those Republican Senators that Vote with him. PRIMARY THEM ALL!!!"
\u201cBREAKING: Donald Trump melts down on Mitch McConnell and claims \u201che just doesn\u2019t care anymore\u201d and that he does \u201canything\u201d the Democrats want because there is \u201csomething wrong\u201d with him and he must be primaried. RT IF YOU LOVE SEEING MAGA TEAR REPUBLICANS APART!\u201d

— Occupy Democrats (@Occupy Democrats) 1673282703
The sprawling package comprised increased funding for the military; additional Ukraine aid; increased spending for college access, childcare, disaster aid, protections for pregnant workers, and more: a provision to repeal the 1887 Electoral Count Act, the 135-year old law that Trump and his attorneys tried to exploit to overturn Biden's 2020 election triumph.

Eighteen GOP Senators — and later, nine House Republicans — some of whom are vocal critics of their counterparts across the aisle, voted with Democrats to pass the package, rebuffing a cascade of threats from prominent entities within the Republican Party.
Hours before the Senate passed the package, Trump attacked supposed "radical Democrats" for "[ramming] through this monstrosity in the dark of night" and accused McConnell of being "more of a Democrat than a Republican."
In Monday's Truth Social rant, Trump again referred to Elaine Chao, McConnell's wife and his former transportation secretary, as "Coco Chow," a racial slur.
"[Trump] is trying to get a rise out of us. He says all sorts of outrageous things, and I don't make a point of answering any one of them," Chao, who was born in Taiwan, said in December, according to Newsweek.
\u201c\u201cHe's trying to get a rise out of us.\u201d\n\nElaine Chao responds to Former President Trump's racist comments about her.\u201d

— CNN This Morning (@CNN This Morning) 1672321848
[Tweet]