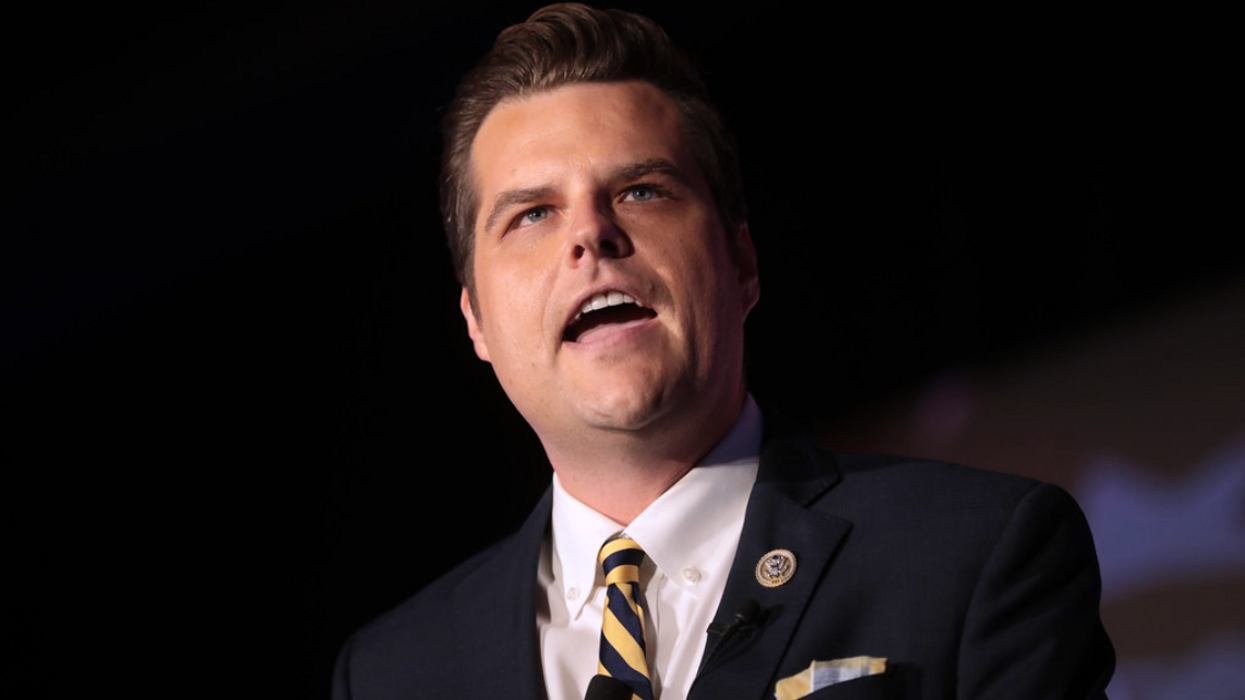 On Thursday, CNN reported that the House Committee on Ethics is renewing its investigation into Rep. Matt Gaetz (R-FL) after issuing a new request to interview a witness.
According to the network, the request to interview the unnamed witness went out the day before the House of Representatives voted for the expulsion of Rep. George Santos (R-NY), stating that "the Chairman and Ranking Member have authorized staff to conduct an interview" with the witness. This is the first activity out of the committee regarding Gaetz since July, when it interviewed a witness in Florida about "alleged lobbying violations."
In response to CNN asking him about the probe, Gaetz said "oh please" and "I wish them luck."
The ethics committee initially launched its investigation into Gaetz in 2021, when Democrats were in control. CNN reported that the initial probe looked into allegations that Gaetz "violated sex trafficking laws, shared inappropriate images or videos on the House floor, used illicit drugs, converted campaign funds to personal use and accepted a bribe, among other claims."
While a Department of Justice investigation into Gaetz for alleged sex trafficking of a minor concluded with no charges filed against the Florida congressman, a source close to the ethics committee confided to CNN that the DOJ's decision to not file criminal charges "does not impact what the committee will and won't investigate." The network reported that the committee has not yet interviewed key witnesses in the DOJ probe, including his close associate Joel Greenberg, who in 2021 was sentenced to 11 years in prison after pleading guilty to underage sex trafficking, wire fraud, stalking, identity theft, producing a fake ID card and conspiring to defraud the United States government.
Gaetz has carved out a reputation in the House of Representatives as a bomb thrower among the GOP, as the instigator of the motion to vacate former House Speaker Kevin McCarthy (R-CA). Ultimately, Gaetz and seven other Republicans joined all Democrats in voting to oust McCarthy from the speakership following his efforts to work with Democrats to avoid a government shutdown.
On Wednesday, McCarthy announced he would not be retiring from Congress at the end of 2023. His exit triggers a special election in his Southern California district, potentially endangering Republicans' ability to hold their slim majority in the next Congress.
Reprinted with permission from Alternet.