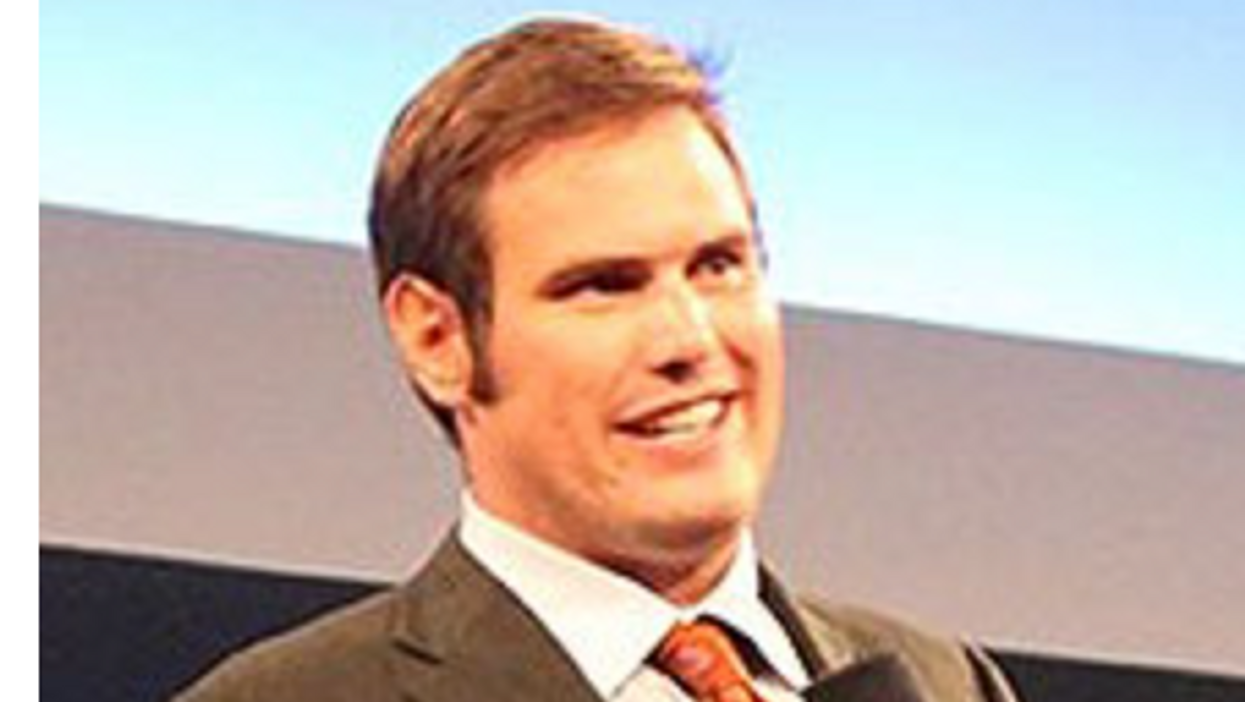 Reprinted with permission from MediaMatters
Politicoreports that Steve Bannon associate Dustin Stockton is fielding questions from the congressional committee investigating the attack of January 6. As Politico notes, Stockton was connected to the "We Build The Wall" effort that ended with Bannon, a former adviser of President Donald Trump, being arrested on his patron's yacht by postal investigators, before Trump later pardoned him.
There is more to say about Stockton and January 6, though.
Stockton and his fiancé, Jennifer Lynn Lawrence, both former Breitbart bloggers, were featured as major players in an extensive New York Times article about how Trump's repeated lies and conspiracy theories filtered through a series of rallies and other events put on by his supporters in the period between the election and January 6. It also noted they had financial ties to MyPillow's Mike Lindell:
A onetime organizer for the hard-line Gun Owners of America, according to his LinkedIn page, Mr. Stockton had come to know members of the Three Percenters militia group. He had an online newsletter, Tyrant's Curse, whose credo was, "A well-armed and self-reliant populace, who take personal responsibility and put their faith in God, can never be oppressed and will never be ruled." One post featured a photo from the Dec. 12 rally — Mr. Stockton posing with several Three Percenter "brothers" in military-grade body armor.
…
"The letdown of the election was kind of put aside," Mr. Stockton said in an interview. "It was like, 'We have a new fight to engage in.'"
For the Kremers, Ms. Lawrence and Mr. Stockton, the instrument of that fight would be a reprise of the Tea Party Express, a bus tour to enlist state and federal lawmakers in Mr. Trump's effort to keep states from certifying results ahead of the Electoral College vote. Equally important, it would be a megaphone to rally the dejected faithful.
The group tapped new veins of financing, with sponsorships from Mr. Bannon's "War Room," which paid $5,000, and Mr. Lindell, who said he believed he gave $50,000. It helped the group lease the bus and paint it MAGA red, with a huge photo of Mr. Trump and the logos of MyPillow, "War Room" and other sponsors emblazoned on the sides.
BuzzFeed News also reported on Stockton leading the March for Trump bus tour after the election through early January:
"If we allow them to steal this election … my kids will not know American freedom," said Dustin Stockton, a former Breitbart writer and tea party activist and a lead organizer of the March for Trump tour, at a stop in Murrells Inlet, South Carolina, on Nov. 30.
Later that day in Savannah, Georgia, Stockton said, "We have to remember the people who betrayed us."
Stockton advised people to arm themselves, "study tactics," spend time on the firing range, and pursue self-reliance and self-sufficiency. At times, he evoked images of revenge and violence.
"Right now we still have the power to fix" the election result, he said in Savannah. "But if they allow the election to get stolen, we lose the power to do it. I mean there's still ways to do it, but it gets a lot, lot uglier and a lot, lot worse. And I don't think any of us want to go there."
Stockton told BuzzFeed News the "ugly" option he referred to is state-by-state electoral reform.
On at least three occasions, speakers mentioned violence.
The tour was made possible by Stockton and Lawrence in collaboration with the group 'Women for America First" and its leaders Amy Kremer and Kylie Jane Kremer; it criss-crossed the country spreading lies about the results of the election using violent and revolutionary language.
Media Matters also reported in early February that Stockton and Lawrence were using social media platforms, including Facebook, to plan another bus tour.
DUSTIN STOCKTON: Now, everybody wants to know, "Well, what do we do next?" Well, what we do next is we take note of the people who betrayed President Trump in Congress, and we get them out of Congress. We're going to make the tea party look tiny in comparison, so with a bunch of the organizers and influencers who were involved in that first tour, we started to put together a plan. And that plan is pretty awesome. So the obvious starting point were the 10 members of Congress who voted for impeachment. Right? Those guys have obviously got to go.
…
Instead of going right away, we're going to take our time, we're going to go to the major population centers in each one of these districts. Now, this is not an all-encompassing list. So I got a message today from someone who saw the list, like, "Where is Kevin McCarthy?" Don't worry about it, we just started with the 10, we added Crenshaw and Mace but don't worry, McCarthy's going to be on there. He'll get a primary challenge. We also haven't started looking at the Senate.
....
We've got a lot of work to do if we're going to keep America America, and so we're going to get back out on the road. The beauty of it is this tour -- so I list out some stops, if you go look at the last post on my page, I listed out some of the places we're going but that is by no means an exhaustive list. I've been talking with people in Oregon and California and Alabama and Florida and Michigan and Pennsylvania and Wisconsin and Ohio and I can't even tell you where else to start these regular meetings. So the cool thing is we're going to be launching local branches everywhere and those are going to be the hubs from which we organize from and take our country back, baby.
Stockton has also praised Pennsylvania state Sen. Doug Mastriano, who participated in the January 6 insurrection. And he worked with Bannon previously at Breitbart, where he was central to an effort to persuade Black voters in 2016 to either vote for Trump or not vote at all.