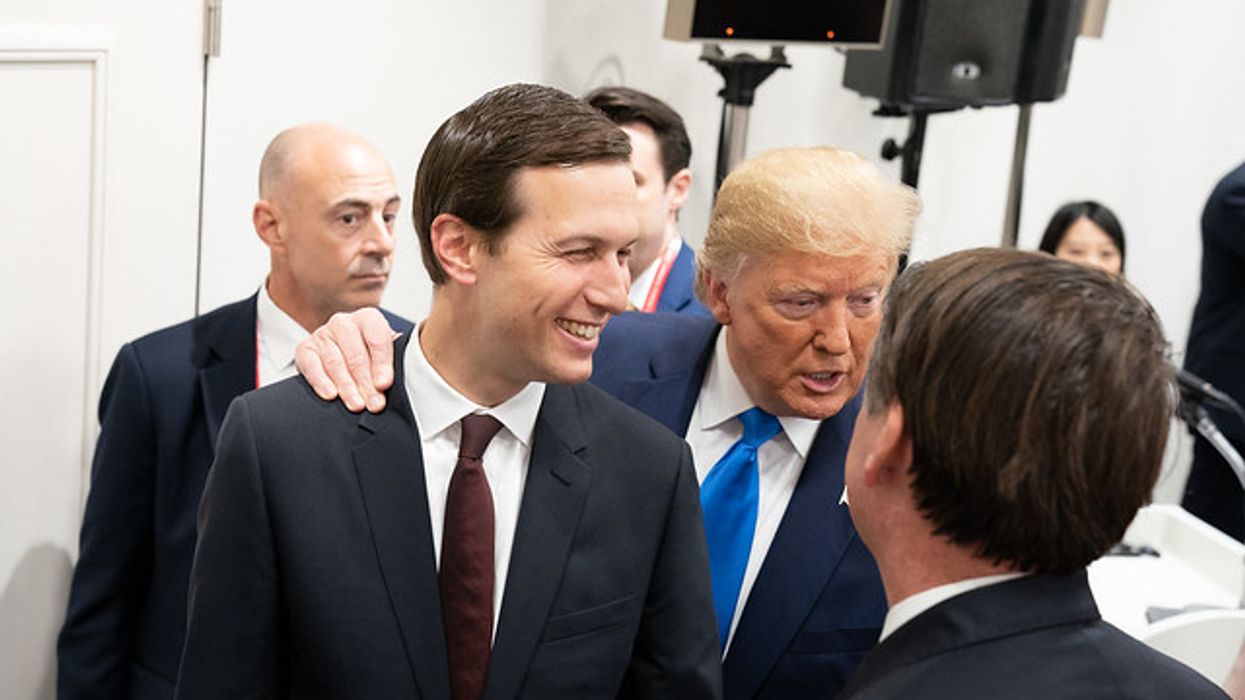 During Monday's segment of MSNBC's Morning Joe, economic analyst Steve Rattner left panelists astounded after providing an in-depth look into the root of ex-President Donald Trump's son-in-law Jared Kushner's "$3.1 billion cash haul."
Rattner shared a chart displaying a breakdown of the sources of Kushner's money via Twitter Monday, writing, "Jared Kushner spent much of his White House tenure cozying up to MBS [Mortgage-Backed Securities] & Saudi Arabia. Six months after leaving Washington, his private equity firm landed $2 billion in investments from the Saudi sovereign wealth fund."
During the show segment, MSNBC host Jonathan Lemire noted how Kushner's "background in real estate" does not exactly qualify him "as a hedge fund magnate or peace broker in the Middle East."
"You're right, Jonathan. Jared Kushner did work in the White House," Rattner said. "He worked very hard. It's becoming less clear what he worked hard at, because after he left the White House, he went out and raised $3.1 billion -- that's billion with a 'b' -- for a private equity fund and he's not a private equity guy, he is a real estate guy. So where does the money come from? Some of it we know from filing. Some from press reports.What we know for a fact is that he raised $3.1 billion and only about $30 million of it actually came from investors in the United States all the rest of it is foreign money. And of that foreign money, $2 billion came from the Saudis."
The analyst emphasized, "I've been in this business 40 years. I've never seen somebody get two-thirds of their money from a single investor. Usually a single investor might be a few percent of the fund, might be 5 percent, occasionally 10 percent — I've never seen this. Another $200 million we believe came from Qatar and another $200 million from the United Arab Emirates and then the $625 million from foreign investors that we don't even know who they are. So what was Jared Kushner doing in the White House? And, by the way as a fun fact, on January 6, the famous January 6, Jared Kushner was in the Middle East."
Morning Joe panelist Elise Jordan then asked Rattner, "There's not much out there on how Jared has actually been able to execute his funding. He has all this money, but his background is not in private equity and I've seen only one news report of a small European investment. He's sitting on all this money. Are the Saudis investing with him just to hedge their bets politically in case Trump comes back into office?"
Rattner emphasized, "We haven't seen him do a lot with this money. He has hired some people, I do know that. I've seen nothing else about what he's actually done with the money. It is normal to invest this money over a period of several years, so I don't think we can draw a firm conclusion yet. But, again, we're going back to a guy who's a real estate guy, and frankly not a particularly good one at that, who's suddenly got $3 billion trying to do private equity deals competing against people who've been in this business for a long time. And I wouldn't, if I were the Saudis, count on making a lot of money from this any time soon."
Rattner concluded, "U.S. private equity firms still raise the vast bulk of their money from U.S. investors. This is extraordinary — unprecedented — I've never seen anything like it."
Watch the video at this link.
Reprinted with permission from Alternet.