Elon Musk Posed For Photos With Notorious Kremlin Propagandist In Qatar
@next2godwin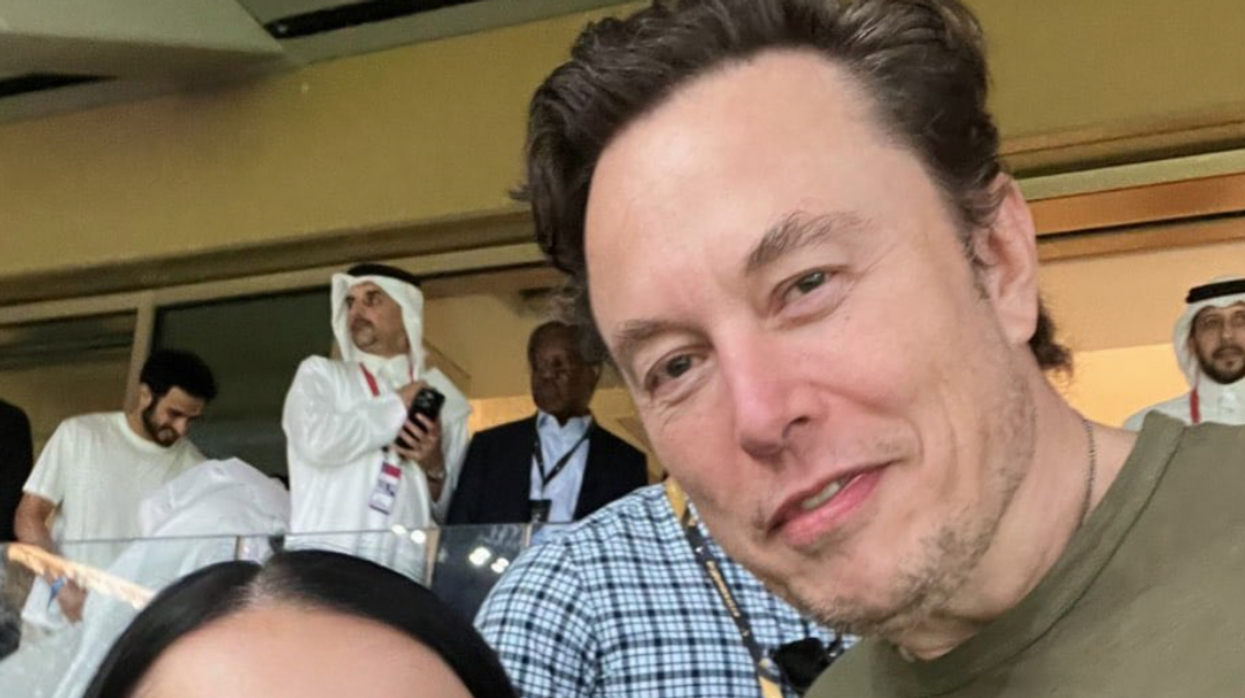 Screenshot from Nailya Asker-Zade Instagram
Days after booting several journalists off Twitter, self-proclaimed "free speech absolutist" Elon Musk attended the World Cup final in Qatar, where he posed for photos with an infamous pro-Russian propagandist Nailya Asker-Zade.
\u201cElon, @elonmusk I hope you didn't know who it was.\u201d

— Ivan Zhdanov (@Ivan Zhdanov) 1671451634
Asker-Zade, an infamous ally and propagandist for Russian despot Vladimir Putin, posted the selfie with Musk on her Telegram Monday, writing, "Argentina beat France on penalties in the World Cup final. I agree with Elon Musk's assessment of the match: 'A duel in the desert.'"

Of the polarizing figures in Russian media promoting Kremlin-inflected rhetoric on current events, including the war in Ukraine, Asker Zade, a 35-year-old reporter at the Kremlin-owned All-Russia State Television and Radio Broadcasting Company (VGTRK), is one of the most infamous.
Both Canada and the United Kingdom have sanctioned Asker Zade following Russia's illegal invasion of Ukraine. One of many voices in Russian state media distorting facts about the invasion of Ukraine, she is "understood to be in a long-term relationship with Andrei Kostin, Chairman of VTB Bank [Russia's second-largest bank]," according to the U.K. government.
Kostin and the VGTRK, the U.K. government noted in its sanction list, "[are] or [have] been involved in obtaining a benefit from or supporting the Government of Russia by carrying on business as a Government of Russia-affiliated entity."
Also an avid Trump supporter, Kostin allegedly amassed a personal fortune to the tune of hundreds of millions of dollars during his tenure as VTB head — thanks to his close ties with Putin, per the Organized Crime and Corruption Reporting Project.
In 2019, the Moscow Times reported that Asker Zade was suspected of being in a relationship with Kostin and had accumulated a substantial chunk of his wealth in the form of "elite property, a private jet, and a yacht" worth millions of dollars.
Her new toys, the outlet stated, attracted the attention of — and subsequent investigation from — the Russian Foundation Against Corruption group, headed by Russian opposition leader Alexey Navalny.
\u201cThat's Nailya Asker-Zade.\n\nAlexei Navalny, prior to his jailing, had been investigating state bank CEO Andrei Kostin for showering Nailya with gifts to the tune of millions of USD, well beyond his means, indicating it was likely paid w/ Russian taxpayer money.\n\nOh yes, and a jet.\u201d

— Evergreen Intel (@Evergreen Intel) 1671460441
Tech billionaire Musk, whose recent wave of controversies has been blamed for Tesla's tumbling stock, was also spotted with Trump son-in-law Jared Kushner, who reportedly secured a $2 billion investment from Saudi Arabia just six months after Trump's ouster by American voters.
Musk, who has not responded to multiple requests for comments on his selfie with a conspiracy theory-peddling Putin mouthpiece, was also spotted with Turkish President Recep Tayyip Erdogan, Business Insider reported.
After a cascade of criticism, the Twitter CEO broke his hours-long silence about the outcome of his Sunday poll in which he asked the Twitterverse whether he should step down as leader of the social media website, which 57.5 percent of voters said he should.
Musk agreed with a right-wing account — as he has so often done recently in his expeditious right-ward shift — that fake accounts skew the results of Twitter polls, a suggestion he didn't entertain when restoring Trump's account.
"Blue subscribers should be the only ones that can vote in policy related polls," the Twitter account suggested, to which Musk replied, "Good point."