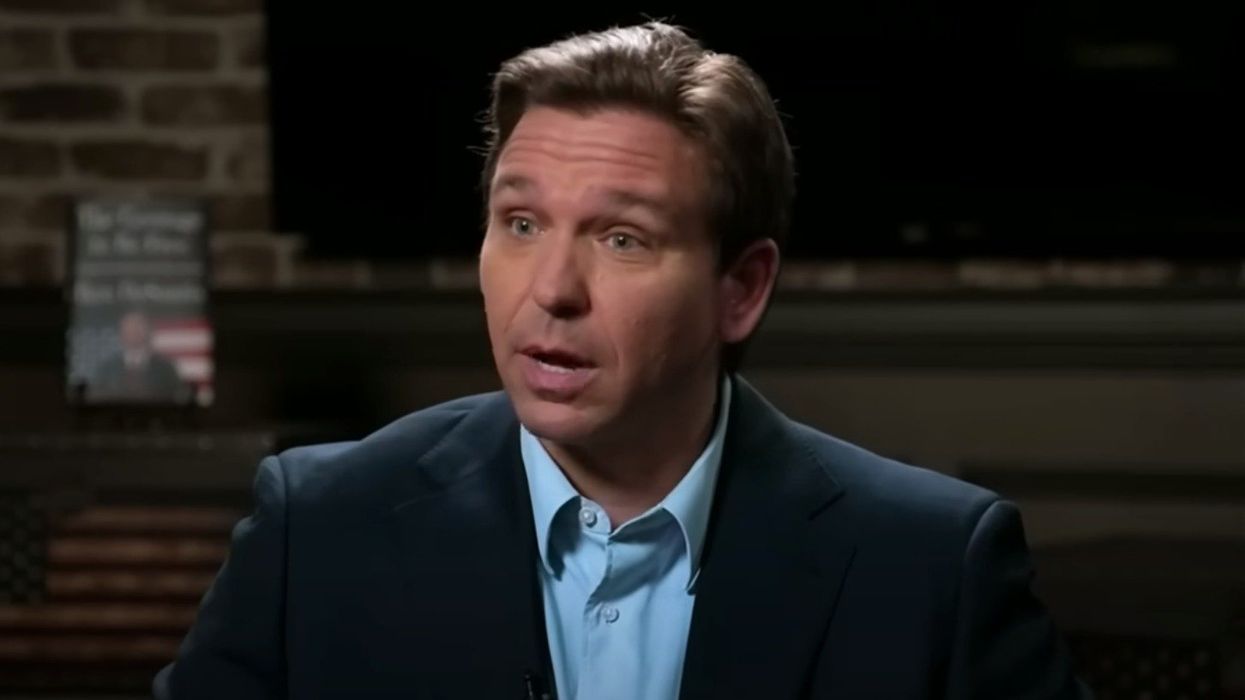 In 2019, Lev Parnas and his partner, Igor Furman, were arrested at a New York airport as they attempted to flee the country. One day later, the Tampa Bay Times revealed that Parnas had hosted at least two fundraisers for then-gubernatorial candidate Ron DeSantis. Parnas had raised "significant sums of money," including a $50,000 direct contribution to DeSantis.
Three years later, Parnas was convicted on charges of conspiring to funnel foreign contributions into U.S. political campaigns, soliciting more contributions, and aiding and abetting still more illegal contributions. The source of those contributions was indicted Russian oligarch Andrey Muraviev. DeSantis gave back the $50,000, though not the other money that Parnas had directed his way.
Through all of this DeSantis' insisted that he had little or no contact with either Parnas or Furman, and that he did "not have a relationship with these individuals." He continued to claim that Parnas was "just another donor." But Ron DeSantis was lying. Reuters has published a series of texts that show how DeSantis begged for help from Parnas, how Rudy Giuliani became involved, and without the help of both of them, DeSantis likely would never have become governor of Florida.
That original Tampa Bay Times story underscored that Parnas did far more than direct a check to DeSantis. Documents, including the campaign calendar and list of fundraisers, showed that candidate DeSantis repeatedly sought assistance from Parnas, though it was unclear at the time if the two had actually met.
The new information from Reuters clears that up. A direct statement from Parnas shows he and now Gov. DeSantis met in person at least twice, with one of those meetings instigated by DeSantis.
"Ron DeSantis approached me at the Trump International Hotel and introduced himself, telling me that he was told to come meet me because I was very close with Donald Trump."
Parnas went on to say that he had numerous conversations with DeSantis, who he called a close confidant. "We became very friendly," said Parnas.
DeSantis didn't just go to Parnas for money; he also used him as a go-between for invitations to other potential wealthy donors and for advice on his campaign. The $50,000 contribution was just a small part of the total funds the foreign agent sent DeSantis' way. Parnas and Furman were known to have given at least $400,000 to Republican candidates in Florida, most of it going through a Trump-aligned Super PAC. In addition, one of the fundraisers that Parnas arranged for DeSantis donated $115,000 to DeSantis' 2018 campaign.
How deep was DeSantis' involvement with Parnas and his schemes? Deep enough that Parnas says DeSantis agreed to meet directly with Russian oligarch Muraviev to discuss his support for legalizing and growing marijuana in Florida. That meeting was called off after Parnas' arrest.
DeSantis' spokesperson has refused to comment on any of this, calling it a "recycled story."
However, it now seems as if the money wasn't the biggest thing that Muraviev and Parnas did for DeSantis. The most valuable assistance provided was dragging in Giuliani to put DeSantis over the top.
In September of 2018, an FBI leak claimed that Democratic candidate Andrew Gillum was under investigation by the FBI for potential corruption in his role as mayor of Tallahassee. DeSantis jumped onto this story immediately, saying that Gillum was "embroiled in a lot of corruption scandals."
"This guy can't even run the city of Tallahassee," DeSantis said in one his frequent appearances on Fox News. "There is no way Florida voters can entrust him with our entire state."
However, the story didn't make much of an immediate impact on Florida voters. Barely two weeks before the 2018 election, the Tampa Bay Times poll showed Gillum with a six-point lead over DeSantis.
So DeSantis went looking for help from Parnas, and from the connections, he knew that Parnas could tap. On October 26, 2018, Parnas sent a text to DeSantis telling him that he would "have Rudy do a tweet" about Gillum.
DeSantis: "He needs to hit him on his scandal. Can say as a prosecutor this would be an indictable case etc."Parnas: "👍Tomorrow."
DeSantis had no actual evidence that Gillum had committed a crime, because there was no actual evidence. Still, he urged Guiliani to say his Democratic opponent was "indictable."
One day later, Parnas sent a tweet from Giuliani back to DeSantis for review: "As a former prosecutor and Mayor, I ask the people of my adopted State Florida to reject a Mayor with highest murder and crime rates in State…"
Other national Republican figures, including Trump, joined in, with most of the focus going toward the idea that Gillum was "corrupt."
Two years earlier, deliberate FBI interference by James Comey had been a decisive factor in putting Trump in the White House. FBI leaks had also insisted that there was no connection between Trump and Russia, a story that was run by The New York Times without any counter.
Now FBI leaks were once again weighing down a Democratic candidate, and Republicans at all levels were leaning into the story. As polls showed that the "corruption" storyline was getting wide play and Gillum's lead was eroding, Parnas became ecstatic.
"Big day my brother!!!" Parnas texted DeSantis on Election Day. "We will win!!!"
DeSantis did win … by 0.4% , making it the closest governor's race in the whole nation that year. The only charge eventually levied against Gillum was one count of lying to the FBI. Earlier this month, a jury found him not guilty.
"Had the FBI not leaked their investigation, which ultimately—and correctly—ended up in an acquittal, there is no question that Andrew Gillum would be the Governor of Florida today," Gillum's lawyers said in a statement. An FBI spokesperson declined to comment.
Ron DeSantis, his book bans, his trans hate, and his anti-science grandstanding that cost thousands of lives, would never have happened without the assistance of money and connections that he gained from a convicted foreign agent.
That might not be the only way that Parnas and Guiliani assisted DeSantis. From the beginning, it was assumed that the 2016 FBI "leaks" concerning Trump and Russia were sourced from Guiliani. An investigation wasn't able to determine if this was true. No such investigation has happened when it comes to the leak of the story about Gillum. It's worth investigating.
There's no doubt that DeSantis owes his current role to Parnas. If Giuliani was the one behind the FBI leak in Florida, that's doubly true. One thing is for sure: There was one hell of a lot of corruption involved in the 2018 Florida governor's race, and none of it came from Andrew Gillum.
Reprinted with permission from Daily Kos .