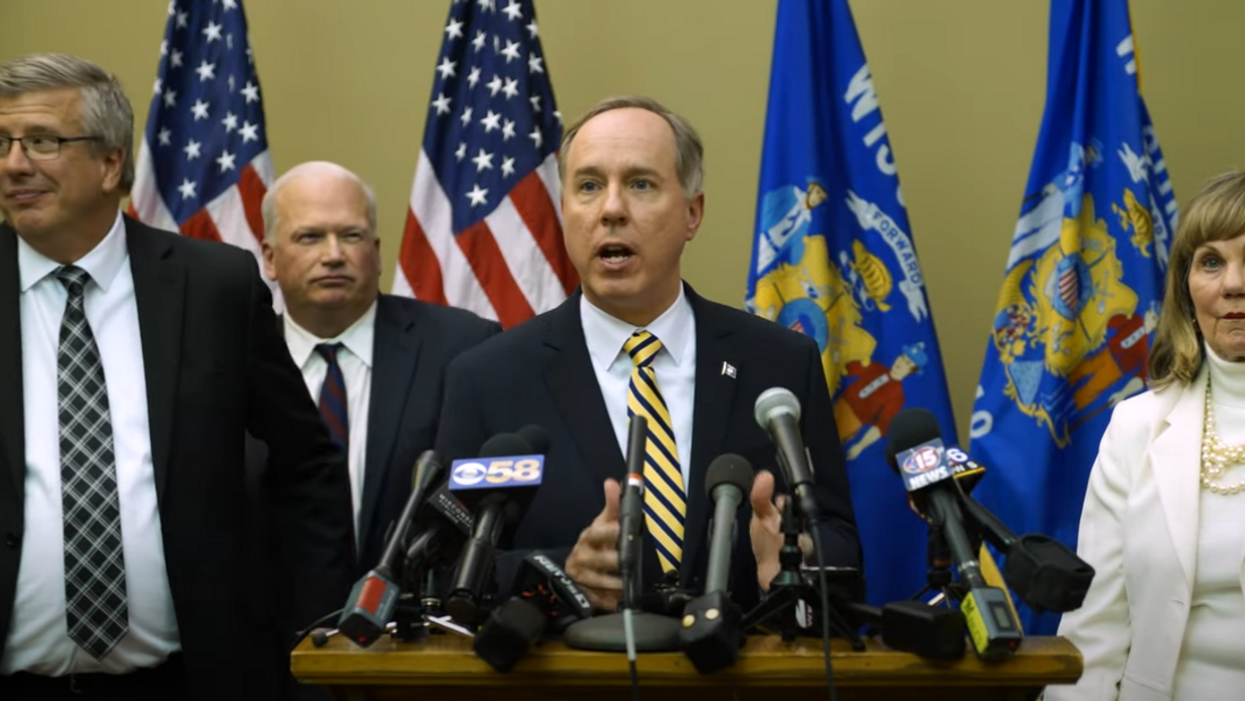 More than half of Wisconsin voters, or 51.2 percent , voted to reelect Gov. Tony Evers in November 2022. Yet Republican lawmakers were still able to win an overwhelming majority in the state Legislature.
That's because Republicans drew the state's legislative maps to maximize their party's power in the state while disenfranchising Democratic and independent voters. This practice is commonly known as gerrymandering.
Now, state Republican leaders have reportedly approved a plan to spend as much as $1.8 million in public funds to pay private lawyers to defend their gerrymandered maps in court.
After the 2020 Census, Wisconsin's Republican majority in the state Legislature approved new federal and state redistricting plans in 2021 that gave their party the lion's share of the seats. Democratic Gov. Tony Evers vetoed the maps, explaining, "I promised I'd never sign gerrymandered maps that came to my desk, and I'm delivering on that promise today."
Though the Republican did not have the votes to override his vetoes, the then-conservative-controlled Wisconsin Supreme Court adopted the Republican legislative leaders' proposed maps for the state districts and a GOP-leaning congressional map.
After the election of Justice Janet Protasiewicz earlier this year shifted the Wisconsin Supreme Court's majority, advocates for fair maps filed new legal challenges to the state legislative districts on August 2.
The legal nonprofit Law Forward, one of the plaintiffs challenging the maps, tweeted on August 27, "Every day that the gerrymander continues to distort politics and policy in the state of Wisconsin is an affront to our Constitution, an affront to our democracy, and a violation of the rights of the people of Wisconsin."
The Milwaukee Journal-Sentinel reported on August 31 that state Assembly Speaker Robin Vos and state Senate Majority Leader Devin LeMahieu signed contracts in August with three legal firms to defend the maps at taxpayer expense against those challenges. Two of the contracts are capped at a total of $1.8 million in hourly legal fees, plus expenses. The third contract has no spending limit.
"Using a blank check written by Wisconsin taxpayers, Legislative Republicans have entered into contracts with three law firms to defend their gerrymandered maps," Democratic Senate Minority Leader Melissa Agard told the Journal-Sentinel. "Again we see that they only care about their own special interests rather than the interests of Wisconsinites."
Republican legislators spent millions to defend a 2011 gerrymander in Wisconsin. "We didn't pick the fight and all we do is keep trying to defend," then-Senate Republican Leader Scott Fitzgerald said at the time. "Unfortunately, I think we find ourselves in a position where we're kind of at the whims of all these attorneys that continue to file these lawsuits."
Jay Heck, executive director of Common Cause Wisconsin, told the American Independent Foundation that neither expense was an appropriate use of public money.
"The $2 million, it's outrageous. I'm not even gonna say it's dismaying, because we're kind of used to it. But it's just, it's so galling, to think that after doing this 10 years ago," Heck said. "I'd like to say it's shocking. It's not shocking, because this has been the norm for the last 12 years, since 2011."
In 2018, Democrats swept statewide elections for Wisconsin governor, secretary of state, treasurer, and U.S. senator. Due to the 2011 gerrymander, Republicans still won almost two-thirds of the legislative seats.
Under the 2021 maps, Republicans control six of Wisconsin's eight seats in the U.S. House and the vast majority of legislative seats: 22 of the 33 seats in the state Senate and 64 of the 99 seats in the state Assembly.
Heck noted that while the Wisconsin Legislature has a constitutional role in drawing maps, that does not mean it has the power to spend millions of taxpayer funds to help their future election prospects.
Dan Shafer, who writes the blog The Recombobulation Area, called Wisconsin "the most gerrymandered state in the country" in a March 2023 post.
Reprinted with permission from American Independent .