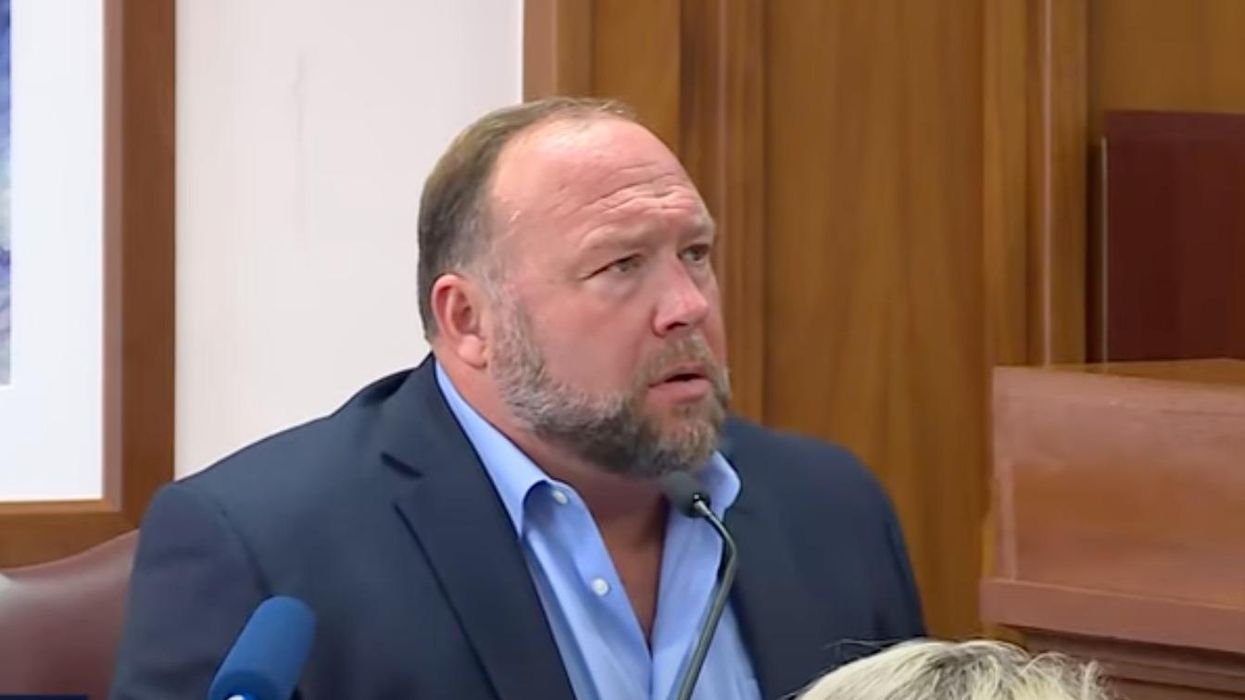 Conspiracy theorist Alex Jones filed for personal bankruptcy in a Texas court on Friday after weeks on the hook for over $1 billion for pushing heinous and defamatory lies about the 2012 Sandy Hook school shooting.
For years, Jones, a Trump-supporting provocateur, falsely claimed on his far-right disinformation podcast, Infowars, that the Sandy Hook massacre, a tragedy that claimed the lives of 20 elementary school children and six adults, was an "inside job" instigated by the government as a pretext for the mass seizure of guns.
According to the New York Times, Jones' websites and social media commandeered 1.4 million daily visits before major platforms like Facebook purged his content –. as Vox reported, for "glorifying violence… and using dehumanizing language to describe people who are transgender, Muslims and immigrants."
Incited by Jones' lies that the grieving parents of victims of Sandy Hook were "crisis actors," Infowars listeners subjected the distraught families to years of violent threats and harassment, according to court testimony.
Reckoning arrived in 2018 when a group of families sued Jones and Infowar's parent company, Free Speech Systems, citing the stalking, death threats, and harassment they had endured due to Jones' falsehoods.
In his Chapter 11 bankruptcy filing in the Southern District of Texas, Jones claimed insolvency due to the mostly business-related debts he said he owes to between 50 and 99 creditors, including Sandy Hook victims' families, a value he estimated to be between $1 billion and $10 billion.
Jones said in his filing that his assets are worth between $1 million and $10 million, even though he earns up to $70 million annually peddling dietary supplements, quack cures, and other items including survival gear, reports the Times.
In a recent broadcast, the Infowars host pegged the amount at $2 million, telling his audience, "I'm officially out of money, personally," even though a forensic economist estimated in court this summer that Jones and his business were worth up to $270 million.
An attorney for the Sandy Hook victims' families, Chris Mattei, slammed Jones' insolvency claims as a failed ploy to dodge accountability for his lies about the tragedy.
"Like every other cowardly move Alex Jones has made, this bankruptcy will not work," Mattei said. "The American judicial system will hold Alex Jones accountable, and we will never stop working to enforce the jury's verdict."
Jones' filing came a week after a Texas judge ordered him to pay $49 million in damages a jury awarded to the parents of a six-year-old killed in the shooting, a verdict Jones' lawyer has publicly promised to appeal.
In October, before the Texas ruling, a jury in Connecticut awarded a contingent of eight Sandy Hook families $965 million in compensatory damages, the biggest penalty from Jones' slate of legal woes.
A Connecticut jurist, Judge Barbara Bellis, pegged an additional $473 million in punitive damages to the tally early last month, bringing the bill up to $1.44 billion.
The Sandy Hook families challenged Jones' insolvency claims, accusing the far-right fabulist of "systematically transferr[ing] millions of dollars" to himself and his relatives, according to a bankruptcy court filing in August.
"Alex Jones is not financially bankrupt; he is morally bankrupt, which is becoming more and more clear as we discover his plots to hide money and evade responsibility," Kyle Farrar, an attorney for the Sandy Hook families, said at the time.
Jones funneled money from Free Speech Systems as the potential for damages mounted mid-trial, moving millions of dollars between August 2020 and November 2021 to business entities controlled by himself and his relatives, a Washington Postanalysis of Jones' finances showed.
Jones claimed in his bankruptcy filing that Free Speech Systems, which filed for bankruptcy in July, owed $55 million to PQPR Holdings, a company he and his parents owned, a debt the Sandy Hook families called "fictitious," per the Times.
Multiple media requests sent to Jones seeking comment on his filing have so far gone unanswered.