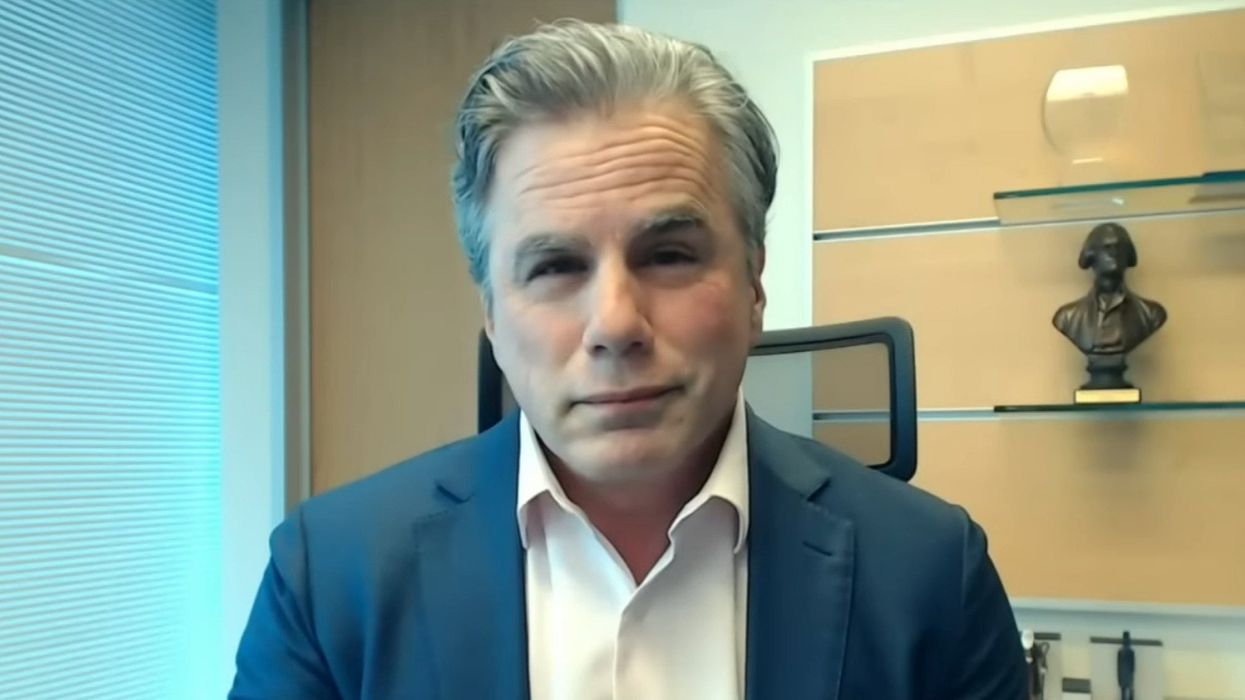 It's hard to go 15 minutes watching cable news without hearing some random Republican talking about the mythical "Biden crime family." However, the indictment laid out in Fulton County, Georgia, on Monday describes a very real crime family—one in which 19 defendants are facing 41 felony counts, including a Racketeer Influenced and Corrupt Organizations violation, commonly referred to as RICO.
But even those 19 names don't come close to telling the whole story of the Donald Trump Crime Family. The total number of those involved in the scheme is at least in the hundreds, including 84 people who signed on as false electors and dozens of state and local officials who cooperated in arranging their selection.
In the indictment, 30 people come in for special attention as "unindicted co-conspirators." Some of them evaded charges because their involvement in the criminal acts mentioned in the indictment was incidental—like being present at a meeting where some portion of the scheme was discussed. Others surely avoided prosecution because when District Attorney Fani Willis' investigators came calling, those unnamed folks hurried to spill everything they knew. Some of them are familiar names. Some of them should be familiar names. In any case, filling out the list helps show that those who landed a charge are just the tip of a very large and very ugly iceberg.
The Washington Post, The Guardian, and The Daily Beast have all taken a stab at putting name tags on the co-conspirators. There's a smattering of disagreement among the three lists, and more than a few slots are still unclaimed. Here's what we know about those who were involved in the Trump Crime Family scheme but who have so far avoided facing legal repercussions. Not all have been clearly identified, but most have. They can be broken into a few categories.
THE INSIDERS
Individual 1 appears, appropriately enough, in the first act described by the indictment—a discussion with Trump that took place four days before the election in which Trump admits that he plans to claim victory and to allege election fraud. The name The Daily Beast puts to the other participant in this discussion is Tom Fitton. That name might not seem all that familiar, but you might find numerous references if you check the spam folder in your email. That's because Fitton runs the far-right legal scam organization known as Judicial Watch. Those are the guys who make daily claims about how their prowess in court has forced President Joe Biden to turn over some new information that some agency was hiding under a rock. And if you'll only send them another $5 or $10 or maybe $100, boy will they get that Biden this time! Rinse, repeat, spam five more times tomorrow. It would be really great to have the full text of the conversation as Trump explained to Fitton his whole plan for throwing the election into disruption even before it had happened. Maybe Judicial Watch should get on that.
Individual 2 was the recipient of a lengthy voicemail from Rudy Giuliani, which has to be a sort of nightmare scenario for anyone. It's clear this was one of the false electors, but other than being forced to listen to Giuliani lie about fraud in the election, it's uncertain they did anything more. Regardless, it is crystal clear they turned evidence of Giulani's lies over to the investigators. Good job, number two. No one seems to have a good candidate for this individual.
Individual 3 was a lot more active and more obvious, because that individual "appeared at a press conference at the Republican National Committee Headquarters" along with Giuliani, Sidney Powell, and Jenna Ellis, according to Act 3 of the indictment. Honestly that leaves a couple of possibilities, but the best guess from The Daily Beast is Boris Epshteyn. Epshteyn is one of those names many had hoped to find on the indictment, and his involvement gdocumentcloudoes well beyond this single appearance. There he is again in Act 94 exchanging emails with Jan. 6 idea man John Eastman and Trump attorney Kenneth Chesebro (both indicted) as they plot new ways for Republicans in the House to screw up the election process. He's back again with the same pair in Act 109 working out ways to "disrupt and delay'' the process on Jan. 6. Honestly, Epshteyn's squeal should have been audible across the continent for him to have avoided having the "un" struck from "unindicted."
Individual 4 also makes repeat appearances. In fact, this person is everywhere talking to everyone. There they are in Act 4, getting an email instructing them to assist bail bondsman Scott Hall, who is described as "someone who has been looking into the election on behalf of the president." Hall was involved in another case where he was accused of using his political connections in an effort to extort a sheriff into "donations." Exactly how the very much indicted Hall became a go-to guy for Trump and Citizens United chief David Bossie is going to be one of the more interesting stories of the trial, but Individual 4 makes a return in Act 63 in connection with indicted political operative Mike Roman. They're back again in Act 66, involved in an email chain with Roman and indicted Georgia state Sen. David Shafer. They're involved again in Act 67, this time with Shafer alone. Then in Act 68, Individual 4 is back to solicit Giuliani's contact information from Roman. In Act 71, Individual 4 is on the receiving end of an email from Chesebro containing information to be used by the Georgia false electors. In Act 72, Chesebro taps them again to remind them that Giuliani "wants to keep this quiet until after all the voting is done." In Act 73, Shafer messages them to give the details of the false electors meeting. Hasty texts about the movement of the false electors are in Act 76. In Act 86, Individual 4 lets Roman know that all the paperwork is done and that it "went smoothly." Frankly, this person was so neck-deep in the planning and execution of the fake electors scheme that they have to be the key witness to the nuts and bolts of how this was carried out. The Guardian pegs Robert Sinners, a former state director for the Georgia Republican Party, former regional director for the Republican National Lawyers Association, and the current communications director for Georgia Secretary of State Brad Raffensperger as Individual 4. Assuming they are right, I don't know how a guy who was at the center of Trump's scheme in Georgia ends up working for the guy who is best known for resisting Trump's efforts to strong-arm him.
Individuals 5 and 6 are difficult to pick apart, because all their appearances in the indictment are connected to Trump's legal team and several occur together. Individual 5 is in Act 20 meeting with Arizona representatives in the company of Giuliani and Ellis. Individual 5 is alone in getting an email that was also sent to Giuliani in Act 40 and an email from Chesebro in Act 61. Both Individuals 5 and 6 appear in Act 9, where they are part of a meeting with Pennsylvania legislators headed up by Trump, Giuliani, Ellis, and former White House chief of staff Mark Meadows. Individuals 5 and 6 are a double act again in Act 17, where they are part of a meeting with Arizona legislators involving both Giuliani and Ellis. Individual 6's only solo appearance comes in Act 91, where Sidney Powell insists that she and Individual 6 must get "all the data" from legal technology (i.e., voting machine hacking) firm SullivanStrickler LLC. The close association with the legal team and the frequent pairing of these two make me think of Trump attorney couple Victoria Toensing and Joseph diGenova. However, The Daily Beast went over past statements and concluded that Giuliani's eternal pal Bernie Kerik is Individual 5. Both The Daily Beast and The Washington Post peg Powell-loving conspiracy theorist Phil Waldron as Individual 6.
FALSE ELECTORS AND FRIENDS
Individual 7 shows up in Act 18, Act 63, Act 77, and Act 86. In all but one of these instances (Act 18), they are the recipient of emails on the planning of the false electors scheme. That's it for what we know.
Individual 8 was a participant in the Georgia meeting where Giuliani, Ellis, and Trump's Atlanta-based attorney, Ray Smith, tried to convince legislators to set aside the election results and pick the Trump-selected electors. Multiple sources peg this individual as then-state senator and current Lt. Gov. Burt Jones. None of the other unindicted co-conspirators come close to Jones' 17 assumed appearances in the indictment. He's all over the place (Acts 34, 35, 38, 68, 73, 79–82, 102, 161) exchanging emails with Eastman on plans to call for a special legislative session, trying to get an official nod for the false electors, and tweeting, "... today is the day we need you to call your state Senate & House Reps & ask them to sign the petition for a special session." He's also named (as Individual 8) in many of the charges. He was working with Roman. And Chesebro. And Giuliani. And seems to have been right at the core of efforts to crush democracy in Georgia … and yet he didn't get indicted. Why? Because Jones convinced Fulton County Judge Robert McBurney to disqualify Willis from targeting him due to her connections with a fundraiser for Jones' Democratic opponent. He's not indicted at the moment because Willis couldn't indict him. But considering Jones' deep involvement in the most egregious aspects of this scheme, don't be surprised if someone else pulls that trigger. A Georgia special counsel has been named to investigate Jones.
Individual 9 was clearly one of the 16 fake electors that Roman and his merry band hustled through the state Republican HQ. They show up in Acts 47 and 48 as the recipient of documents that were sent out by Roman and Chesebro. (They were also obviously the source of these documents for Willis' team.) They sent a text agreeing to attend the meeting of the Trump presidential elector nominees (Act 74) and joined in (Acts 79–82), which is the big summary of all the false electors doing false electoring. Based on email addresses from one of the messages, The Daily Beast tags this person asJoseph Brannan, who is the former treasurer of the Georgia Republican Party.
Individuals 10-19 are more false electors. None of them seem to have done anything particularly interesting except being on the receiving end of emails from Chesebro and Shafer. Oh, and they all showed up to sign a bunch of forged documents and make a bunch of illegal statements, and they should all be very happy Willis had bigger fish to fry.
THE MIKE FLYNN CATEGORY
Individual 20 appears just once in the indictment: That's in Act 90, where they are part of the infamous White House meeting where Giuliani and Trump listened as Powell explained that it was time to have the military seize the voting machines, have Trump appoint her special counsel of a general inquisition, and blow away any pretense of democracy. The obvious candidate for this role is former general and full-time fascist Michael Flynn. Flynn was known to be there, and the description of Individual 20's role in this event (discussing "certain strategies and theories") matches what was known of Flynn's participation. There were a lot of people at that meeting, and The Daily Beast doesn't try to fill in this blank. The Guardian gives Flynn only a tentative tap. The Washington Post seems more interested in spotting the most obscure names on the list and skips over this one. Former FBI agent Peter Strzok, head of the investigation into Russia's interference in the 2016 presidential election, names Flynn as one of two possibilities. I'm sticking with Flynn.
THE RUBY FREEMAN THREAT TEAM
Individual 23 appears in an interesting place in the indictment: That's in Act 115 and Act 127, right in the middle of a long (long) list of efforts made by "Black Voices for Trump" director Harrison Floyd and former Kanye West publicist Trevian Kutti to harass poll worker Ruby Freeman. These acts record at least 30 instances of the pair trying to get to Freeman. If you want a clue what that was like, watch this video of Kutti telling Freeman she's "a loose end" that needs to be taken care of and muttering other totally not death threats. How Individual 23 was connected to this awfulness isn't clear, but they need to take a lot of showers and do a hell of a lot of penance if they were involved in this slime. Has anyone mentioned that Freeman and her daughter Shaye Moss are GD real American heroes?
SIDNEY POWELL'S HACKERS
Individuals 21 and 22 appear in Act 91 in an email from Powell to the chief operations officer of SullivanStrickler LLC insisting that they get all the data from that company's hacking into Dominion voting machines in Michigan. Other than that … I have nothing.
Individual 24 was a hands-on participant in the effort to steal data from voting machines in Coffee County that features in Act 143. The Washington Post identifies this individual as Alex Cruce, who is on surveillance video arriving at the elections office. Cruce claims he thought he "had permission" to be there and attempt to get data from the machines. Why he thinks he had permission is a mystery likely to be resolved in testimony.
Individual 25 is identified by both The Washington Post and The Daily Beast as Doug Logan. While Cruce says he didn't get any data from the machine, Act 150 points at Logan for illegally accessing and "downloading … data from a server" over a period of four days. What does someone have to do to get indicted around this place? If that's not enough for you, Logan was the head of a company called Cyber Ninjas at the time. That's the same Cyber Ninjas that conducted the Republican legislature-mandated audit of the vote in Arizona—and turned up nothing.
Individual 26 is, according to The Washington Post, Powell associate Todd Sanders, who in Act 151 downloaded some of the SullivanStrickler LLC data. However, that wasn't his only involvement. According to the Post, Sanders also joined the SullivanStrickler team on a jaunt up to Michigan to copy more data there and was "the Powell team's person on the ground in Nevada."
Individual 27 is another of those cited for downloading SullivanStrickler's illegally obtained data, this time in Act 152. The Post indicates this to be Conan Hayes, a freelance "data expert" and Trump fanatic whose connection to events is unclear.
Individual 28 not only accessed the data in Act 153, but instructed SullivanStrickler to send it to another of the co-conspirators connected to Powell as part of Act 155. The Daily Beast and The Washington Post agree that this was Jim Penrose, who is described byThe Daily Beastas a "former National Security Agency officer-turned-Powell lackey." Penrose, who was involved with Powell before the incidents in Coffee County occurred, appears to be the person who first tapped SullivanStrickler to do Trump's data hacking.
Individual 29 makes a one-time appearance in Act 154 as one of those who former Coffee County Elections Director Misty Hampton escorted to the servers. The Washington Post tags Jeffrey Lenberg from New Mexico, who pretty much confessed to his presence on the podcast "Conservative Daily." Like Cruce, Lenberg says he thought he had permission to show up and access Dominion Voting System's machines. He doesn't say who put him on a plane to Georgia and steered him to Hampton.
Individual 30 isn't actually a hacker. According to the Post, she's assistant attorney Stefanie Lambert, who also had the bad taste, bad fortune, and bad judgment to work with Powell. In Act 155, Lambert was the recipient of a copy of all the data taken in Coffee County. The Washington Post tried to contact Lambert and got back a tart, "There is no law preventing local clerks from seeking independent expert analysis of voting machines." Her team is right about that. However, there are plenty of laws against those clerks putting people on planes and dispatching them to elections offices with instructions to break into voting machines and pull out both data and software. Somehow Lambert is evading those laws in the Georgia case. But don't worry: She's already been handed four felony indictments in Michigan by state special prosecutor D.J. Hilson. It's always nice when there's a happy ending.
Like Lambert, others who didn't make the first cut in Willis' indictment are likely to find that they made the team elsewhere. And really, a RICO trial involving 19 defendants is already going to need a modest stadium if Willis really wants to try them all at once.
So some of these folks will keep the "un" in "unindicted" for now. But they shouldn't get too comfortable.
Reprinted with permission from Daily Kos.