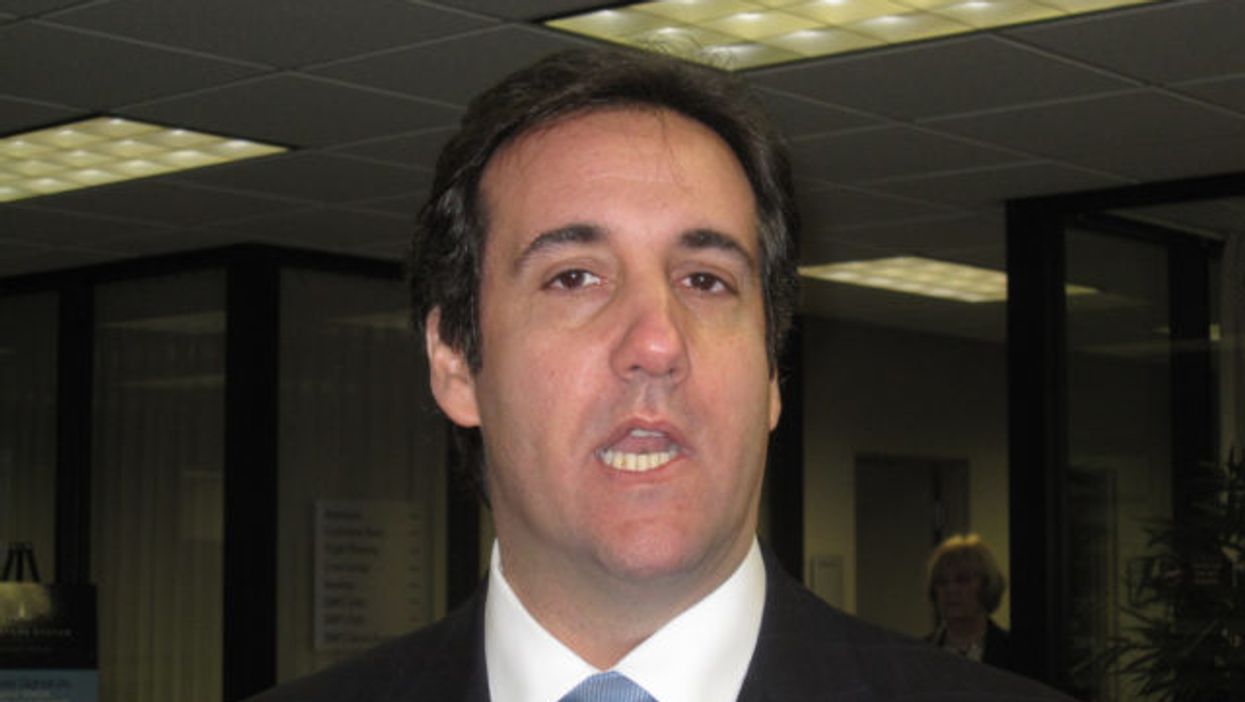 Michael Cohen, former President Trump's ex-lawyer and fixer-turned-critic, testified for four hours on Monday that his former boss lied under oath and did, in fact, urge his security detail to assault peaceful protesters outside Trump Tower in September 2015.
Lawyers grilled Cohen during an acrimonious deposition about his assertions that Trump engineered an altercation outside his building on Fifth Avenue when he instructed his bodyguard, Keith Schiller, to "get rid" of demonstrators of Mexican descent holding "Make America Racist Again" cardboard signs.
Cohen, during his deposition, told lawyers that Trump had said, "Get rid of them!" The former fixer alleged he was in the room when then-President Trump ordered his corporate security goons to attack a group of protesters decrying the president's derogatory remarks about Mexicans.
Security videotapes from Trump's company building that could easily verify Cohen's claims mysteriously disappeared, and the plaintiffs received just one surveillance tape, which showed Schiller marching down the lobby to fight the protesters, according to theDaily Beast.
Trump and his company have denied these allegations. In an October 2021 deposition, Trump testified under oath that he didn't unleash his security on the protesters, or direct them to grab the signs.
Those protesters have sued Trump and his company for "wanton and malicious assaults and batteries" by Trump's security team. According to the Daily Beast, the testimony of Cohen, a surprise witness in the lawsuit, could prove crucial in the legal squabble.
"Mr. Cohen is an eyewitness to events taking place in the Trump Organization offices and to Defendant Trump's directive to his private security personnel to 'get rid' of' [the protesters] on September 3, 2015," Benjamin Dictor, the protesters' lawyer, wrote in a court filing
After leaving the law offices across from Manhattan's Grand Central Terminal, Cohen told NBC News, "They asked me questions, and I answered them honestly and truthfully, and the truth does not benefit Donald." Cohen's deposition was taped in the presence of attorneys for Trump and the protesters
When journalists from Insider asked Cohen if his or Trump's testimony will prove truthful, the former lawyer replied, "Clearly, mine."
Jurors in the case will watch videos of both Trump and Cohen's testimony, as well as videos of the incident at issue.
"He said, 'Get rid of them!' Cohen told reporters outside the venue of his deposition. "I'm shocked he let this case go as far as it did."
Trump testified that he "didn't know about" the violent interaction between Schiller and the protesters until the day after the incident, according to a released excerpt of the former president's deposition, reported NBC News.
In the excerpts, when Trump was asked about his 2016 comment to "knock the crap" out of hecklers, the former president went on a bizarre tangent about his fear that people would throw fruit at him.
"Oh yeah. It was very dangerous," Trump said. "They were going to throw fruit."
He added, "We were told. I thought Secret Service was involved in that, actually. But we were told. And you get hit with fruit, it's – no, it's very violent stuff. We were on alert for that."
"I wanted to have people be ready because we were put on alert that they were going to do fruit. And some fruit is a lot worse than – tomatoes are bad, by the way. But it's very dangerous," Trump said, according to the released transcript.
Alina Habba, an attorney for Trump, assured reporters that "enough courts have spoken on [Trump's] credibility."
Habba assailed Cohen, saying "I think it's ironic he's come out of the woodwork a couple of weeks before trial," she said. "And the truth will come out. I actually look forward to spending a few hours questioning Mr. Cohen."