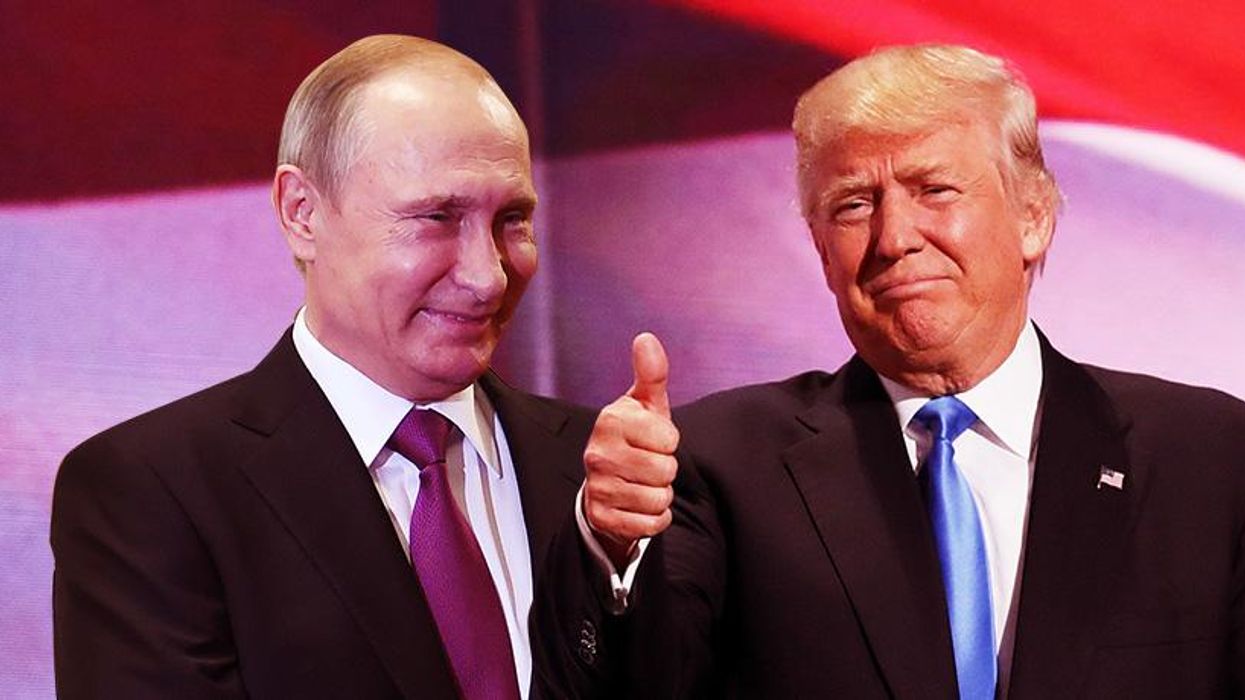 Well, they have spoken – by which I mean Vladimir Putin and Sergey Prigozhin, but I may as well throw the Third Pretender in there, too, Defendant Trump, who couldn't resist getting his two-cents in Saturday with this bit of well masticated wisdom on his Truth Social platform: "A big mess in Russia, but be careful what you wish for. Next in may be far worse!"
Boy, am I ever glad we've got the Don of Bedminster to depend on when things get weird on the world stage. When he was president and met with other world leaders for his first time at the G-7 in Sicily in 2017, there was this: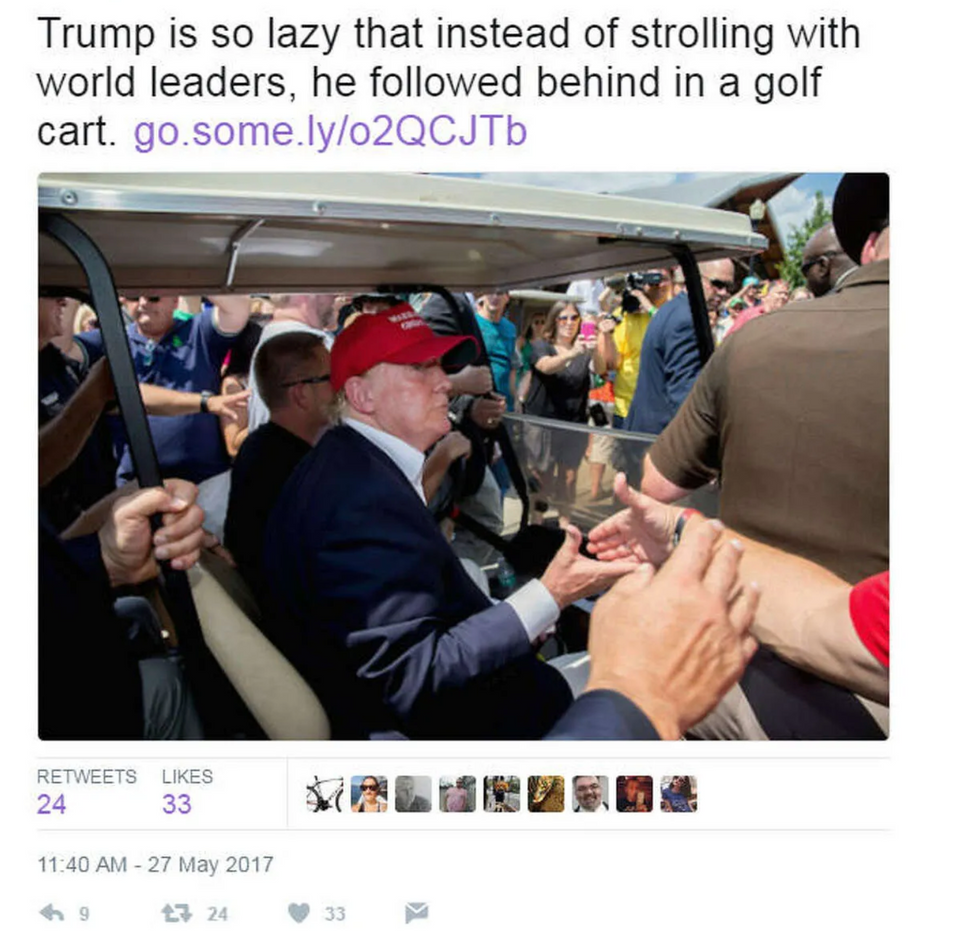 Former President Donald Trump at the G-7 meeting in Sicily in May 2017
Then in 2018, another photo summed up a summit Trump ended by calling for Russia's readmission to the G-7, four years after it had been ousted for its annexation of Crimea. The photo shows German Chancellor Angela Merkel giving him a piece of her mind while Japanese Prime Minister Shinzo Abe stands by with a look of disgust. The face of French President Emmanuel Macron can be seen behind Merkel with British Prime Minister Theresa May partially obscured by the man leaning on the table in the foreground. Oh, and behind Trump is National Security Adviser John Bolton, who suddenly discovered he has a backbone lastFormre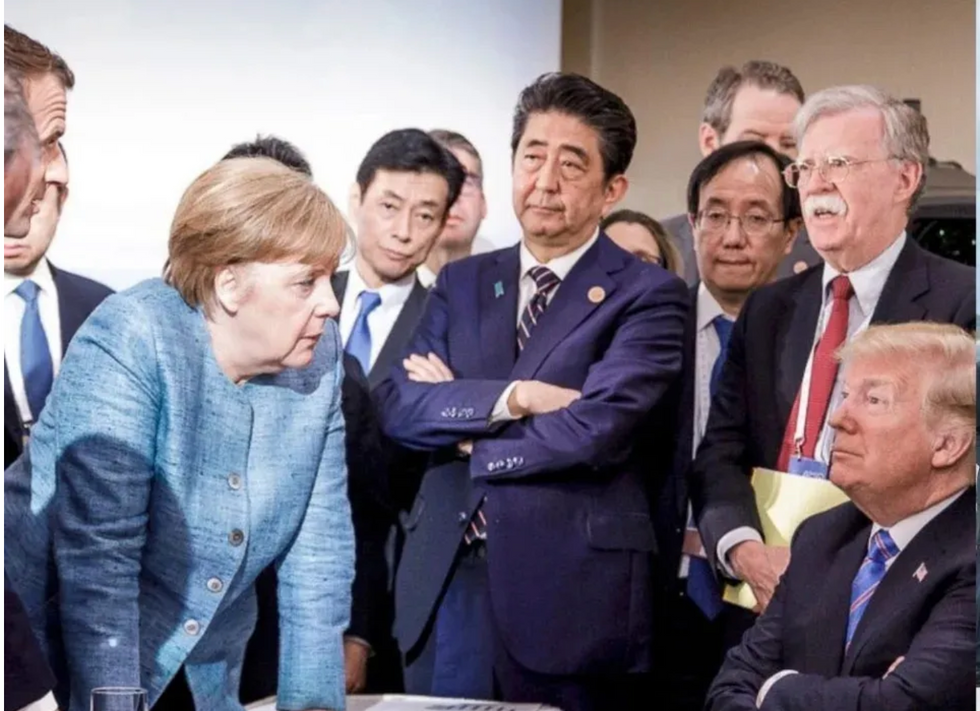 Former Prime Minister Theresa May confronting former President Donald Trump at G-7 meeting in June 2018
I digress, but only as a reminder of what it was like when the American equivalent of the Putins and Prigozhins of the world was at the helm of the American ship of state. Can you imagine what Defendant Trump would be doing if he was in the Oval Office while the revolt in Russia was happening on Saturday? Offering to send the Proud Boys to defend Red Square wouldn't be out of the question.
The news slowly leaking out of the world's other nuclear superpower today was, to put it mildly, unsettling. Prigozhin is supposed to be in Belarus, but nobody knows for sure if he's there. He was last seen on Saturday evening greeting a crowd from the back seat of what looked like a large American SUV in downtown Rostov-on-Don, which his troops had seized from Russian forces earlier that day. The Guardian called it "Prigozhin's rockstar exit from Rostov," and quoted one citizen of the city observing that, "There is a real interest in Prigozhin and his fighters. The nation longs for a change. To some, Prigozhin is a valuable alternative to Putin."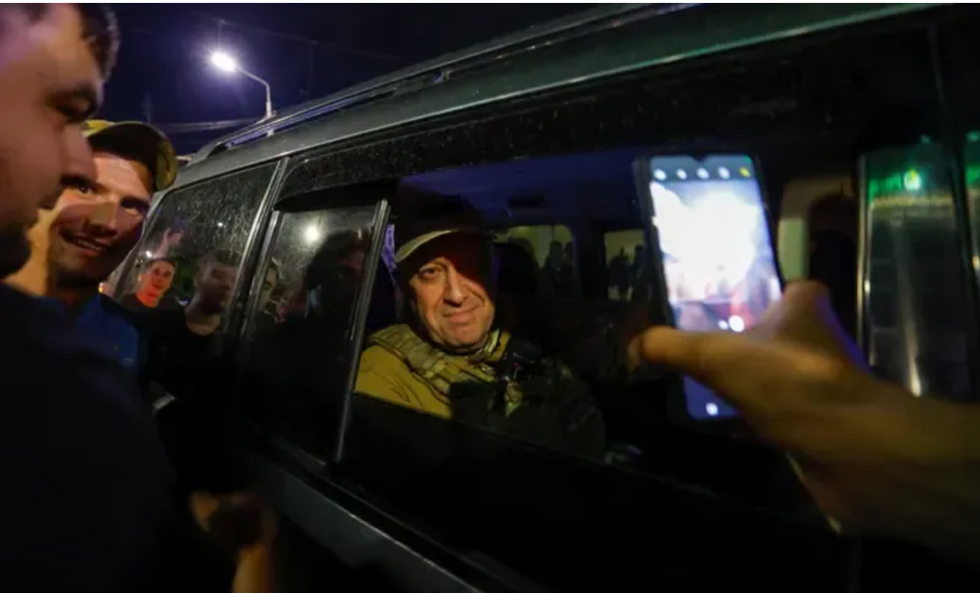 Yevgeny Prigozhin leaving Rostov-on-Don on Saturday, June 24, 2023
Ooops. There it is, the deadly nightshade of a word to any dictator worth his custom-tailored suit and retinue of lickspittles: alternative. There just aren't supposed to be alternatives to all-powerful dictators, don't you see, because as Defendant Trump put it so eloquently for us in his first campaign for the presidency in this country, "I alone can fix it."
Most of us bipeds wandering around the planet going about our business live with a nagging uncertainty that we matter to anyone but those closest to us. We're reminded of this by the little things that happen, perhaps not daily, but enough that we are unsettled by our humanness: the car won't start; a favorite pet dies; a child comes home with a "D" in math; the boss at work hesitates as he walks by your desk and shakes his head slowly before moving on.
Not dictators and wannabe dictators. For them, there is no doubt that they matter. Listen to the words of Vladimir Putin, just 48 hours after a convoy of tanks, rocket launchers, armored personnel carriers, and infantry soldiers were on the march unopposed just 125 miles away from the Russian capital, Moscow: "Civic solidarity has shown that any blackmail attempts to create internal unrest are doomed to failure," Putin said today in a little speech filmed in a room somewhere in Russia, with mahogany paneling, a couple of Russian flags, and what looked like the back of one of the world's most uncomfortable chairs behind him. "The consolidation of the society of executive and legislative power at all levels was shown," he continued, looking into the eye of the camera as forcefully as he could. "There was a firm unequivocal position in support of the constitutional order. In fact, the entire Russian society united and rallied everyone."
Wow. If you were a citizen of Russia, and you were looking to be comforted after an upheaval that shook the Kremlin and forced soldiers and tanks into the streets of Moscow, that is just the thing to settle your stomach and get you ready for your next gulp of the clear stuff in the little shot glasses.
Prigozhin spoke bluntly, presumably from a bunker in Belarus, or Russia, or Ukraine, or somewhere: "We did not have the goal of toppling the existing regime and legitimately-elected government," Prigozhin began in a manner that can probably be described as just barely conciliatory, before he really got into it. "The aim of the march was to avoid destruction of Wagner and to hold to account the officials who through their unprofessional actions have committed a massive number of errors."
Prigozhin repeated his charge that 30 of his soldiers had been killed by a missile strike from regular Russian forces. His brief audio address, released on his Telegram channel, appeared to be a rejection of a rumored plan to integrate his Wagner mercenaries into the regular Russian forces, which Prigozhin indicated would be a death sentence for his soldiers. "Experienced fighters, experienced commanders will be simply 'smeared' and will basically be used as meat," he predicted.
So, that's where we stand, two days after the biggest threat to Putin's rule in Russia in more than 20 years. Putin's not giving an inch, and apparently allowed a rumor to spread yesterday that the charges against Prigozhin for instigating an insurrection could be reinstated at any time. Another rumor spread that Prigozhin plans to consolidate his Wagner group in Belarus and fight from there. The last time Russia tried attacking Kyiv from the north, it didn't go so well for them, and at that time in the war, it was rag-tag guerrilla-style assaults by hastily-formed Ukrainian units that drove the attackers back. I think we can assume that Kyiv is much better defended today than it was in February of last year, so maybe Prigozhin should give his plans more thought.
But who knows? I love the word "fluid" when it's used to describe situations like this, because my mind, anyway, forms an image of a river, with currents swirling and dangers lurking beneath its surface. That's as good a description as any of Russia this evening, and we'll be here to keep an eye on it for you.
Lucian K. Truscott IV, a graduate of West Point, has had a 50-year career as a journalist, novelist, and screenwriter. He has covered Watergate, the Stonewall riots, and wars in Lebanon, Iraq, and Afghanistan. He is also the author of five bestselling novels. You can subscribe to his daily columns at luciantruscott.substack.com and follow him on Twitter @LucianKTruscott and on Facebook at Lucian K. Truscott IV.
Please consider subscribing to Lucian Truscott Newsletter, from which this is reprinted with permission.