Tasked To Recruit Women Candidates, GOP Rep. Susan Brooks Quits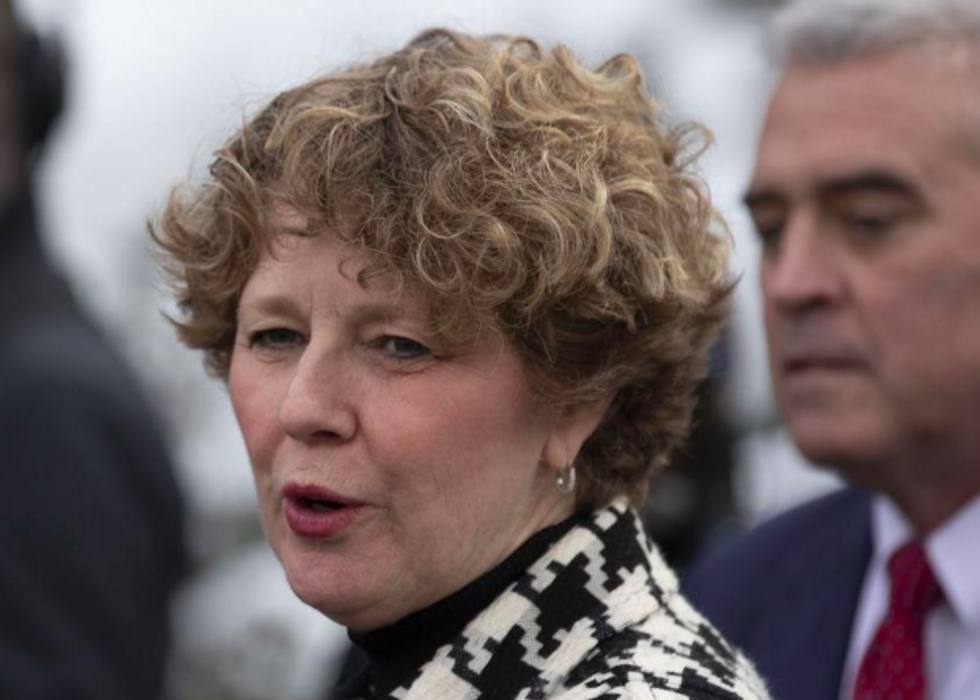 House Republicans' pitiful number of women in their ranks could fall even further in 2020, as Rep. Susan Brooks (R-IN) announced on Friday that she is retiring rather than seeking reelection, according to USA Today.
Brooks is one of just 13 women in the House Republican caucus and serves as the head of candidate recruitment for the National Republican Congressional Committee — which seeks to elect Republicans to the House.
As part of her role of convincing Republicans to run for the House, Brooks has said that she wants to see more women and people of color run.
"It's important that we, as a conference, do a better job of looking like America, and better representing the very diverse country that we have," Brooks told Roll Call in April.
So her decision to leave Congress in 2020 looks like a pretty bad omen for the House GOP as it desperately tries to diversify its almost entirely white male membership and win back the majority they were swept out of in spectacular fashion in 2018.
Brooks painted her retirement as a personal decision to spend more time with her family. However, Brooks is a top Democratic target in 2020, as her suburban Indianapolis district is one that is shifting away from the GOP thanks to suburban voters' disdain for Trump.
The Democratic Congressional Campaign Committee, which seeks to elect Democrats to the House, put Brooks on their "retirement watch list" for 2020. Trump carried Brooks' district by 12 points in 2016, while Mitt Romney carried it by 17 points in his failed 2012 presidential bid — meaning the district has gotten less Republican in the Trump era.
The DCCC gloated about her retirement in a Friday morning tweet following her announcement.
🚨: Washington Republican and @NRCC Recruitment Chair (😂😂😂) Susan Brooks just announced she's calling it quits.

We added @SusanBrooksIN to our Retirement Watch List months ago because #IN05 is ripe for the picking. Happy to see that Rep. Brooks agrees!https://t.co/Rul6VlAE62

— DCCC (@dccc) June 14, 2019
DCCC Chairwoman Cheri Bustos said Brooks' retirement is indicative of the problems Republicans have in convincing women not only to run, but also to support the Republican Party.
"In a party whose leadership continually marginalizes women's voices, losing Congresswoman Brooks, who was working hard to recruit women to run for office, underscores the problem Washington Republicans have created for themselves," Bustos said. "Furthermore, as the head of the NRCC's entire recruitment effort across the country, Congresswoman Brooks' retirement is the clearest evidence yet that Washington Republicans efforts to retake the majority are in a tailspin."
Not to mention, House Republican leaders have made comments that would likely be discouraging to Republican women looking to grow the number of women in their white-male dominated caucus.
"I think that's a mistake," NRCC Chairman Tom Emmer (R-MN) said back in December about efforts by House Republican women to increase the number of women in their conference. "It shouldn't be just based on looking for a specific set of ingredients — gender, race, religion — and then we're going to play in the primary."
Because there are so few women in the House Republican conference, Brooks amounts to eight percent of House GOP women.
Her retirement is ultimately a setback for both Republicans' efforts to diversify and their efforts to win back the majority in 2020.
Published with permission of The American Independent.