Tax Avoidance, Government Dependency, And Romney's Boca Raton Host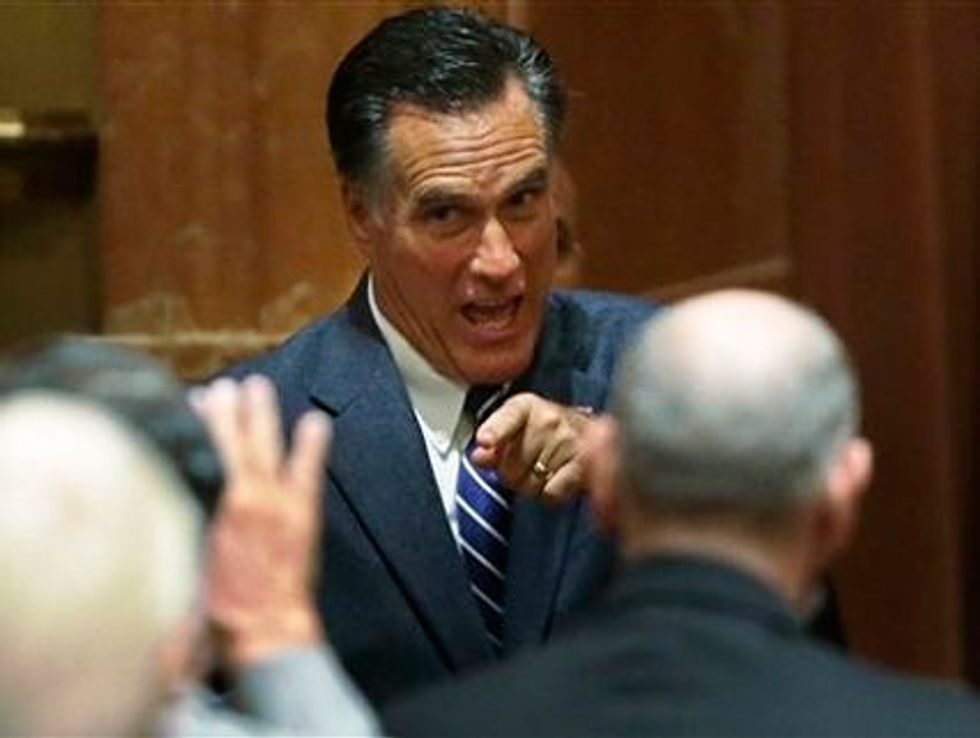 Amid the ongoing uproar over Mitt Romney's snooty remarks at a Florida fundraiser concerning the "47 percent" who pay no federal income taxes, the party's high-rolling host hasn't drawn quite as much attention as he deserves. As the head of private equity firm Sun Capital Partners, Marc Leder is a longtime associate of the Republican nominee – and a practitioner of the same dubious behavior that has smudged Romney's reputation.
Lately Leder has been dogged by tabloid headlines recounting his nasty divorce and wild partying (replete with reported nudity and public sex around the pool at a summer house he rented on Long Island's East End for $500,000). What he has in common with Romney, however, isn't a taste for bacchanalian revels, of course, but a record of business and taxation practices that working Americans might find troubling.
At the moment, Leder is under investigation by New York State Attorney General Eric Schneiderman, who subpoenaed internal records from Sun Capital, Bain Capital, and several other private equity giants last July. Issued by the Attorney General's taxpayer protection bureau, the subpoenas were evidently designed to probe whether Leder and other executives had misused "carried interest," a method of reducing tax liability by converting management fees into investment income — which is taxed at the lower capital gains rate of 15 percent that keeps Romney's taxes lower than the rate paid by many middle-income families. (Tax analysts say that Bain Capital records released last August indicate that the firm may have saved more than $200 million in federal taxes thanks to the carried-interest maneuver.)
If Leder did benefit from such aggressive practices, he would merely be typical of an industry where tax manipulations are not just widespread, but fundamental.
Equally common in private equity is profiting from bankrupted companies in which other stakeholders – especially workers and government – are left to cope with the loss. During the Republican primaries, Romney's rivals helped to make Bain notorious for such practices – and his fundraiser Leder seems no different.
Although roughly 25 firms held by Sun have gone bankrupt, perhaps the best known example involves Friendly's, the family restaurant and ice cream chain that went under at the hands of Sun Capital in 2010 after more than 70 years in business. After acquiring Friendly's in 2007 for a premium price, Sun took the company into bankruptcy only three years later, supposedly due to rising milk prices.
But the Pension Benefit Guaranty Corporation – the federal agency that insures benefits to workers victimized by failed corporate pension plans – accused Sun of sinking Friendly's to dump pension costs onto the government. By pushing the company's pension burden onto federal taxpayers, who fund the PBGC, Sun could then reorganize Friendly's in bankruptcy, get rid of laid-off workers and less profitable restaurants, and – as Romney likes to say – give the company a "turnaround." So far, that is precisely what Sun appears to doing, and getting away with it.
So there on the videotape shot in Leder's huge Boca mansion stood Romney, complaining about the income taxes that the working poor don't pay and their dependence on government assistance, while the host surely nodded in agreement. At $50,000 a plate, the lobster was garnished with a nice helping of irony.
Photo credit: AP/Charles Dharapak