The Ted Cruz Effect: Political Gold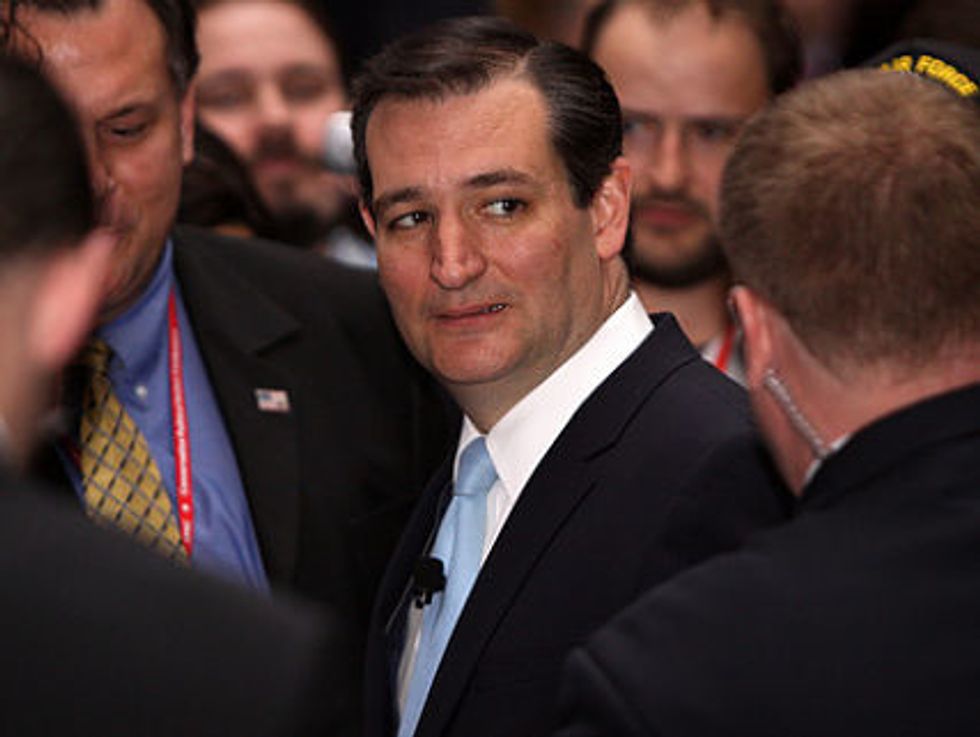 By Anna M. Tinsley, Fort Worth Star-Telegram
FORT WORTH, Texas — Ted Cruz is not on the March 4 primary ballot.
But his likeness is all over TV and in campaign materials, as a slew of Republican candidates on the primary ballot are using his words and — in rare occasions — his endorsement to reach out to voters.
This year, having Cruz weigh in any way possible "is political gold," said Mark P. Jones, a political science professor at Rice University in Houston.
His thumbs-up for a candidate serves "as a signal to Cruz's plethora of supporters within the GOP primary electorate who the 'true' movement conservative in the race is," he said.
And that has made a number of candidates try to link themselves to the state's junior senator any way possible.
Cruz skyrocketed to national attention in 2012 after defeating Lt. Gov. David Dewhurst in a battle for U.S. Senate that turned into a classic tea party-versus-establishment-Republican, David-versus-Goliath fight.
He has remained in headlines for constantly criticizing the Obama administration and the health care law.
"Because of his activity in the Senate, and how he has been so vocal, a lot of people are happy with him about that," said Jen Hall, who heads the Tarrant County Republican Party. "There are a chunk of the voters who probably will pay attention" to his support of a candidate. "Whether or not is swings a race to put someone over the top remains to be seen."
Democrats caution Republicans about jumping onto the Ted Cruz bandwagon.
"When you start appealing to a very small part of Texas' population — the Republican primary voter — it's going to affect the general election," said Manny Garcia, a spokesman for the Texas Democratic Party. "Some of these positions he's expressed would be a concern to everyday Texans. While it may be beneficial to align themselves with Ted Cruz right now, down the road [in the November 4 general election] it may come back to bite them."
Here's a look at some of the Texas Republicans who have linked themselves to Cruz this political season:
In the Senate District 10 race, Republican Konni Burton of Colleyville snagged one of the few endorsements Cruz has given. "She's a tireless, unwavering warrior for the conservative cause. Konni is a fighter and will serve the people of Texas well. I urge voters in her district to support her," Cruz has said.
In the race for the 32nd Congressional District, which pits longtime U.S. Rep. Pete Sessions of Dallas against tea party activist Katrina Pierson, the challenger's website features a photo of Cruz and a quote from him: "Katrina Pierson is an utterly fearless, principled conservative."
Four Republicans on the Texas Supreme Court who are seeking re-election — Chief Justice Nathan Hecht and Justices Jeff Brown, Jeff Boyd and Phil Johnson — picked up a joint endorsement from Cruz. "I wholeheartedly endorse all of them," he posted on his Facebook page. "These justices are judicial conservatives, and we can depend on them to uphold the law." Hecht is among those touting the endorsement on his website.
State Sen. Ken Paxton, R-McKinney, is running for Texas Attorney General and his website features a photo of him standing next to Cruz with one comment from the senator: "Ken Paxton is a tireless conservative warrior."
Wayne Christian, a Republican seeking a seat on the Texas Railroad Commission, has sent out campaign fliers featuring photos of Cruz with the question "Who stood with Ted Cruz?" and the answer "Wayne Christian stood with Ted Cruz when he was only polling 2 percent."
"Ted Cruz is very popular in Texas," said Allan Saxe, an associate political science professor at the University of Texas at Arlington. "He is very popular among the tea party people and is really a charismatic public figure to those that like him. His endorsements do carry weight, perhaps more than other endorsements, because voters know who he is."
Jones did note that there are two sides to every coin.
"Ted Cruz has probably done more than any other single politician to shift the center of gravity within the Texas GOP primary competition even further to the right this season," Jones said. "Most observers would view this as bad news for the future of the Texas GOP, since the party's rightward drift takes it further and further away from the Hispanic and Anglo millennial voters who will be playing an increasingly prominent role in determining who governs Texas in the future."
Photo: Gage Skidmore via Flickr