Texas GOP May Eject County Chair Simply For Being Muslim
@FAWFULFAN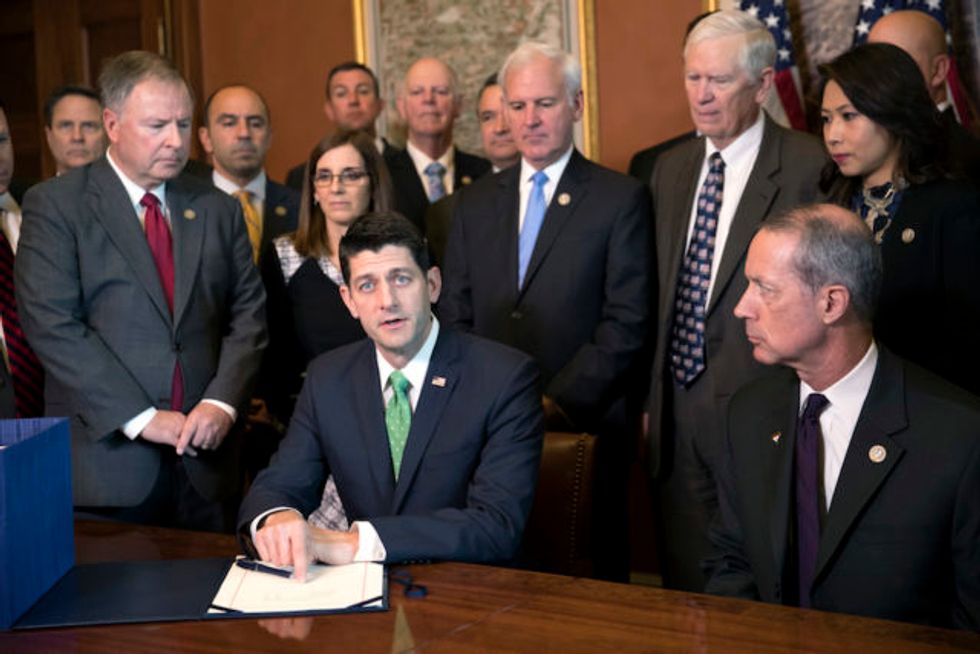 Reprinted with permission from AlterNet.
On Wednesday, the Dallas Morning News reported that the Tarrant County Republican Party will be meeting with the leader of an anti-Muslim hate group on December 29, less than two weeks before their upcoming January 10 vote on whether to remove county GOP Vice Chairman Shahid Shafi for being a practicing Muslim:
John Guandolo, a former FBI agent and founder of the Dallas-based group Understanding the Threat, trains police and other officials on dealing with the perceived threat of Muslims in the United States. 

Guandolo has made statements equating all Muslims with terrorists and tweeted a picture of an unidentified Southwest Airlines employee earlier this year, calling the man a jihadi. His Twitter account was suspended in October after he claimed that Democrats were to blame for an attack that left 11 people dead at a Pittsburgh synagogue.

The Southern Poverty Law Center classifies Understanding the Threat as a hate group.
Lest there be any speculation that the timing of these events is a coincidence, emails obtained by the Texas Observer show a Republican precinct chairman saying county officials "need to learn the truth" before taking the vote on Shafi.
By all accounts, Shafi, a trauma surgeon at Baylor Scott & White Health and Southlake city council member, is a hardline conservative who has served at several Texas GOP state party conventions. But a small contingent of Republican activists has been pushing for his removal anyway. Chief among them is Dorrie O'Brien, a GOP precinct chair in Grand Prairie affiliated with the anti-Muslim hate group ACT for America. O'Brien has repeatedly claimed, with no basis whatsoever, that Shafi is connected to terrorist groups and plans to take over the United States and impose Sharia law.
Many Texas Republicans are pushing back on the campaign to oust Shafi, including Land Commissioner George P. Bush, outgoing state House Speaker Joe Straus, and Travis County Republican Chairman Matt Mackowiak.
The fight is leading to rifts in the Texas GOP, which was rattled in the midterms as Democrats captured two House seats, 12 state House and 2 state Senate seats, and dozens of judgeships amid the groundswell of turnout for Democratic Senate candidate Beto O'Rourke. The epicenter of that tension is Tarrant County, home to Fort Worth and Arlington, which for years has been the largest red county in Texas but narrowly went for O'Rourke this year.
Unfortunately for Texas Republicans, at the exact moment they need to reflect on their failure with suburban voters and become more inclusive, their crazier elements are demanding attention. Last week, GOP activist Ray Myers posted"Damn Right, I'm a WHITE NATIONALIST and very Proud of it," on Facebook. Myers worked on the committee that helped the Texas GOP draft their party platform, which calls for abolishing the Voting Rights Act, hate crime laws, state vehicle inspections, divorce, Medicaid, the Seventeenth Amendment, the IRS, the Bureau of Alcohol, Tobacco, and Firearms, the Bureau of Land Management, the National Labor Relations Board, and the Departments of Commerce, Labor, Energy, Education, Interior, Health and Human Services, and Housing and Urban Development.
So a bitter fight over whether a loyal conservative should be ejected from a party office because he's Muslim is the last thing the Texas GOP needs right now.
Matthew Chapman is a video game designer, science fiction author, and political reporter from Austin, TX. Follow him on Twitter @fawfulfan.