Thad Cochran's Democratic Campaign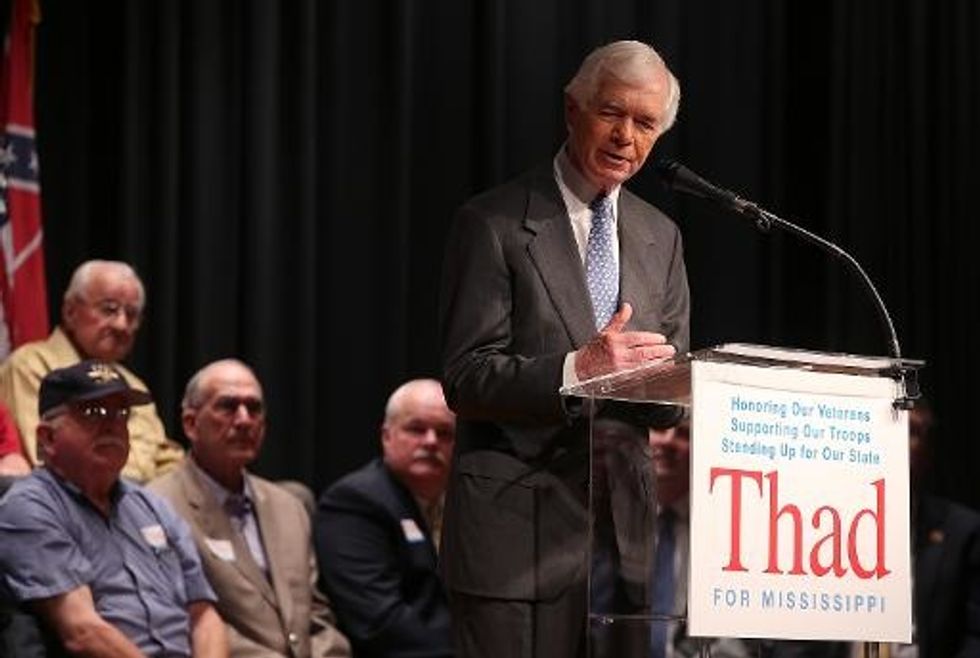 WASHINGTON — "There is something a bit strange, there is something a bit unusual about a Republican primary that's decided by liberal Democrats."
The words of Chris McDaniel, the Tea Party candidate vanquished in Mississippi's runoff on Tuesday by Sen. Thad Cochran and the state's GOP establishment, were not the most gracious. But they contained an important truth about why Cochran prevailed after finishing second in the first round of voting on June 3.
In winning, Cochran overturned many of the cliches of political analysis: that runoffs draw lower turnouts than the main event; that incumbents who run behind the first time around typically lose second rounds; and that politics today is all about "turning out the base."
Actually, Cochran did "turn out the base," or at least part of it, but it was the Democratic base. Mississippi's African-American voters crossing into the Republican primary almost certainly provided the political veteran with his margin of victory. They did this because McDaniel's neo-Confederate views scared them and because they agreed with Cochran that money from Washington matters to their state's well-being.
Oddly, Cochran's triumph was a vote for core Democratic principles. Realizing that there were not enough votes in the normal Republican primary electorate to sustain the incumbent, Cochran's top lieutenants — led by former Gov. Haley Barbour and Stuart Stevens, Mitt Romney's chief strategist — reached far outside its boundaries by doing something Republicans rarely do, especially in Mississippi: They defended the federal government and mocked McDaniel's implied claims that the state could do just fine without its help.
As my Washington Post colleague Dan Balz reported, Barbour was unabashed in pointing out that "more than 15 percent of Mississippi's state education budget comes from the federal government, including virtually every penny we spend on special education." Who imagined a Republican would win a primary running on special ed? Voters heard about the magnitude of defense spending in the state's economy, and former NFL quarterback Brett Favre made an ad that spoke of Cochran's work in bringing vital relief after Hurricane Katrina.
Cochran's campaign was thus a model not for other Republican candidates but for Democrats who are too wary of saying outright that government does a lot of good. This pro-government message drew African-Americans but also various establishment figures in the state well aware of the benefits of Washington's largesse. Burns Strider, a Democratic strategist with deep roots in Mississippi, was impressed by Cochran's mobilization of these leaders, notably friends of the state's institutions of higher education.
Yet in the racially polarized world of Mississippi politics, it was Cochran's success with African-Americans that was most striking. And there is no doubt about the difference they made. "If you work your way down through the Delta counties and look at the size of the turnout increase, that was the result of Senator Cochran's black turnout program," Strider said.
Sam Hall of The Clarion-Ledger in Jackson noted that in the Delta area, Cochran increased his advantage over his runoff tally by more than 4,000 votes. In Hinds County that includes Jackson, "several large black precincts saw big increases."
African-Americans responded not only to positive appeals from Cochran but also to McDaniel's past as a talk show host and blogger who skirted if not crossed the line of racism. Last summer, McDaniel delivered the keynote address at a chapter of the Sons of Confederate Veterans.
On the 50th anniversary of Freedom Summer, the drive to secure black voting rights that was met by violence and even murder, Cochran found himself under sharp attack from the right for relying on black voters and for "playing the race card," a charge conservatives normally reserve for Democrats.
On the Breitbart website, Joel Pollak wrote: "Cochran played the race card,  dividing the electorate for the sake of his own decrepit incumbency." Another Breitbart post read: "The fact that they played the race card and ran mailers and robo calls in African-American areas accusing their own party of being racist is downright despicable." Twitter lit up with similar comments Tuesday night after Cochran was declared the victor.
This rancor could usefully challenge Republican leaders to grapple openly with the role of race within their coalition. And that a long-serving, quite conservative Republican senator could survive only by expanding the GOP electorate beyond the faithful is a reminder of just how conservative the party's primary electorate has become. Broadening the party by admitting the inadequacy of anti-government shibboleths cannot be a one-state, one-time, one-incumbent proposition.
E.J. Dionne's email address is ejdionne@washpost.com. Twitter: @EJDionne.
AFP Photo/Justin Sullivan
Want more political news and analysis? Sign up for our daily email newsletter!