The Donald Way Up In Post-Debate Polls — Really!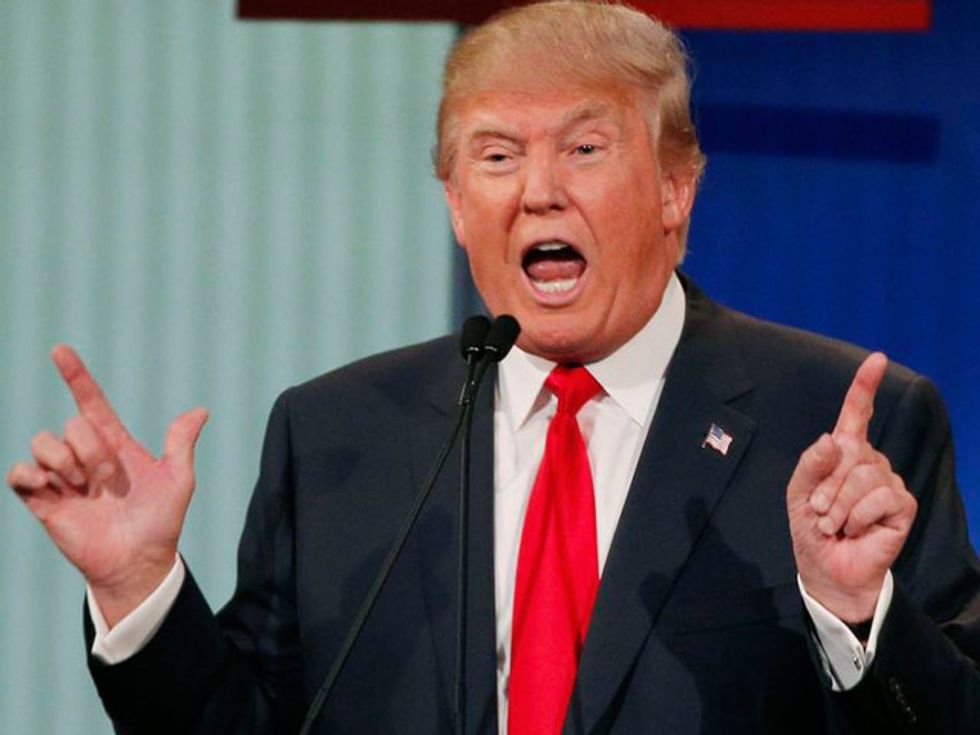 A funny thing happened to Donald Trump after the controversy of his loud, public crass remarks aimed at Fox anchor Megyn Kelly: He's still blowing the competition right out of the water.
A set of national polls conducted through online panels all show The Donald up, with some variation in the field directly below him — but all with strong showings for other anti-establishment candidates like Ben Carson and Ted Cruz as well — and a lousy time for the main establishment candidate Jeb Bush. In addition, Carly Fiorina seems to be doing quite well, benefiting from a wave of publicity after her impressive performance at the underdogs debate.
The NBC News/SurveyMonkey online poll released Sunday evening has Trump at 23 percent, Cruz with 13 percent, Carson at 11 percent, and 8 percent each for Fiorina and Marco Rubio. (Bush missed out on even the top five, getting 7 percent.) The poll was conducted Friday and Saturday.
Morning Consult has Trump at a whopping 32 percent, way ahead of Bush at 11 percent, Carson with 9 percent, and Rubio and Scott Walker with 6 percent each. The poll was conducted from Friday through Sunday.
The new Reuters/Ipsos poll has Trump with 24 percent among Republicans, Bush at 12 percent, and 8 percent each for Carson, Mike Huckabee, and Rubio. This poll was conducted from Thursday night, post-debate, through early Monday.
Another poll, conducted via phone by Democratic-aligned firm Public Policy Polling, has Trump ahead in the crucial early state of Iowa: Trump 19 percent, Carson and Walker at 12 percent each, Bush 11 percent, and Fiorina 10 percent. The poll was done Friday through Sunday.
Photo: U.S. presidential candidate and businessman Donald Trump answers a question at the first official Republican candidates' debate of the 2016 U.S. presidential campaign in Cleveland, Ohio, in this file photo taken August 6, 2015. (REUTERS/Brian Snyder/Files)