#EndorseThis: 'The Simpsons' Sends Up Those First 100 Days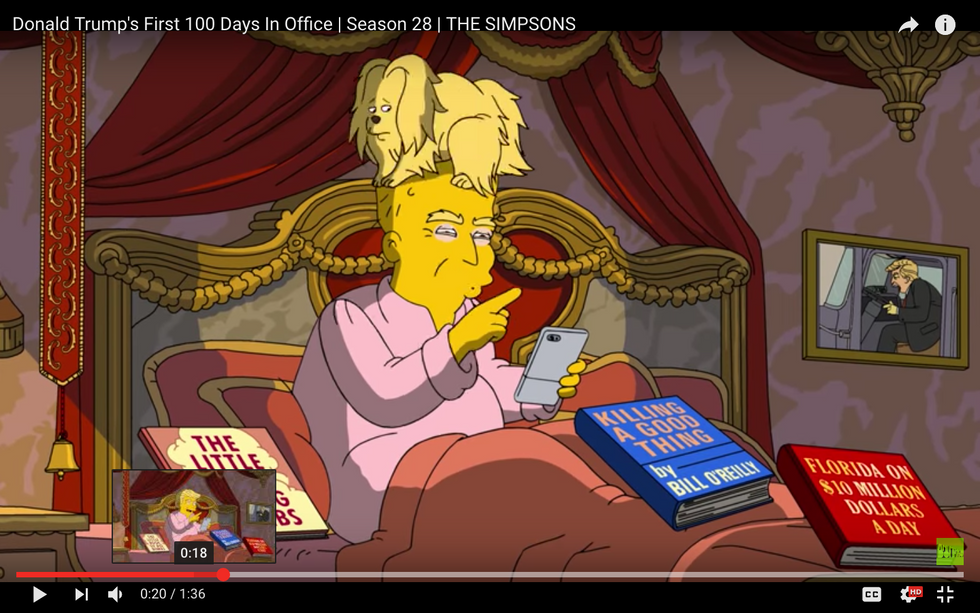 In the opening scene of The Simpsons' latest episode, it's a stormy night at the White House, creating an atmosphere more like Dracula's castle than the presidential mansion. In the press room hangs poor Sean Spicer, with a suicide note penned to his chest reading "I Quit." Kellyanne Conway finds the corpse and runs screaming, while Jared Kushner and Steve Bannon strangle each other in violent rage.
Blissfully unaware of all this chaos, Donald Trump lies in bed, intently stroking his own ego as usual. "One hundred days in office, so many accomplishments," he muses. "Lowered my golf handicap. My Twitter following increased by 700. And finally, we can shoot hibernating bears; my boys will love that." He turns on the television to watch Fox News.
The big news story is Ivanka's appointment to replace Ruth Bader Ginsburg on the Supreme Court, which turns out to be an infomercial:  "You can buy Ivanka's robe with gavel earrings, for only 1,000 rubles!"
It's just a teaser, but hilarious. And naturally, Homer is a Trump man. D'oh!