The Trump Files: How His Huge Election Con Went Down
@DavidCayJ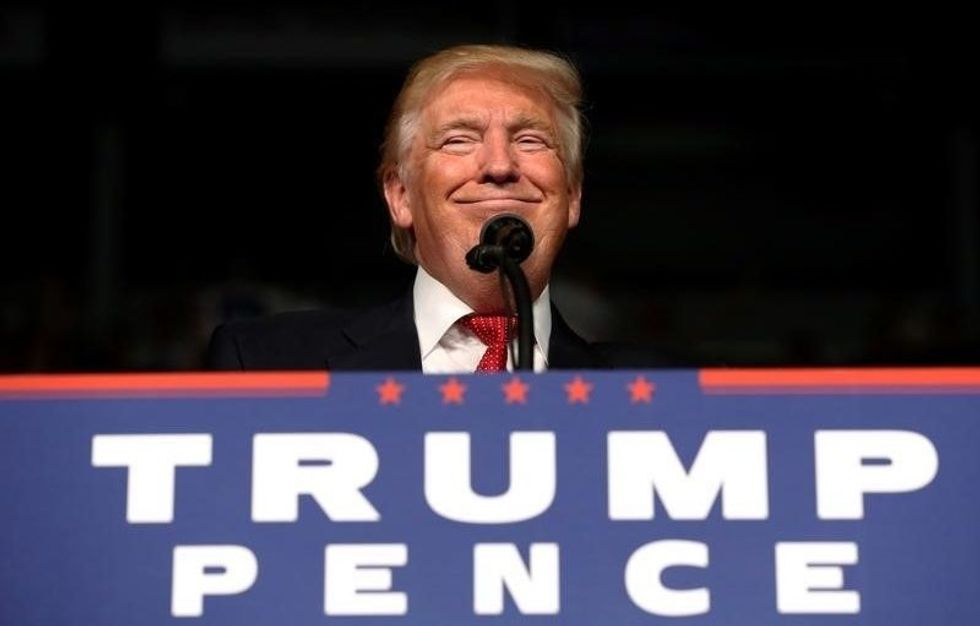 How did a vulgar, ignorant, racist, sexist blowhard come to be adored by tens of millions of Americans, many of whom believe he will save America, which he promises to do by overriding our Constitution?
The answer lies in the art of the con and the general failure of my peers in national journalism — with a few notable exceptions — to vet the candidate.
Donald Trump has done a masterful job of selling an image of himself that is contradicted by the public record including court and regulatory documents, his books and speeches and other verifiable evidence.
So as an antidote, here are some solid facts — a sort of quick tour of my book The Making of Donald Trump, which comes with 44 pages of source notes.
Overseas my book is getting more attention — and far more serious attention — than at home, which speaks volumes about the decline of serious journalism in America. The German language edition is titled Die Akte Trump, which translates as The Trump File.
From my Trump files:
Trump launched his campaign with fraud, as the Trump Tower crowd that interrupted him 43 times with applause on June 16, 2015, consisted of actors paid fifty bucks each;
For his whole life Trump has cheated workers, shortchanged small business owners and ripped off investors, as courts have determined in some of the 4,500 Trump lawsuits;
Trump put the life of a sickly infant, his grandnephew, in jeopardy for money, but sought mercy for a major cocaine trafficker who supplied him with his helicopters;
Trump and one of his sons asserted that the Trumps are genetically superior, so much so that they do not need to study, and Trump says he can learn everything a president needs to know about nuclear missiles in 90 minutes;
Under oath, Trump acknowledged committing sales tax fraud on $65,000 of Bulgari jewelry — and offense for which Ed Koch, then mayor of New York City, said Trump should have done 15 days in jail;
Under oath Trump couldn't explain a basic financial concept that one my students can explain at the snap of a finger;
There is zero verifiable evidence Trump has ever been worth even $1 billion;
While claiming to be worth billions in 1990, Trump could not pay his bills;
Within a few days, Trump's public statements of his net worth have varied by billions of dollars;
Trump testified that his net worth fluctuates depending on his emotional state, his feelings — a statement that if uttered by a random patron at a bar would be regarded by many people as indicative of delusions;
While stiffing more than a hundred small businesses serving his Atlantic City casinos who were owed money for goods and services through four bankruptcy filings, Trump collected $82 million for himself;
Trump obtained about $400 million of government welfare for the Grand Hyatt Hotel in Manhattan, a $102 million project in which he did not invest a penny;
In The Art of the Deal, Trump boasted of deceiving his partners — the Holiday Inn company — in building the Trump Plaza casino in Atlantic City;
Trump wildly overpaid two mob hitmen known as The Young Executioners for a tiny plot of Atlantic City land;
Trump planted news articles in the New York Post publicly humiliating the mother of his three oldest children, not once but repeatedly;
In middle age, Trump planted news stories about his imaginary celebrity lovers (Madonna, Kim Basinger, Carla Bruni);
When offered the opportunity by Howard Stern to set the record straight 17 years later, Trump doubled down on his childish fantasies about his imaginary lovers;
Trump — for broadcast – talked of his older daughter Ivanka as "a piece of ass" and said he would be dating her but for the fact that she is his daughter;
Trump posed for a photo with daughter Ivanka, then 15, his hands on her hips as they sat atop a statute of parrots engaged in sex;
By his own account, Trump walked in on naked girls as young as 15 at a beauty pageant he owned (remember all the outrage this year over transgender use of bathrooms?);
By the accounts of numerous contestants in other pageants, Trump also walked in on them naked or half naked;
Trump bragged on tape of sexually assaulting women, including the felony of grabbing them by their genitals, but after the first 11 women came forward to tell of such experiences with him, he accused them of being part of a conspiracy and vowed to sue each of them after the election;
Trump said one of the women, now age 74, was not attractive enough to molest;
Trump falsely claimed a degree from the Wharton School (a superb graduate business school) when he actually attended undergrad economics classes for two years; his bachelor's diploma makes no mention of Wharton, only Penn;
Trump is in debt to the Bank of China, owned by the communist government in Beijing, through one of his business entities (he does everything through companies to avoid personal liability). Just ponder the volume and tone of news coverage if a Clinton or an Obama had a communist bank credit card;
Trump lawyer and accountant Jack Mitnick disowned Trump's 1984 tax return, saying under oath that while his signature was on it, neither he nor his firm prepared that return, meaning that document is strong evidence of tax fraud;
That same return showed $0 business consulting income and more than $600,000 of expenses for which no receipts were produced, also strong evidence of tax fraud;
Trump appealed the 1984 state and city audits complaining of double taxation, while tax appeals judge Gregory Tilman, who ruled against Trump, wrote that he had sought zero taxation;
Trump is a material witness in a quarter billion tax fraud case currently in state court in Manhattan in which the main defendant is Felix Sater, a violent convicted felon;
Trump says he hardly knows Sater, even though Sater had an office in the Trump Organization, the two men traveled together for years, and were videotaped and photographed together repeatedly;
Trump refuses to release his tax returns because he says they are under audit, but will not even release the form letter proving an audit;
In a promotional video Trump said Trump University would provide a better education than the best business schools;
Trump broke laws of New York and other states that only allow authorized institutions to claim the status of a university;
Trump promised that he would personally pick faculty for Trump University to ensure that they were the best of the best, yet later under oath Trump had no idea who any of those faculty were — among them were a fast food manager, but not a single real estate expert;
His "faculty" stood over students helping them take on all the credit card debt banks would give them to pay tuition and other fees to Trump U., leaving them with no capacity to invest in real estate;
Trump charged $35,000 for a Trump University "education" that the Texas attorney general's investigation found was worthless and taught illegal acts;
Trump promised to reveal his borrowing secrets, while I found the same "secrets" available for free on the Internet;
The Texas attorney general's lawyers concluded that if sued by the state, Trump would have no legal defenses to civil fraud charges; Greg Abbott, then the attorney general and now governor, declined to sue and later got a $35,000 campaign donation from Trump;
Trump illegally gave $25,000 from his charitable foundation to the re-election campaign of Florida Attorney General Pam Bondi (charities may not donate to political campaigns);
At least nine times, Trump made illegal use of Trump Foundation money including paying personal debts, legal obligations and buying two paintings of himself; he also illegally solicited money (he recently stopped) and did not provide audited financial statements as required by state law;
Vendors who make Trump's ties in China, air his television show, and maintain other business relationships with him are the source of most of the money in the tiny Trump Foundation ($1.3 million of assets in 2014);
Assuming Trump is worth $10 billion, the Clintons donate to charity at almost 1,000 times Trump's rate when measured as a share of wealth. By the most generous measure of Trump's statements, the Clinton donate to charity at 37 times his rate.
Former President George H. W. Bush and many other leading Republicans say they will not vote for Trump;
Trump promises to force the American military to torture suspected terrorists and kill their families, which would be war crimes;
"I love war," Trump told a rally.
Trump claims "no one reads the Bible more" than he does, yet cannot cite accurately a single passage;
Trump calls himself a Christian, but in numerous forums rejects the teachings of Jesus Christ. He denigrates the communion host as "my little cracker."
He calls those who turn the other cheek (Matthew 5) fools, idiots, and schmucks and said that his philosophy is revenge;
Trump says that ruining the lives of others makes him happy and he goes out of the way to make some people miserable;
Trump's campaign statements show he does not know the difference between Sunni and Shia Muslims, nor does he know that Sikhs are not Muslims;
Before he decided to run, Trump repeatedly praised Hillary Clinton as someone who would make a great president.
There are so many more examples of Trump's outlaw conduct and outrageous behavior — and many of them can be found in my book, which could have been titled Everything Trump Wants to Hide From Voters.
IMAGE: Republican presidential nominee Donald Trump holds a campaign rally in Fort Myers, Florida, U.S. September 19, 2016. REUTERS/Jonathan Ernst
David Cay Johnston, a Pulitzer Prize-winning investigative reporter, is the author of The Making of Donald Trump.