9 Things You Should Know About Mike Pence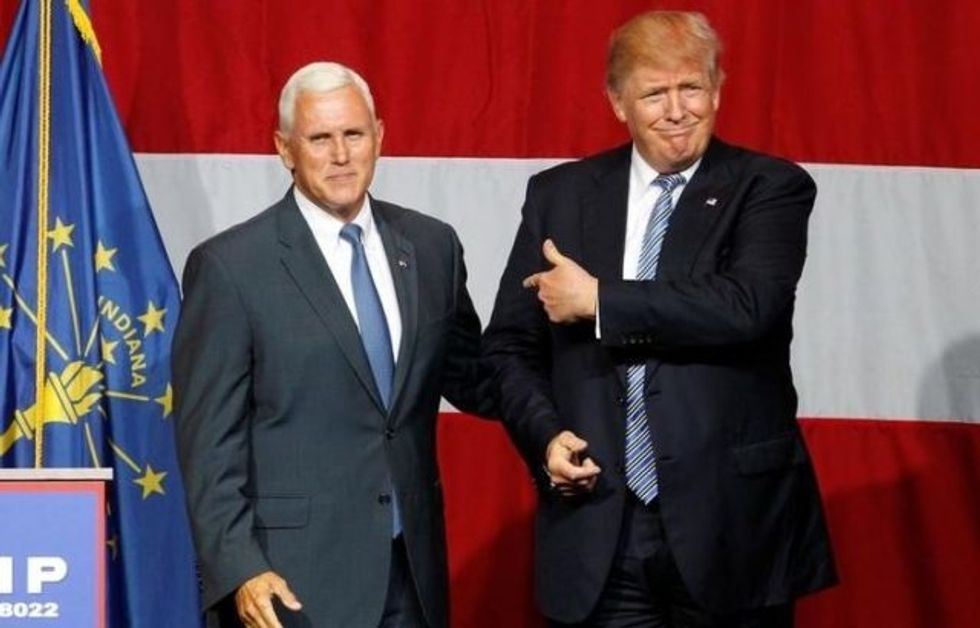 Rumor has it that Donald Trump is all set to announce Indiana Gov. Mike Pence as his vice presidential pick tomorrow morning. Pence, a Christian conservative former congressman and radio host, is seen as a "safe" pick for Trump — someone to rally the base, bolster Trump's conservative bona fides, and assure voters that there will be at least one sober-minded individual in the West Wing.
But, let's be honest, Donald Trump sets a low bar for sober mindedness. And in reality, the inclusion of Pence on a presidential ticket would have been much more alarming news in any other election cycle, without Trump's authoritarian shadow soaking up the spotlight.
Here are a few things you should know about Mike Pence.
1. He's anti-gay. Last year, Pence signed into law the Religious Freedom Restoration Act, which stipulated that businesses had the right to refuse service to anyone who did not conform to their religious beliefs. Only after intense and sustained public outcry did Pence sign an amendment to the law which prohibited the use of its language to facilitate outright discrimination. As a congressman, Pence voted against the Employee Non-Discrimination Act and the repeal of Don't Ask, Don't Tell.
2. He's anti-abortion. Pence led the first congressional effort to defund Planned Parenthood — way back in 2011, way before a hoax video purported to show representatives of the organization discussing the price of fetal tissue. After that video was released last year, and after it was exposed as a hoax, Pence went forward anyways with an investigation into Indiana's Planned Parenthood locations — the investigation didn't go anywhere, obviously. As governor, Pence also slashed Planned Parenthood budgets across the state. Mother Jones reports that by 2014, "state funding for Planned Parenthood had been cut nearly in half from 2005 levels."
But it's not just Planned Parenthood — In March, Pence signed the most extreme anti-abortion bill in the country, requiring that aborted fetuses be cremated and prohibiting abortions for "fetal anomalies" like Down syndrome. Women around the state responded forcefully:
@periodsforpence I have cramps! Is it menstrual or the large number of politicians in my uterus? @GovPenceIN Please advise #periodsforpence

— AnastasiaBeaverhousn (@NotAmused8) April 26, 2016
…which may account for the fact that:
3. Hoosiers don't like him. After Pence's hard right stances on gay marriage and abortion brought Indiana a sort of national infamy, the same voters who elected Pence by a slim margin in 2012 might not have wanted him back anyways in 2016. A poll in May showed that just 40 percent of respondents approved of Pence's performance in office, down from 46 percent a year ago.
4. He's pro-trade. We reported yesterday that Pence, like all the rest of Trump's likeliest vice presidential picks, has been ardently pro-free trade his entire career, supporting NAFTA, CAFTA, and the Trans-Pacific Partnership as efforts to expand American political influence and exports. This isn't surprising: It's Trump who has taken the unusual position on trade for a Republican. Pence has toed the party line. 
5. He doesn't "believe" in global warming. Pence is a reliable proponent of the "I'm not a scientist, but…" position, meaning that he isn't a scientist, but also that he seems not to have read the letter signed by 23 Indiana scientists urging him to take climate change seriously in 2015. As a congressman, Pence voted against caps on greenhouse gas emissions, allowing the EPA to regulate emissions, and incentives for alternative energy production. 
6. He doesn't believe in evolution. Here's a 2009 exchange with Chris Matthews, via Huffington Post: 
MATTHEWS: Okay, you want to educate the American people about science and its relevance today. Do you believe in evolution, sir?

PENCE: Do I believe in evolution? I embrace the view that God created the heavens and the earth, the seas and all that's in them.

MATTHEWS: Right. But do you believe in evolution as the way he did it?

PENCE: The means, Chris, that he used to do that, I can't say. But I do believe in that fundamental truth.
7. He built his career on Koch money. As reported by The Intercept's Lee Fang, Pence was previously president of the Koch-linked Indiana Policy Review Foundation, and appointed one of its staff to the Indiana's state board of education as governor. A report published by the foundation under Pence's leadership proposed fighting crime with privatized prisons in which prisoners were forced to work to pay for the cost of their… stay. 
As reported by Politico, "Americans for Prosperity, the Kochs' top political group, has been holding up Pence's work in Indiana as emblematic of a conservative reform agenda they're trying to take nationwide." Pence's former chief of staff, Marc Short, leads Freedom Partners Chamber of Commerce, a shadowy group known as the Kochs' "secret bank." Pence regularly speaks at Koch fundraising events.
8. He was delusional on Iraq. Pence was an early and enthusiastic supporter of invading Iraq, and his enthusiasm seemed unchanged over time. In 2007, Pence traveled with Sen. John McCain to Iraq in an effort to prove that McCain's surge had succeeded in securing parts of Baghdad. On a visit to the Shorja market, a frequent target for suicide bombings, Pence said it was "like a normal outdoor market in Indiana." (Hint: It wasn't then, and isn't now.)
9. He was, at least originally, against Trump's proposed Muslim ban. So much for that.
Calls to ban Muslims from entering the U.S. are offensive and unconstitutional.

— Governor Mike Pence (@GovPenceIN) December 8, 2015
Photo: Republican presidential candidate Donald Trump (R) and Indiana Governor Mike Pence (L) wave to the crowd before addressing the crowd during a campaign stop at the Grand Park Events Center in Westfield, Indiana, July 12, 2016. REUTERS/John Sommers II