This Week In Crazy: Or, How Not To Respond To A Tragedy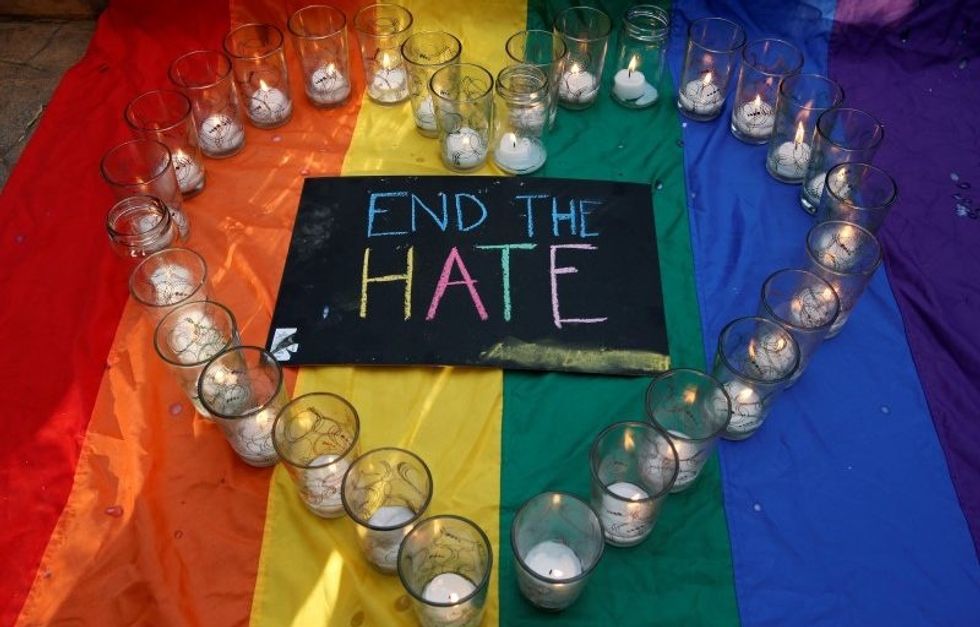 When 49 people were massacred in a gay nightclub in Orlando last weekend, the vast majority of Americans responded with outrage, sympathy, and resolve to do better. And then there were these people. Welcome to "This Week In Crazy," The National Memo 's weekly update on the loony, bigoted, and hateful behavior of the increasingly unhinged right wing. Starting with number five:
5. Rush Limbaugh
Rush Limbaugh rode close on the coattails of his Cheeto-hued demigod when he insinuated on his show that President Obama was working in concert with Islamic terrorists. (Trump, you'll recall, suggested that Obama was aligned with the terrorists during a call-in interview on Fox & Friends shortly after the attack.)
Limbaugh took to his microphone Tuesday to accuse the president of behaving like the terrorists' "defense lawyer," who "speak[s] on behalf of their clients," simply because he pointed out to his critics that using the words "radical Islam" doesn't actually do anything productive.
Limbaugh said:
When I saw him go into this protracted two-and-a-half minute segment on why it is irrelevant to call 'em militant Islamists and why he doesn't use the term because it doesn't any strategic value, you know what the guy sounded like?  Honestly, and this is… I don't know.

It sounds to me like it's the way defense lawyers talk.  You know, when there's a suspect, you got a defense lawyer saying, "Well, there's no conclusive evidence here.  We're still looking for a motive.  We haven't found the right motive."  Obama comes out after every one of these things, every one of these events, and Obama ends up sounding like defense lawyers speaking on behalf of their clients.
Video and hat tip Daily RushBo
4. Rick Wiles
Insane preacher Rick Wiles thinks the Orlando attack was God's judgment on America because of course he does.
The TruNews host and occasional tourist to this plane we call reality enjoined Americans to get on their knees ( no, actually) . "I've said for years, America, if you continue to reject the mercy of the cross, you will live by the tyranny of the sword, and that's what's happening right now," he said.
Wiles, of course, is more than a little allergic to reason and common sense. He previously said that Bernie Sanders would somehow " use global warming to impose global socialism " and then "take control of property, eliminate private property rights, [and] take control of natural resources."
He likes to call the president "Jihad Barry " and accuse him of leading an "Islamic invasion of America." Wiles also posited that Obama was responsible for the death of Supreme Court Justice Antonin Scalia, whom he apparently murdered as part of some pagan festival to mark the beginning of Lupercalia . Oh, and he thought Ebola was a good cure for homosexuality and atheism .
So, grain of salt and all that.
Hat tip and audio courtesy of Right Wing Watch
3. Joseph Farah
A conservative columnist who's too afraid to type the word "gay" without scare quotes has some insightful ideas about gay identity in America.
"My strong advice to the LGBT community is to add another "G" to their identity – for GUNS," writes Joseph Farah
In his column filed this week (in which he hilariously buffers the word "gay" with quotation marks throughout, as if he cannot handle even the notion of being "gay" without the typographical equivalent of surgical gloves), Farah writes:
"Gays" have demonstrated their effectiveness at defending their "rights" to do with their bodies as they please. Now it's time for "gays" to defend their right to life, liberty and the pursuit of happiness.

Managers of bars and nightclubs catering to "gays" should exercise some social responsibility and provide more protection for their clientele.

If there's as much "homophobia" as we keep hearing about in America, why don't "gays" and "gay" establishments take security into consideration?
I don't know what Farah "thinks" nightclubs are "for." Or if he's ever "danced" in his "life." But "packing heat" probably isn't conducive to a "good" club-going "experience." And maybe just "maybe" people deserve the right to exist and live and love in this country without having to worry about being slaughtered like chattel anytime they enter a club, movie theater, or elementary school classroom.
2. Pat Robertson
Gays and Muslims should just kill each other, according to semi-sentient wax-encrusted automata and host of The 700 Club , Pat Robertson.
The fervently anti-gay, anti-reason, anti-Muslim Robertson rubbed his two remaining neurons together and dished that liberals were caught in a conundrum, since they supported both "homosexuals" and Muslims, who, he averred, wanted to kill "homosexuals." What's a lib to do?
"The left is having a dilemma of ma,jor proportions and I think for those of us who disagree with some of their policies, the best thing to do is to sit on the sidelines and let them kill themselves," he said.
Man, you know Robertson has gone far afield of even his craziest handlers when the Christian Broadcasting Network has to issue a statement clarifying what Robertson's definition of "kill" is. (Though, as of this writing, that statement has itself been taken down , so who knows. Maybe he did want mean "kill" to actually mean… kill.)
I don't recall any such clarification when he said that miscarried babies are God's deliverance from future Hitlers, that anorexia should be treated like a case of demonic possession , or that marriage equality will lead to Christians being forced into sodomy . I suppose you have to choose your battles.
Hat tip and video courtesy of Right Wing Watch
1. James David Manning
Imagine, if you will, exactly what kind of flaming, fetid sewage fire of a human being you have to be to a.) support Donald Trump in the first place, and then b.) disavow your support if and only if he makes some conciliatory gesture towards the LGBT community (as hollow as that gesture was ).
Such a person is James David Manning, the self-proclaimed "sodomite slayer" pastor from Harlem who came out in favor of Donald Trump last December only to withdraw his support this week following Trump's proclamation that he would be "friend of the gays."
Manning justified his about-face by saying (multiple times) "Sodomy is more dangerous to America than radical Islam"
I am sadden to withdraw support @realDonaldTrump . My bible beliefs are deeply held. Sodomy is more dangerous to America than radical Islam

— James David Manning (@DrJamesDManning) June 15, 2016
Dear @realDonaldTrump gays have threaten bombing my church attacked our God & Bible liberties. Sodomy is more dangerous than radical Islam

— James David Manning (@DrJamesDManning) June 15, 2016
On the other hand, the tragedy in Orlando brought out of the woodwork several radical Religious Right activists who sounded their hypocritical and hollow sympathies , apparently forgetting the years they spent lobbying against the full and equal rights of LGBT Americans. Manning's solidarity with his own rotten views is refreshingly honest, if contemptible.
My endorsement for @realDonaldTrump is withdrawn but my fervent prayers continue

— James David Manning (@DrJamesDManning) June 16, 2016
—
Photo: University of the Philippines students display glasses with lit candles and a placard as a tribute to those killed in the Pulse nightclub mass shooting in Orlando, during a protest at the school campus in Quezon city, Metro Manila, Philippines June 14, 2016.   REUTERS/Erik De Castro
Check out previous editions of This Week In Crazy here. Think we missed something? Let us know in the comments! Get This Week In Crazy delivered to your inbox every Friday, by signing up for our daily email newsletter.
Photo University of the Philippines students display glasses with lit candles and a placard as a tribute to those killed in the Pulse nightclub mass shooting in Orlando, during a protest at the school campus in Quezon city, Metro Manila, Philippines June 14, 2016.   REUTERS/Erik De Castro