This Week In Crazy: Persecuted Racists, Vote Thieves, And Matt Gaetz (Twice!)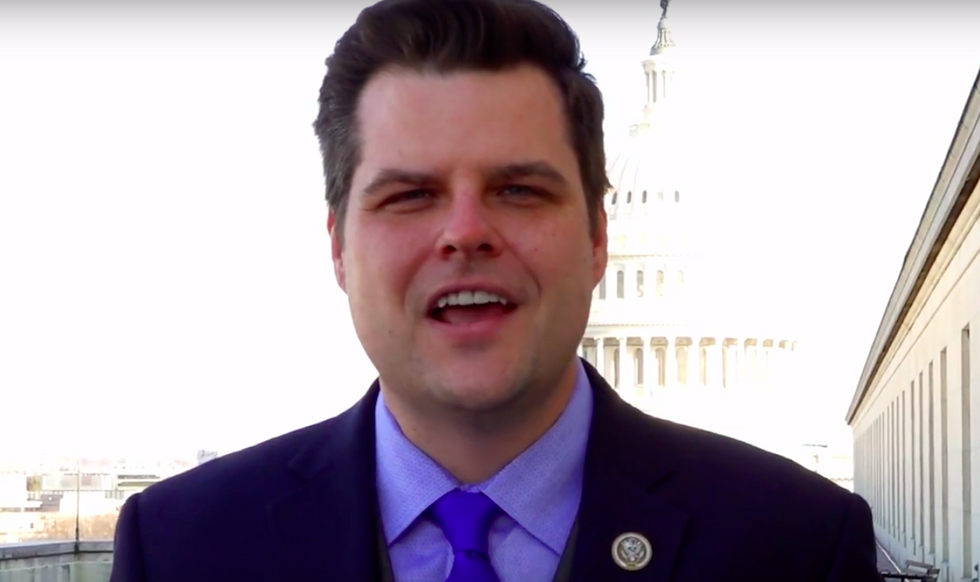 Trump supporters are violated, Matt Gaetz exposes himself as a peeping Tom. And being racist isn't racism if you employ at least one black person. Don't adjust your computer screens. It's This Week in Crazy!
5. Laura Loomer
Being outed as racists can be really hard on the financial security of Trump supporters, as Laura Loomer can say from experience. With less charisma than a sloth on downers, she whined: "People like myself and Alex Jones and Milo Yiannopoulos and Gavin McInnes and so many others are being de-platformed simply because we support President Trump."
The Loom went on to say that she and fellow Frat Packers "inspired so many young people and red-pilled so many people to vote for President Trump." Whoa there, careful what kinda pills you're poppin' at those white privilege parties.
Clearly still pilled, Loomer suggested the FBI raid Robert Mueller at six in the morning. She ended on a poignant note: "I think that the way Trump supporters are being treated in this country constitutes human rights violations." Well, they didn't violate Article 13, which protects your freedom to move.
4. McCrae Dowless and Mark Harris
McCrae and Marky, gettin' cray-cray in Carolina. Mr. Dowless is a longtime GOP operative whose most recent task was working on Mark Harris' 2018 Republican Congressional campaign. Harris was projected to win North Carolina's 9th Congressional District with 900 votes. But officials discovered that Dowless illegally collected thousands of absentee ballots.
On Wednesday, Dowless was indicted on seven counts related to election fraud: "three counts of felonious obstruction of justice, two counts of conspiracy to commit obstruction of justice, and two counts of possession of absentee ballot."
North Carolina plans to run a second election to determine the real victor. Sadly for Harris, he lied about his knowledge of any wrongdoing by Dowless to the State Board. This mendacity disqualified Harris from contention. To save face, he claimed he wasn't going to run again due to medical issues and problems with "memory and recall." Now, if only he could forget hiring Dowless…
3. Matt Gaetz
Not to be outdone by the latest Kardashian clan cheating scandal, Rep. Matt Gaetz (R_FL) went all Real Housewives on Michael Cohen. Gaetz ran the old Tweet-and-Delete, calling out the former Trump confidante:
Matt Gaetz's tweet likely violates 18 USC § 1512(b):  Whoever knowingly uses intimidation or threatens with the intent to cause or induce any person to withhold testimony shall be fined and/or imprisoned for not more than 20 years. pic.twitter.com/bx7bQFgB1q

— Spin Doctor (@SpinDr) February 26, 2019
Yeah, that's tampering with a witness. Suffice to say, House Leader Nancy Pelosi was not impressed.
I encourage all Members to be mindful that comments made on social media or in the press can adversely affect the ability of House Committees to obtain the truthful and complete information necessary to fulfill their duties. https://t.co/NDnxkaiFCA pic.twitter.com/DIIgSHgeb5

— Nancy Pelosi (@SpeakerPelosi) February 26, 2019
You know what happens when you poke Mama Bear? She threatens to set the House Ethics Committee on you. So, Gaetz handled the situation like a real tough guy and posted a tweet he has yet to delete…an apology to Pelosi.
2. Office of Refugee Resettlement (ORR)
Now it's time to discuss a Human Right's violation just one step below the financial woes of Laura Loomer. We're talking about the sexual abuse of migrant youth. The Department of Health and Human Services (HHS) released a report on sexual abuse cases against minors in U.S. custody. Alarmingly, there've been over 4,500 cases filed since 2014.
The Trump rhetoric is that monsters are trying to come into our country. Yet, it seems the monsters are already here. Congress had an opportunity to respond, where Matt Gaetz (yes, that same Matt Gaetz) chimed in, "are people more likely going to be sexually abused on their way to our country by the cartel" than the would be by every U.S. government official "if every allegation were true?"
In response to the alleged sexual abuse of migrant children in U.S. custody, @RepMattGaetz asked a senior HHS official if people were more likely to be sexually abused by human traffickers or government workers.

"That's not the point." pic.twitter.com/IkwqnAHCPr

— Renee Klahr (@reneeklahr) February 26, 2019
After this thought-provoking question, the ORR rep actually became the voice of reason in the room. Jonathon White, Manager of Unaccompanied Minors, dryly stated: "We don't set ourselves the standard of just doing better than smugglers and traffickers." Come to think of it, should we just set a This Week in Crazy record and give Matt Gaetz two rankings?
1. Mark Meadows
North Carolina Rep. Mark Meadows deployed a little racism to prove that Donald Trump isn't racist. Counteracting the claims of Michael Cohen, Meadows called upon Lynne Patton. Patton was a former event planner for the Trump family and is now a regional administrator for the Department of Housing and Urban Development. Oh, and she's black!
Almost as if on auction, Patton stood stoically behind Meadows as he deployed the classic "I have a black friend" defense. He spoke up for Patton, who as a non-witness could not speak for herself: "She says that as a daughter of a man born in Birmingham, Alabama, that there is no way she would work for an individual who was racist."
Yes, it's clear the President takes HUD bigly serious:
Extremely productive dialogue with @POTUS tonight about @NYCHA.  He absolutely loves TA President, #CarmenQuinones, and told us both to watch out for one another! Change is coming. And so is that more detailed conversation – sooner than you think! 🇺🇸 #NYCHAGoesToTheWhiteHouse pic.twitter.com/XrIN6kWSfu

— Lynne Patton (HUD) (@LynnePattonHUD) February 22, 2019
Well, there you have it! Another clear-cut case of non-racism and another seven days until another Week In Crazy!