'Thoughts And Prayers Are Not Enough' — Obama, Yet Again, Calls For Gun-Control Laws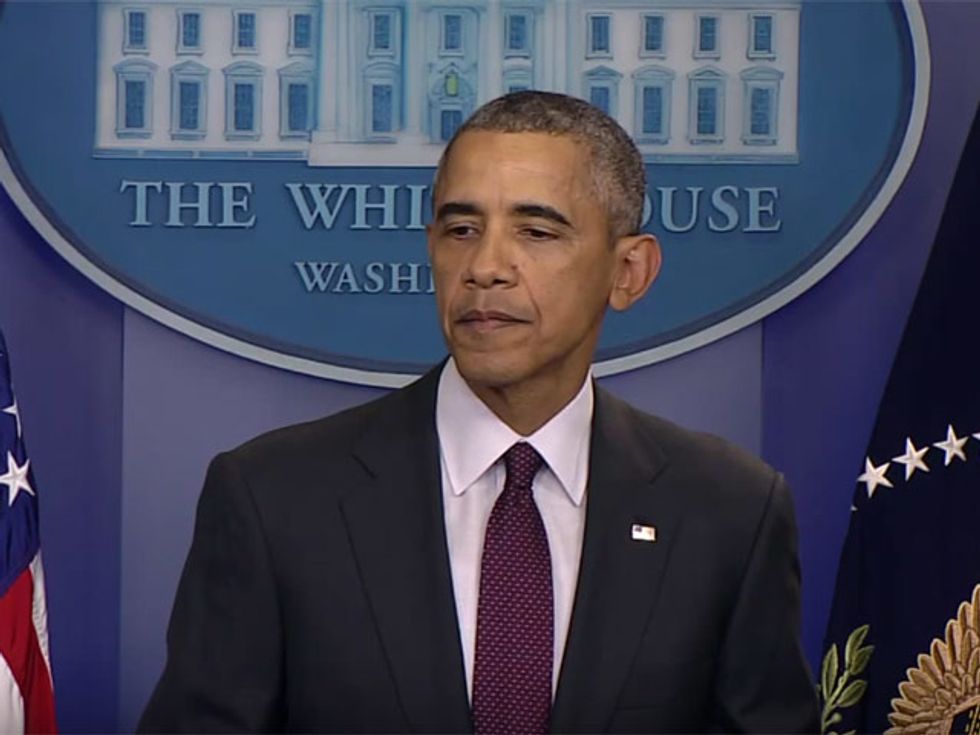 In what he acknowledged has become a familiar event, the president once again spoke to the nation after a mass shooting.
President Obama was blunt and unequivocal in his response to the shooting Thursday at Umpqua Community College in Roseburg, Oregon that left 10 dead, "Our thoughts and prayers are not enough."
"It's not enough," he continued. "It does not capture the heartache and grief and anger that we should feel, and it does nothing to prevent this carnage from being inflicted somewhere else in America — next week or a couple of months from now."
He was explicit: In order to stem this "continuing cause of death for innocent people," America needed to pass new laws.
The president said that this had become a dispiritingly routine event: The reporting is routine; his remarks, standing at the podium, were routine; the national conversation in the aftermath was routine; and the response from the guns-rights lobby, loudly balking at even the most modest regulations, was routine.
"We have become numb," he said.
"It's fair to say that anybody who does this has a sickness in their minds," Obama said, addressing the specter of mental illness, another typical motif of our national post-shooting conversation. "But we are not the only country on Earth that has people with mental illnesses or want to do harm to other people. We are the only advanced country on Earth that sees these kinds of mass shootings every few months."
He asked that the media report on the numbers of Americans killed by terrorism as compared to the number killed by gun violence. He observed that the nation could spend over $1 trillion, and devote entire agencies, to the fight against terrorism, but the most common-sense gun-control legislation couldn't even make it through a filibuster.
Anticipating critics who would accuse him of politicizing the tragedy, Obama fired back: "This is something we should politicize. It is relevant to our common life together, to the body politic." 
When people die in mining accidents, he said, we make mines safer. When people die in car accidents, we enact seatbelt laws. When roads are unsafe, we fix them. "The notion that gun violence is somehow different, that our freedom, that our Constitution prohibits anymodest regulation of how we use a deadly weapon when there are law-abiding gun owners all across the country… It doesn't make sense."
States with the most gun laws tend to have the fewest gun deaths, he noted. Claims by anti-gun-control opponents are "not borne out by the evidence."
He enjoined voters who felt that gun control could and should be enacted to elect representatives who shared those beliefs and were prepared to act on them.
He reached out to law-abiding gun owners, whom he claimed polls showed supported background checks and closing the so-called gun show loophole, and asked them "to think about whether your views are being properly represented by the organization that suggests it's speaking for you," a reference to the NRA.
He invoked the names of cities, towns, and schools marked by massacres, which have become bywords for gun violence: Columbine, Blacksburg, Aurora, Newtown, Tucson, Charleston.
And now Roseburg.
Screengrab via White House/YouTube