Throwing Stones At A Sitting President: A Topsy-Turvy Day On The Hill
@JamieStiehm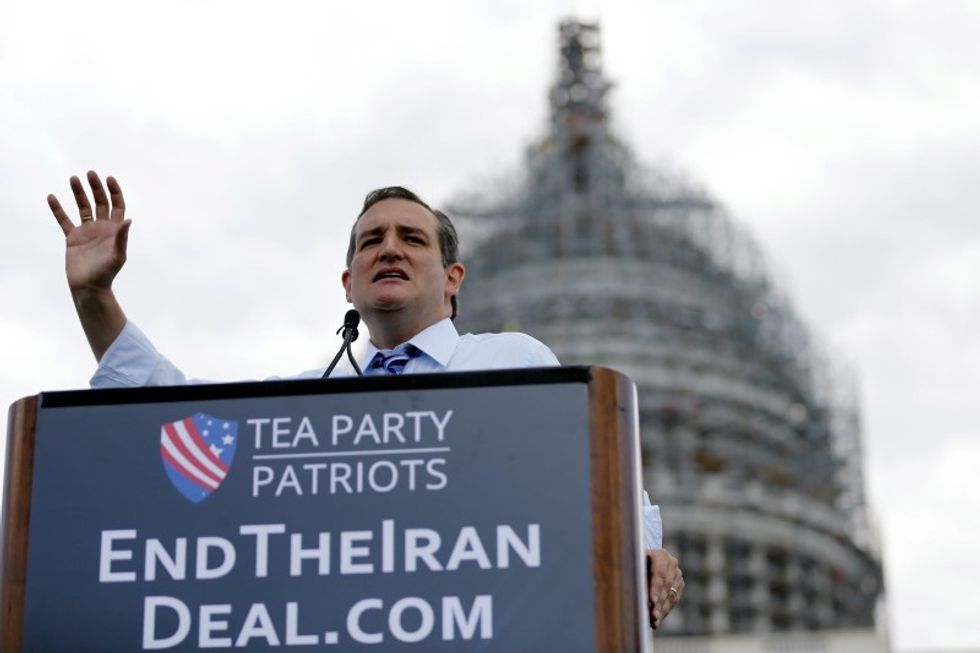 Wednesday was not just any day in the life of the republic. Up on Capitol Hill, a topsy-turvy scene was going on, with slings and stones thrown at the White House, President Obama, and his prized Iranian nuclear deal, reached in concert with other Western democracies.
But this time Obama had done his homework over recess and called friends in Congress to secure their support.
Right now is a landmark time for reason and diplomacy coming to the table, preventing a new war breaking out in the Middle East. The American people's president knows peace is paramount.
But Republicans in Congress haven't met a war they didn't love since the Sept. 11 attacks. That day addled them, though neither Iraq — not Iran — had a hand in 9/11. Fifteen of the 19 hijackers were Saudi Arabian. They need to face that, like now.
Donald Trump, the main stone thrower outside the Capitol, acted like he owned the place. Can't you just see "Trump" in gold letters on democracy's citadel? It's like the Roman Republic becoming the Roman Empire, here and now. He does a mean Caesar. He'll fire one member of the House, week by week, in the spiffy new Oval.
The 93-degree heat felt like the beating sun on the savannah — just part of the hot air. Trump was roaring on the West Front like the biggest GOP elephant he has become. He insulted Obama's leadership of the international Iranian deal and blasted "incompetent" Democrats in Congress who stand by it. And he lumped Republican leaders under the heading of "very stupid."
Very nice. I guess nobody had heard of the "water's edge" tradition in foreign policy, coined by a leading Republican in the post-war 1940s. Senator Arthur Vandenberg said partisan politics should stop at the water's edge.
That meant foreign policy was solely the president's sphere. Let Congress bicker about domestic policy, but the world should see a united front between our two oceans. Remember Richard Nixon in China?
Under the Capitol dome, which is still under scaffolding, lawmakers opened a bitter debate on the Iranian deal. On the floor, Senator John McCain beat the drum against the deal, a labor of love so elegantly crafted by his longtime colleague, Secretary of State John Kerry, as snow white-haired McCain, who lost to Obama in 2008, slipped in Senatespeak and called Obama "Obama." That's President Obama to you, sir.
Word went round that Democrats have enough votes to send the deal to Obama's desk, beating back a filibuster. Sure enough, 42 senators held on Thursday. The House will take more votes next week. It's a closely contested call in the Republican-controlled chambers.
Hope swarmed the halls to thwart Obama's greatest foreign policy goal — and after seven years, his lasting legacy. Many of the deal's opponents were lobbying for American Jewish groups, acting to support Israel, the one ally fiercely against the deal.
Democratic senator Dick Durbin, spoke softly on the floor, with fury, about the Army's invasion: For what? "There was no WMD," he said, darkly calling up false claims made by President George W. Bush and Vice President Dick Cheney, regarding Iraq years ago. Democratic Senate Leader Harry Reid says his biggest mistake was voting for the Iraq war.
Bush is a sport about staying mum out of office, but Cheney (with brazen daughter Liz) is making a truly outrageous fortune flogging a new screed, Exceptional, against Obama. That's a shame for national security, diplomacy, and presidential history. Or, as the Brits say, it's just not done.
The angry young Texas senator Ted Cruz, a Republican presidential candidate, was right there with Trump at the rally, which Cruz organized. Their budding "bromance" perfumed the air.
George Washington's "Rules of Civility & Decent Behavior in Company and Conversation" suddenly seemed so late 18th century.
Yet Washington also knew a timeless truth for now and then: You make peace with your enemies. You don't make peace with your friends.
The Washington Post, which eagerly cheered on the Bush-Cheney wars, also threw a stone at the White House, with an op-ed scolding Obama for staying out of the Syrian tragedy — a direct outcome of those wars.
The song at the Trump-Cruz rally was: "It's the End of the World as We Know It."
To find out more about Jamie Stiehm and read features by other Creators writers and cartoonists, visit Creators.com.
Photo: U.S. Republican presidential candidate Senator Ted Cruz (R-TX) addresses a Tea Party rally against the Iran nuclear deal at the U.S. Capitol in Washington on September 9, 2015. REUTERS/Jonathan Ernst