Senate Confirms Tillerson As Secretary Of State In Contentious Vote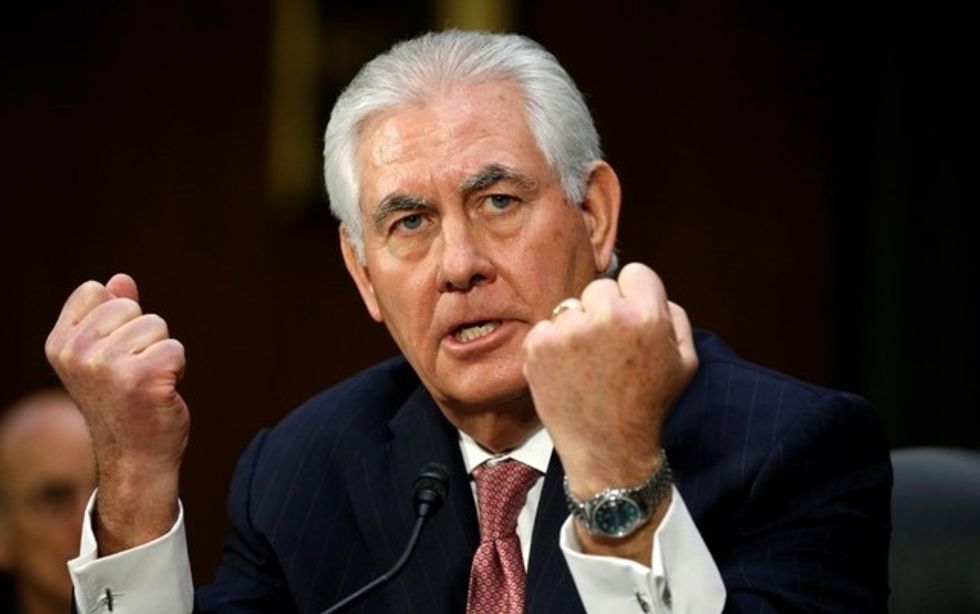 WASHINGTON (Reuters) – The U.S. Senate confirmed Rex Tillerson as President Donald Trump's secretary of state on Wednesday, filling a key spot on the Republican's national security team despite concerns about the former Exxon Mobil Corp chief executive officer's ties to Russia.
In the vote, 56 senators backed Tillerson, and 43 voted no. The tally was largely along party lines, with every Republican favoring Tillerson, along with four members of the Democratic caucus, Senators Heidi Heitkamp, Joe Manchin, and Mark Warner as well as Angus King, an independent.
Democratic Senator Chris Coons did not vote.
Senate Democrats had tried, but failed, to delay the vote because of Trump's executive order banning immigration from seven mostly Muslim countries and temporarily halting the entry of refugees. They said they wanted to ask Tillerson more questions about the issue after Trump signed the order on Friday.
Senators had also expressed concerns over Tillerson's ties to Russia after the executive spent years there working for the oil company. Some faulted him for failing to promise to recuse himself from matters related to Exxon Mobil businesses for his entire term as secretary of state rather than only the one year required by law.
Republicans said they thought Tillerson would be a strong leaders as the country's top diplomat. They also said it was important to fill key slots on Trump's national security team quickly.
(Reporting by Patricia Zengerle; Additional reporting by Susan Cornwell; Editing by Alden Bentley and Jeffrey Benkoe)
IMAGE: Rex Tillerson, the former chairman and chief executive officer of Exxon Mobil, testifies during a Senate Foreign Relations Committee confirmation hearing to become U.S. Secretary of State on Capitol Hill in Washington, U.S. January 11, 2017. REUTERS/Kevin Lamarque