'Time For Some Traffic Problems In Fort Lee': New Emails Tie Christie To Bridge Scandal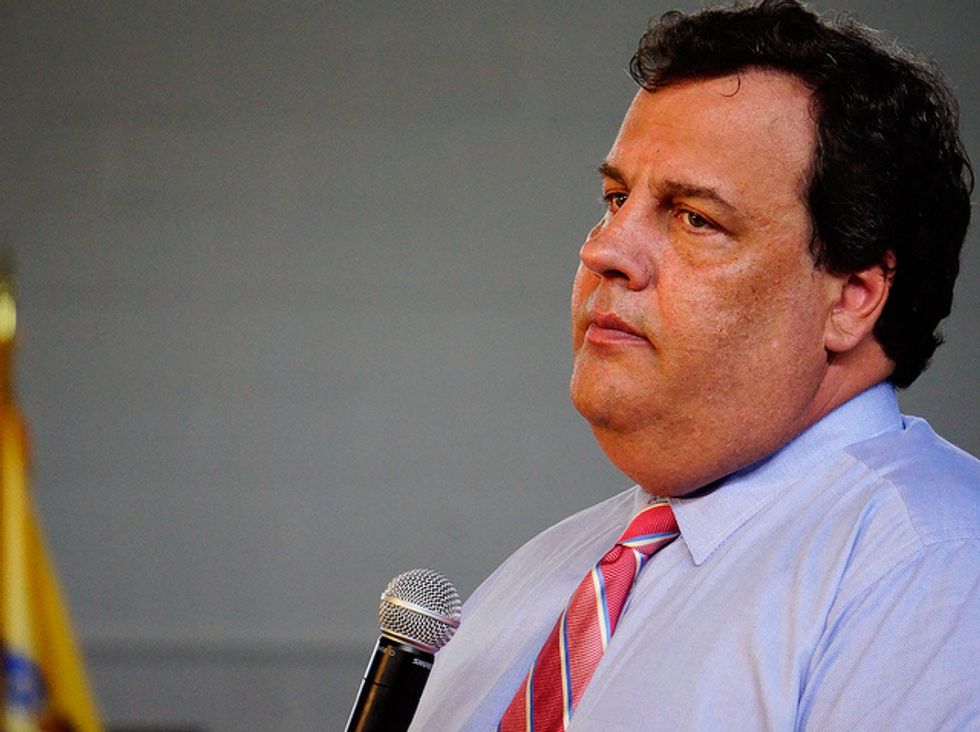 New Jersey governor Chris Christie won't be able shake off questions regarding the George Washington Bridge scandal with an unfunny joke anymore.
Documents released by TheBergen County Record on Wednesday show that the Christie administration played an integral role in the closure of local access lanes to the George Washington Bridge — the most traveled bridge in the world — from Fort Lee, New Jersey. The state's Democrats have waged an investigation into the lane closures in recent weeks, which they theorized were closed to punish Fort Lee's Democratic mayor, Mark Sokolich, for not endorsing Christie in the New Jersey's gubernatorial election. Today, it appears those Democrats have been vindicated.
"Time for some traffic problems in Fort Lee," Bridget Ann Kelly, a senior staffer to the governor, wrote to David Wildstein — the Christie-appointed Port Authority employee who carried out the lane closures — on August 13. Wildstein, who was a high-school classmate of the governor, understood the order: "Got it," he responded.
Three weeks later, Fort Lee faced a traffic nightmare that dangerously blocked ambulances and emergency vehicles. This apparently provided comic relief for Wildstein and an unidentified associate, with whom he communicated via text message. "Is it wrong that I'm smiling?" Wildstein's associate texted him, with regards to a complaint by Sokolich about school buses being caught in traffic.
"No," Wildstein texted back. "I feel badly about the kids, I guess," the associate responded.
But Wildstein is not above using schoolchildren as political pawns in a partisan game, apparently. "They are the children of Buono voters," Wildstein reassuringly wrote back, making reference to Christie's Democratic opponent in last year's gubernatorial election, Barbara Buono.
As new details like these emerge, the idea that the Christie administration actively attempted to cover up its role in the lane closures seems increasingly realistic. The mushrooming scandal could prove politically disastrous for Christie, who has maintained a clean image as a moderate Republican and possible 2016 presidential nominee.
Democrats today responded swiftly with criticism of the governor.
"The latest news in Chris Christie's bridge scandal indicates political retribution and raises a host of new questions," Democratic National Committee Chair Debbie Wasserman Schultz said in a press release. "What is crystal clear is that the governor's office ordered lane closures that were intended to make first responders experience delays, kids sit gridlocked on the first day of school, and commuters hit log jams, to punish the Democratic mayor who didn't endorse Chris Christie's re-election bid."
The DNC has also released an attack ad highlighting Christie's previous claim that he had talked with his top staff about the fiasco, and asked anyone with knowledge of lane closures to come forward:
Christie had also shrugged off questions about the lane closures by sarcastically joking during a December 12 press conference, "I worked the cones. Unbeknownst to anyone, I was working the cones."
He also denied having any knowledge of traffic lanes in Fort Lee. "The fact is, I didn't know Fort Lee got three dedicated lanes until all this stuff happened, and I think we should review that entire policy because I don't know why Fort Lee needs three dedicated lanes, to tell you the truth," Christie said on December 2. "And I didn't even know it until this whole, you know, happening went about."
Now that it's clear Christie's top staff ordered the lane closures in Fort Lee, there's a further change of tune by the Christie administration: His office is no longer responding to media inquires. He's also canceled his only public appearance scheduled for Wednesday.
Photo: Bob Jagendorf via Flickr