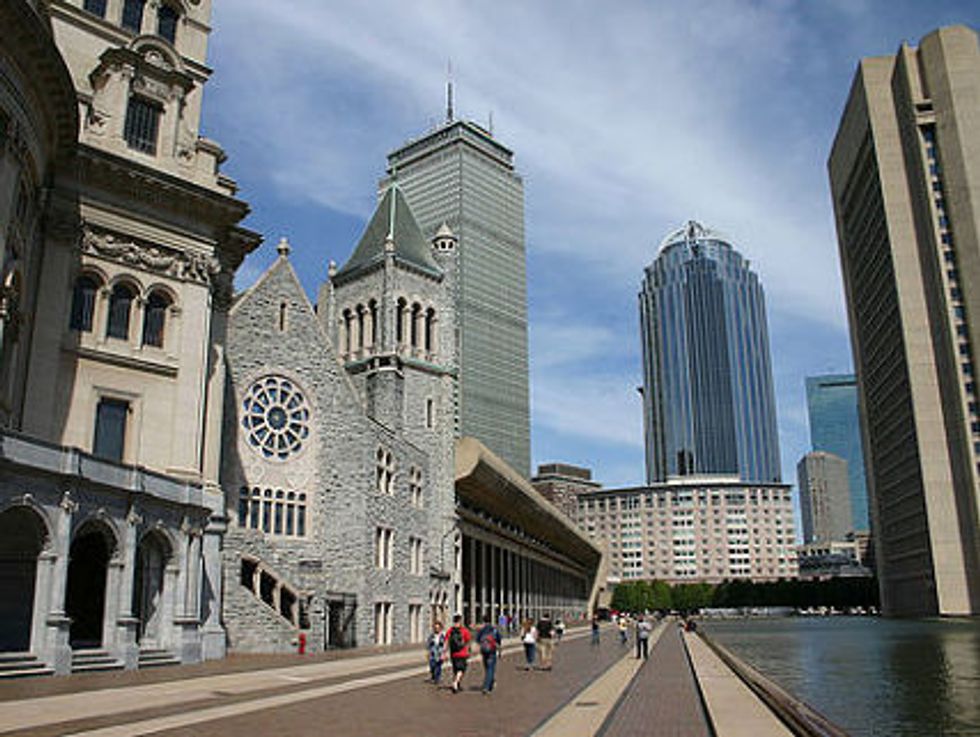 WASHINGTON — Boston is tough and sentimental, traditional and forward-looking, working class and wealthy, parochial and global, warm and reserved, reform-minded and un-reformable, restrained and boisterous, superstitious and free-thinking, very new and very old.
Boston is the plain, practical three-decker houses of Southie, Dorchester and Jamaica Plain and the elegant Federal-style row houses of Beacon Hill and Back Bay. Great hospitals and high-tech coexist with a blue-collar ethos.
Boston is forgiving but relishes grudges. It values loyalty, sometimes to a fault — and rejects the idea that there ever could be any fault in loyalty. History is everywhere, and Bostonians ignore history whenever they feel like it.
Boston is Irish and Yankee. It's also Italian and Jewish, African-American and Greek, Latin and Asian. Come to think of it, every kind of American there is flocks to the Hub. But there are times when the Irish-Yankee thing is unavoidable, and you have to take sides whether you want to or not.
Boston is so political that the late Mary McGrory said that every baby who comes to life there (and throughout the Commonwealth of Massachusetts) is born with a campaign manager's gene.
Boston is a city known for its liberals and good-government types — and it has elected or re-elected guys sitting in jail cells. It was the cradle of the abolitionist movement and the scene of some of the most vicious battles over school desegregation during the busing battles of 1970s.
It's Barney Frank running for re-election to the state Legislature with the slogan "Neatness isn't everything," and anti-busing activist Louise Day Hicks being able to say simply "You know where I stand." Everybody did.
It's the Cabots and the Lodges as well as the Kennedys and the Fitzgeralds. Its current mayor, Tom Menino, won five elections in a row by being a resolute neighborhood guy who gets stuff done without fancy rhetoric or grand theories of urban life. University towns appreciate the pragmatic more than you think.
Boston is the Standells singing "Dirty Water," now the city's all-purpose sports anthem. It celebrates the Charles River before it was cleaned with a little help from Tip O'Neill and Ted Kennedy. I most associate the song with Red Sox victories at Fenway and played it in my car the other night. I started to cry.
Boston is also the Celtics, the Bruins and, yes, the Patriots out there in the suburbs. In 2004, the magical Red Sox year, the city was plastered with signs proclaiming: "Believe!" We still do.
Boston is Johnny Most, the world's best basketball announcer, yelling "Havlicek stole the ball!" It's Curt Schilling's bloody sock, Adam Vinatieri's Snow Bowl kicks in 2002 against Oakland, and Red Auerbach's victory cigar. When I was little, I was sure Bill Russell's first name was "Rebound." Yes, there's Bill Buckner's mistake, but that's been redeemed. Overcoming adversity is Boston's way.
And bless the New York Yankees (never thought I'd say that) for playing "Sweet Caroline," the weird and wonderful Fenway favorite, at the end of the third inning at Yankee Stadium on Tuesday night.
Boston is a literary town where the hardboiled writers compete with the genteel scribes of the past. It's Mystic River, Good Will Hunting, The Last Hurrah and The Friends of Eddie Coyle. It's Robert B. Parker, Dennis Lehane and George V. Higgins.
Before he died, Parker called Spenser, his self-contained hero who only barely hides his huge heart, "serious but not anguished." Not a bad description of Boston.
I was born in Boston and grew up down the road in Fall River, so I can say this: Boston's drivers are nutty, reflecting a proudly anarchic spirit beneath a rationalist and Puritan heritage of orderliness.
A friend dismisses the street layout as "cow paths. So "insane" is the city's highway system, said Bill Bryson, that it was "clearly designed by a person who had spent his childhood crashing toy trains." Lots of road projects around the country have come in over the estimates. Only Boston has the Big Dig. It was supposed to cost $2.8 billion, came in at around $15 billion and could, when everything is calculated, end up as high as $24 billion. Still, it's a heck of an achievement.
This wondrous bundle of contradictions that happens to be a city is also the home of the Marathon and the place where Patriots' Day is sacred. And always will be.
Spenser might dismiss me for saying it outright. But Boston, you're home, and I love you.
E.J. Dionne's email address is ejdionne@washpost.com